Honors Recital Highlights
November 8, 2015
Two outstanding Honors Recitals presented talented students of MEA teachers at the Randolph Performing Arts Center at The Music Den in Randolph on Sunday, November 8. Of the 70 students who auditioned at Wharton Music Center in New Providence the previous Sunday, 45 (44 solos, 2 duets) were selected as Honors winners to perform in one of two recitals, at 4 p.m. and 6:00 p.m. MEA graciously thanks Wharton Music Center for the use of their facility for the auditions, and the Music Den in Randolph for the use of their attractive Performing Arts Center for our recitals. Thank you also to all those who contributed to making these recitals special to the performers, their parents, teachers, and friends.
MEA proudly lists the following Honors students and the pieces they played at the two recitals at the Randolph Performing Arts Center.
4 PM Recital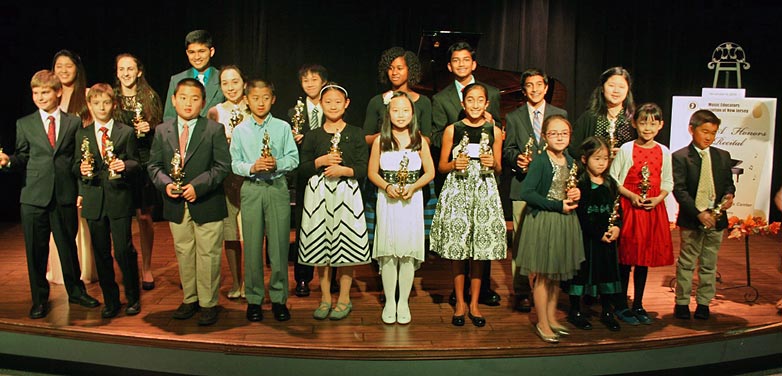 Honors Recital Program - 4:00 p.m.
Cadence Ko
Menuet in d minor
J. S. Bach
Judith Huang
Sonatina in G, Op. 57, No. 4
Biehl
Violet Kasm
Waltz in e minor, Op. 38, No. 7
Grieg
Austin Mau
Sonatina in C, Op. 20, No. 1 - Rondo
Kuhlau
Sejal Patel
A Little Flower, Op. 205, No. 11
Gurlitt
Angela Lee
Sonatina, Op. 55, No. 1 - Vivace
Kuhlau
Emily Wei
"The Spruce," from Trees, Op. 75, No. 5
Sibelius
Sejal & Sahdev Patel
Galop, Op. 87, No. 46
Wohlfahrt
Ryan Jiang
Minuet in A Major, K. 83B
Scarlatti
Franklin Mau
Rondo alla Turca, K. 331
Mozart
James Grant
Nocturne in c-sharp minor, Op. Posth.
Chopin
Thomas & James Grant
Sonatina in C Major
Weber
Sahdev Patel
Golden Reflections
Mier
Shreyas Menon
Sonata in D Major, L. 463
Scarlatti
Vivienne Germain
Für Elise
Beethoven
Evelyn Ko
The Night Winds, Op. 5, No. 3
Griffes
James Samson
Intermezzo in b-flat minor, Op. 117, No. 2
Brahms
Laura Mills
Clair de Lune
Debussy
Vivek Gogineni
Fantasia in d minor, KV 397
Mozart
Deena Shefter
Elegie, Op. 3, No. 1
Rachmaninoff
Sungmin Lee
Prelude from "Pour le Piano"
Debussy
6:00 PM Recital
Honors Recital Program - 6:00 p.m.
Gavin Parikh
Menuet en Rondeau
Rameau
Helena Kim
Sonatina in F Major - Allegro assai
Beethoven
Zara Yu
Sonatina in D Major - Rondo allegro
Pleyel
Aviv Cohen
Sonatina No. 2 - Minuetto
Attwood
Emma Zheng
The Peacock (A Poem Without Words)
Dungan
Zoey Wen
Bagatelle, Op. 119, No. 5
Beethoven
Hui Jiang
Sonatina, Op. 55, No. 1 - Vivace
Kuhlau
Justin Zhang
Sonata, Hob. XVI: 35 - Allegro con brio
Haydn
Sydney Chang
Le Petit Nègre
Debussy
Michelle Tan
Sonata, Op. 49, No. 2 - Allegro ma non troppo
Beethoven
Sophia Kim
Sonata in G Major, Hob. XVI: 39 - Prestissimo
Haydn
Emma Lau
"Bright Orange" from Sketches in Color
Starer
Irene Hwang
Sonatina in G Major, Op. 36, No. 2 - Allegro
Clementi
Leon Wang
Theme and Variations in C Major
Haydn
Samantha Howden
Toccata, Op. 60, No. 4
Kabalevsky
Conor Hampton
Variations on a Theme of Paganini
Berkovich
Ron Biraci
Prelude, Op. 28, No. 20
Chopin
Sophie Chang
O polichinelo
Villa-Lobos
Eric Guo
Prelude No. 1
Gershwin
Leigh Wang
Alborada del gracioso
Ravel
Kevin Ma
Fantasie Impromptu
Chopin
Joshua Park
A la Albeniz
Shchedrin
Katherine Tai
Piano Sonata, Op. 7 - Allegro moderato
Grieg
Elizabeth Sweetra
Les Sylvains, Op. 60
Chaminade
Benjamin Zhou
Etude, Op. 1, No. 4
Liszt
Congratulations to the following teachers whose students were awarded Honors:
Ana Berschadsky, Carmela Cecere, Karen Cifrese, Rebecca Eng, Azar P. Gordon, Barbara Landi Hause, Mansoon Kim, Michelle Kim, Ruth Kotik, Chuanyin Lee, Marlene Lippman, Florence Liu, Beatrice Long, Marcia Maull, Sophia Ososkov, Dr. Thomas Parente, Sondra Tammam, Yudit Terry, Yuka Yanagi, Cathy Tao Yin, and Ying Zhang.
2015 MEA Honors Recital Committee:
Marlene Lippman - Chair, Luba Baykova, Sallie Lloyd, Ruth Pasquariello and Charlene Step.
Photography, Lisa Gonzalez