Honors Recital Highlights
November 9, 2014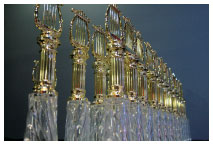 Two outstanding Honors Recitals presented talented students of MEA teachers at the Randolph Performing Arts Center at The Music Den in Randolph on Sunday, November 9. Of the 73 students who auditioned at Seton Hall University the previous Sunday, 49 (47 solos, 1 duet) were selected as Honors winners to perform in one of two recitals, at 4 p.m. and 6:30 p.m. MEA graciously thanks Seton Hall University for the use of their facility for the auditions, and the Music Den in Randolph for the use of their attractive Performing Arts Center for our recitals. Thank you also to all those who contributed to making these recitals special to the performers, their parents, teachers, and friends.
MEA proudly lists the following Honors students and the pieces they played at the two recitals at the Randolph Performing Arts Center.
4 PM Recital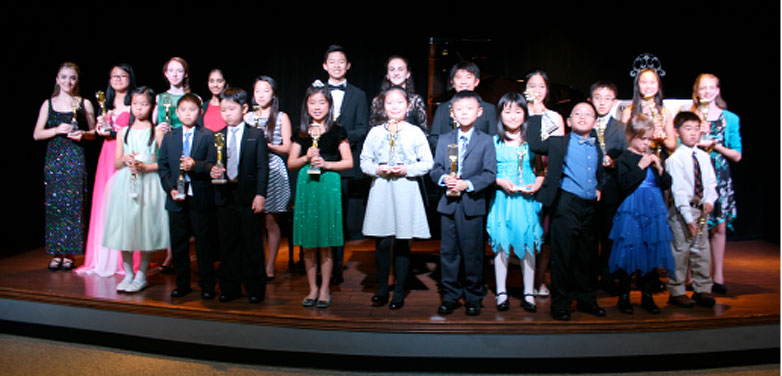 Honors Recital Program - 4:00 p.m.


Austin Mau
Countin' the Frog Catch No.2
Shiu-Long Ma
Kaitlin Knipe
Sonatina in G, Ahn. 5 - Romanze
Beethoven
Jaylen Zhang
Children's Game, No. 8 from "For Children"
Bartok
Zoey Wen
Sonatina Op. 55, No.1 - Vivace
Kuhlau
Justin Zhang
Prelude No. 12
Bach
Christina Wang
Sonatina in G Major, Op. 36, No. 3 - Rondo
Clementi
Michelle Tan
Spanish Dance No. 2
Granados
Wesley Liu
Sonata in C Major, Hob XVI:10 - Moderato
Haydn
Brandon Cheng
Polonaise in g minor
Chopin
Isabel Ting
By the Waterfall
Linn
Sasha Shefter
The Fountain
Böhm
Julius Shieh
Partita No. 1 in B Flat Major, Minuet 1, Minuet 2, Gigue
Bach
Sophia Chang
Adagio Op. 105, No. 11
Burgmüller
Angelina Yu
Butterfly, Op. 43, No. 1
Grieg
Jake Cheng
Nine Variations on a March by Ernst Diessler
Beethoven
Deena Shefter
Gigúe from Suite No. 5
Bach
Noah Chen
The Lark
Glinka/Balakirev
Nicol Chun
Sonata in d minor - Finale
Haydn
Deanna Ferro
Elégie, Op. 126, No. 7
Chaminade
Marguerite Kay
Spanish Dance No. 5 - Andaluza from "Danzas Espanolas"
Granados
Jiaqian Ye
Eight Memories in Water Color Op. 1, in A Flat Major - Nos. 1, 2 & 3
Tan Dun
Shannon Duggan
Waltz in A flat Major, Op. 42, No. 5
Chopin
6:30 PM Recital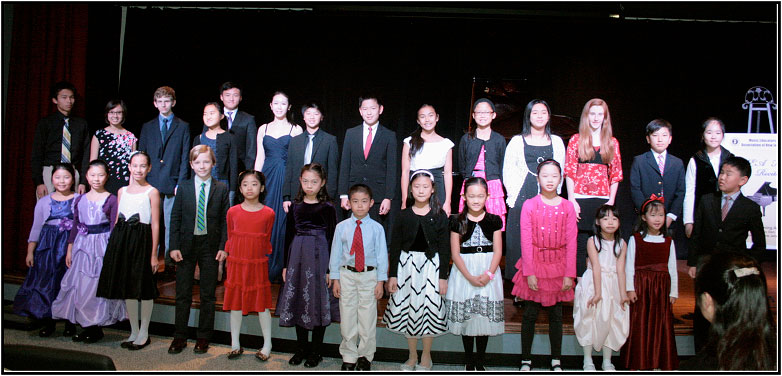 Honors Recital Program - 6:30 p.m.


Emily Guo
Shepherd's Pipe
Salutrinskaya
Helena Kim
Sonatina in a minor - Rondo
André
Emma Zheng
Buzzing Bee
Nevin
Sophia Yang
Harmony of the Angels, Op. 100, No. 21
Burgmüller
Emily Wei
Sonata in C, K. 159
Scarlatti
Devon Zhang
Sonatina in G, Op. 36, No. 5 - Presto
Clementi
Emma Lau
Sonatina in G Major, Op. 214, No. 3 - Vivace non troppo
Gurlitt
Sophia Kim
Sonatina - Allegro giocoso
Khatchaturian
Noel Andrews
The Sick Doll, Op. 39, No. 6
Tchaikovsky
Samantha Howden
Courante
Handel
Danette & Elly Fong
Norwegian Dance
Grieg
Leon Wang
Solo in F Major II: Bourrée
Telemann
Ashley Lu
Spinning Song, Op. 67, No. 4 from "Songs without Words"
Mendelssohn
Elliot Jo
Sonata in A Major, Op. 59, No. 1 - Allegro
Kuhlau
Isabella Velucci
Fountain in the Rain
Gillock
Karen Shih
Sonatina In E Flat, Op. 19, No. 6 - Rondo
Dussek
Olivia Dunleavy
Dr. Gradus ad Parnassum from "Children's Corner"
Debussy
Sophia Hu
Vals Romantico, Op. 101, No. 3
Turina
Leigh Wang
Prelude in C major, Op. 12, No. 7, "Harp"
Prokofiev
Mira Yang
Toccata
Tauriello
Kingston Ho
Novelette
Poulenc
Amy Zhuang
Sonata in B flat Major, Op. 22 - Allegro con brio
Beethoven
Ryan Jin
Sonata XVI/6 - Allegro
Haydn
Stephen Utley
Minuet in G, Op. 14, No. 1
Paderewski
Dillon Contois
Sonata No. 30 in E, Op. 109 - Vivace, ma non troppo
Beethoven
Daniel Zheng
Fascinatin' Rhythm
Gershwin/Wild
Congratulations to the following teachers whose students were awarded Honors:
Dragica Banic-Curcic, Ana Berschadsky, Jennifer Chung, Karen Cifrese, Azar P. Gordon, Barbara Landi Hause, Eryun, Kim Mansoon Kim, Julia Lam, Chuanyin Lee, Beatrice Long, Marcia Maull, Nancy Modell, Dr. Thomas Parente, Julie Reina, Sondra Tammam, Stella Xu, Yuka Yanagi, and Stacie Yao
2014 MEA Honors Recital Committee:
Marlene Lippman, Chairperson Luba Baykova, Sallie Lloyd, Ruth Pasquariello, Charlene Step