I believe the new year is a time for new beginnings. It is a time to reflect on the past and plan for the future. It is a time to open new doors and welcome new opportunities to learn and grow. It is a time to connect to others. It is a time to count blessings and be thankful.
I am deeply honored and thankful to be chosen as president of the MEA. It has given me new opportunities and a chance to get to know some of our wonderful members and presenters.
It was a joy to attend our first general meeting and see longtime friends and meet new members. I was truly inspired and transcended by being a part of this magical event and listening to our talented and proficient teachers performing our annual competition syllabus pieces.
Another magical event was the Honors Recital. I was so happy to be there to listen to all the wonderful performers and meet some of their teachers. Thank you, Charlene Step, for chairing and hosting two successful and beautiful recitals!
Attending the captivating and educational presentation of the brilliant and dynamic Magdalena Baczewska, I gained new insights on some very well-known Bach pieces and new pedagogical ideas to bring to my students.
Learning about different investigative memorization strategies from the "inimitable" Daniel Epstein was fascinating and informative. And again, I had the pleasure of meeting the presenter. We even chatted about our grandkids! Thank you, Sophia Agranovich for chairing, organizing and arranging these enlightening programs!
The Composers' Corner continues to be a place of friendship and inspiration for me. I loved meeting in person at our recent meetings! This is the time when I, as an exploring composer, can share new approaches to composition and be an avid listener to the amazing music of the other composer members. Thank you, Nancy Modell, for chairing and bringing this marvelous committee into fruition! Love our enlightening conversations too!
I would also like to give a big shout out and THANK YOU to the members of the MEA Board who were present at the meetings the past few months and helped me transition to this new beginning in my life!
Marcia Maull (better known as MM :) - for your support, great advice, lively phone conversations, and going down the MEA memory lane! Yudit Terry - learning leadership and mediating skills from you has been valuable and truly rewarding! Lynne Rogerson - for guiding me through the financial and business end of the MEA! Cherwyn Ambuter - for agreeing to be an admin for our new Facebook Page and a prolific writer to boot! Woohoo! Judy Kessler - for agreeing to be an admin for our new Facebook Group Community Page! Yay! Bertha Mandel - who reminds me of the rules and keeps me alert and on my toes! Keep those birthday cards coming! Lisa Gonzalez - for your tech savvy skills, helping me with Zoom and just being fun to be around - virtually that is! Lisa Casia - for brainstorming and connecting with me over the summer. Very productive and a pleasure! Ruth Pasquariello - for enthusiastically offering to help out and sharing your great ideas, especially at our Board meetings! Sondra Tammam - for your kind and encouraging feedback! Barbara Landi Hause - for your boundless energy and sharing your expert and practical suggestions and advice! Beverly Shea - for all your sage wisdom, support and vast knowledge of all the MEA rules and procedures!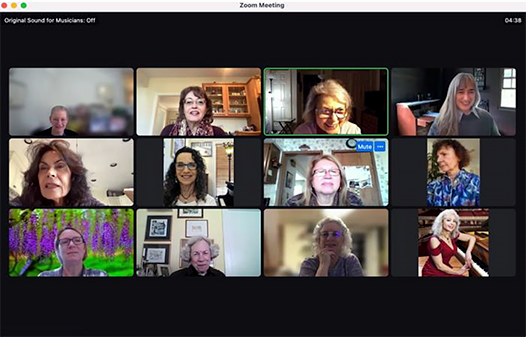 Screen shot of some Board members at their November meeting.
I am grateful that the MEA continues to provide so many wonderful opportunities for both teachers and students. We have had two outstanding and successful student recitals in the Chase Room at the Madison Public Library. Thanks again, Yudit Terry, for generously giving your time to help to make these recitals so worthwhile and special! The October theory tests were distributed with ease, thanks to Theory Chair Marcia Maull, and a record number of ribbons and gift cards were given out. The Scherzo Club is a wonderful way to meet, share, listen and perform in a home setting. Monthly meetings are going strong, thanks to Chair Barbara Landi Hause. We also seized the opportunity to promote the MEA at the NJMTA state conference, November 12 and 13. Nancy Modell graciously offered to be our representative at the conference.
I'm excited to share that we have started a new Facebook page and Facebook Community Forum page! Please LIKE our MEANJ Facebook Page so you can be informed of the latest events and news. The MEANJ Community Forum is a place to connect, share, network and talk shop. Please join us if you haven't already.
And now a glimpse into 2023: My main objective for the MEA is to see this wonderful organization continue to thrive and be of service to you and your students. The pandemic has affected us significantly with decreased membership and low attendance at the general meetings.
On a positive note, the pandemic has also introduced us to Zoom hybrid technology, which enables us to attract teachers and music lovers from all over the state, hold informative and engaging meetings and connect and meet with each other.
The MEA Board and I would love to meet with you! And through Zoom, we can! We will have an open discussion about how the MEA can improve and serve you so that we can be the best that we can be. Please read the Fireside Chat article on page 4 and plan to tune in on Sunday, January 29 at 7:30PM. You will receive an email with the link at a later date.
Sample topics: What are the reasons you joined the MEA? What would you like to change or improve? What do you like best about the MEA? What do you like least? How can we attract more people (virtually and in-person) to our general meetings? How can we attract more members in general?
Wishing everyone a blessed, healthy, happy and musical New Year!
Danette Whelan
President