Pianist and Juilliard professor Aaron Wunsch presented a fascinating lecture-concert "Piano Music of Klimt's Vienna," exploring influences and aesthetic similarities in art and music of that period.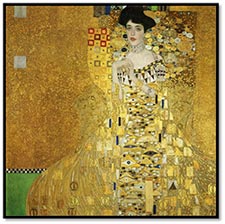 The turn of the century was the age of "golden Vienna," when music of Brahms and Strauss Jr. was popular. The cover painting for the presentation was Portrait of Adele Bloch-Bauer I(1907) by Gustav Klimt - the subject of the movie "Woman in Gold." Mr. Wunsch explained that Viennese architecture is reflective of historical periods and is an eclectic mixture of styles. Many buildings are in Greco-Roman neoclassical style (Parliament), neo-Gothic (City Hall), neo-Renaissance (Opera). Commonality of these styles was illusion, sensuality, decoration and historical allusion.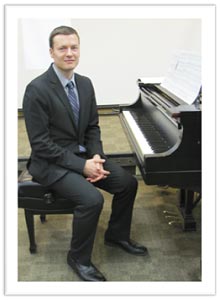 Klimt had the utmost respect for Viennese history painter, decorator and designer Hans Makart, who was an early proponent of aestheticism, a late 19th century movement. Both Klimt and Makart were interested in music. In 1894, Klimt was commissioned to design three murals for the ceiling of the Great Hall of the University of Vienna. These works, Philosophy, Medicine, and Jurisprudence, although grounded in mythology, were in a different style which was severely criticized; academicians and the public complained of "unclear ideas through unclear forms" and "pornographic" expression. The paintings were not displayed. In 1897, Klimt became one of the founding members and president of the Secession, the breakaway Viennese Art Nouveau association that opposed the conservative historicism of the Vienna Künstlerhaus. It included realists, naturalists and symbolists: Koloman Moser, Josef Hoffmann, Joseph Maria Olbrich, Max Kurzweil, Otto Wagner, and others.
Art Nouveau or Jugendstil (and named differently in other countries) was most popular during 1890-1910. It is style of art, architecture and decorative arts. It reflected ideas that art should be "a way of life," without pretense, inspired by natural forms and modern life with harmony between art and purpose. It should not succumb to popularity, but reflect the truth. In architecture, smooth lines, hyperbolas, parabolas, and moldings in surface decorations are characteristic of this style. Posters, advertisements, labels, etc. were drawn in two-dimensional form and bright colors.
During the course of the lecture, Mr. Wunsch showed many works of Viennese Art Nouveau artists and talked about composers of that period. He played the following compositions accompanied by the slides of paintings that are similar in style.
Franz Schreker: "Melodie"
Kolomon Moser - Early Spring (for the Secession magazine, Ver Sacrum, 1901)
Similar limited use of color, materials; recognizable figures (in Schreker recognizable melody), but makes a modern impression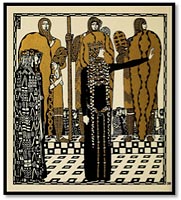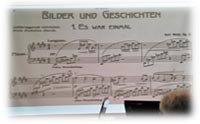 Karl Weigl: "Bilder und Geschichte" (Pictures and Stories), Op. 2
Carl Otto Czeschka - Prints for Die Niebelungen (1909)
Similar theme of legend/stories; limited decorative figuration, single aesthetic throughout
Alexander Zemlinsky: Fantasies, Op. 9
Gustav Klimt - The Kiss (1908)
Similar theme of love; sensual (harmonies, in Zemlinsky); highly decorative; escapist
Alban Berg: Sonata, Op. 1 (title in Berg's own Art Nouveau script)
Gustav Klimt - Judith 1 (1901)
Combination of beauty and fatalism/darkness; extreme (intense) subject matter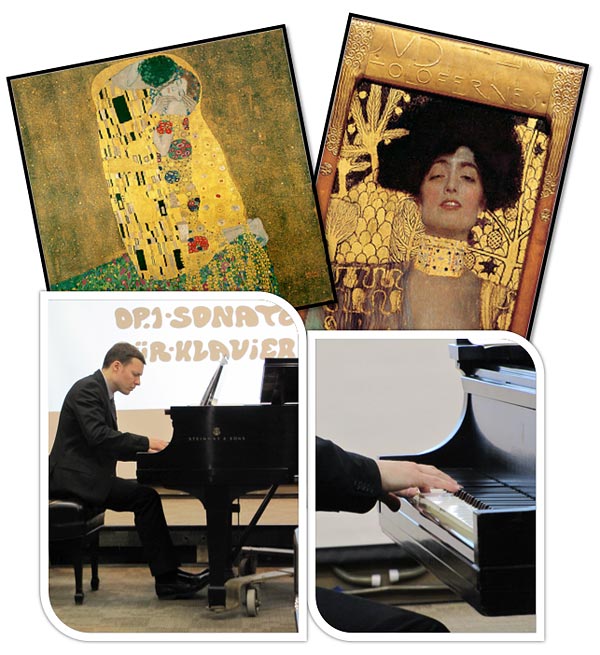 Mr. Wunsch performed throughout the U.S., Europe, and Asia, had chamber music performances with clarinetist Charles Neidich, violinist Rolf Schulte, cellist Lynn Harrell, and the New York Woodwind Quintet, among others. He had numerous premieres and radio broadcasts; collaborated with composers Thomas Adès, Charles Wuorinen, Kaija Saariaho, Fred Lerdahl, Steven Stucky, Chen Yi; recorded works by Anton Webern and Nico Muhly. He appeared in Tanglewood, Verbier, Sarasota, and Norfolk Festivals and lectured on American Music in Europe and Asia. His awards for written work in musicology include the Henry Hart Rice Prize and the Richard F. French Prize. Mr. Winsch is artistic director of the Skaneateles Festival, (Finger Lakes), and Music Mondays concert series, (New York City).
Photos and layout, Nancy Modell
Sophia Agranovich, Program Chair and Hostess