Scholarships
The MEA has a long history of community philanthropy related to music education. The MEA contributes to local colleges, supporting their music programs in a variety of ways. In addition special scholarships are awarded to selected students of MEA members from the Mary Jean Nelson Scholarship Fund. The Scholarship Committee and MEA Board administer the program. Each year the Mary Jean Nelson Scholarship Fund provides financial assistance for deserving music students to attend summer music camps or festivals and to help music majors who are attending colleges, universities or conservatories. MEA also provides the Allegro Scholarship which covers fees for participation in MEA events.
A recent recipient of an MEA-MJN college scholarship wrote, "I was ecstatic upon hearing that I received this award and am extremely grateful... to purchase textbooks to help further my knowledge in my passions of music and programming... pursuing a career in program development for a music software company." Another student who was awarded a Camp Scholarship wrote, "I used my scholarship to attend the High School Piano Camp at Westminster Choir College. Though it was only a one-week camp, I was able to polish my solo piece with the help of some amazing teachers, and put together a piano quartet in time for the final performance in Bristol Chapel. It was a memorable experience and I hope to return next year!"
The MEA is a nonprofit 501(c)(3) organization, and all donations to the MEA-MJN Scholarship Fund are fully tax-deductible. The scholarship fund relies solely on generous individual donations, matching contributions from employers, and music sales at the monthly MEA General Meetings (when they are held in person). Making a contribution to this fund is a meaningful way to honor a person with congratulations (birthday, anniversary, graduation, etc.), get well wishes, or in memoriam. An announcement of your tribute, including your personal message, will be sent to the honoree. Please donate generously so that MEA can maintain and expand this supportive program!
Information for the Allegro, College, or Camp Scholarships can be found on the corresponding application forms. You can view all details and download the application forms by going to Forms/Downloads on the main menu. Online application forms are available from the teacher's Member Homepage.
Charlene Step and Sondra Tammam
Scholarship Committee Co-Chairs
Donate to MEA
The Music Educators Association of New Jersey is comprised of nearly 300 piano teachers across the state. MEA supports music opportunities through activities such as auditions, recitals, competitions, master classes, composition festivals and scholarship awards. Please consider making a tax-deductible contribution to these worthwhile efforts by clicking the 'Donate' button below. You may also download a donation form here.
2020 College Scholarship Awarded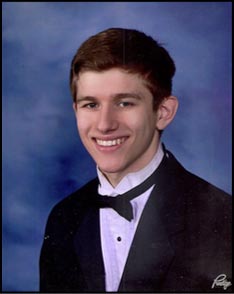 James Bally, a graduate of Elizabeth High School, was awarded an MEA-MJN College Scholarship in May 2020. Trained as a classical pianist by MEA member Sondra Tammam and as a jazz pianist by Oscar Perez, James plans to attend William Paterson University to study jazz performance. He also enjoys composing and performed two of his original jazz compositions at recent MEA Honors Recitals. He attended the Louis Armstrong Jazz Camp in New Orleans and played with the Jazz House Kids Big Band Ambassadors in Montclair. In addition, he performed during the "virtual" jazz class conducted by MEA member and jazz pianist/composer Dan Crisci at the 9th Taubman Festival in Montclair, co-directed by Sondra Tammam. Reflecting on life James says, "In our modern society, there at times appears to be a lack of empathy and an abandonment of the core values of our humanity. I believe that the arts, more than any other part of our society, reflect the crucial aspects of our humanity. I am looking forward to contributing to this essential cultural aspect of our society through performing and creating music."
MY FIRST YEAR AT EASTMAN by Kelsey Lee
2019 College Scholarship Recipient
My first year at the Eastman School of Music was unforgettable for so many more reasons than the Covid-19 crisis. I've learned so much as a pianist and an artist under the instruction of professor Marina Lomazov and have had the opportunity to study alongside amazing, dedicated musicians from all over the world. I want to extend a huge thank you to the MEA- NJ for the 2019 MEA-MJN Scholarship, which helped me attend this wonderful institution. Even more so to the MEA for guiding me through my musical journey of concerts and opportunities since the age of nine. I sincerely thank my piano teacher, Ms. Beatrice Long, for being there for me every step of the way both as a fervent musician and wonderful person since fifth grade. While this past spring brought unforeseeable challenges for everyone, I would like to share my experience as a music student during the times of Covid-19 with you:
After seeing countless universities take the leap to distance learning, so many of us were spent of our shock and disbelief that when our email finally came at the end of spring break, we were already packing, saying goodbyes and making plans to return home. It was devastating to know that I would not be able to see my friends, teachers, and the amazing musical community for months; that, for me, was the hardest part of leaving campus. Yet secretly, I was looking forward to finishing my school year from the comfort of home. As a pianist, I did not experience the disappointment of discontinued ensemble classes and postponed concerts. And as a dual degree student, I would no longer need to spend hours commuting between two campuses. Besides, coming from the grueling week of midterm exams, I was not eager to return to late nights studying and practicing. Distance learning seemed like a much-needed extension to my spring break.
It was great at first. Instead of waking up for my 8:30 a.m. music theory lecture, I could sleep in an extra hour and join the 9:30 session over Zoom. Heck, I could even sleep in two extra hours and watch the recorded lecture later at double speed. It took only a few weeks to figure out the shortcuts of online learning; knowing how to complete assignments the most lazily became an accomplishment of sorts. But by week three, most of my peers had figured this out as well. Fewer and fewer people showed up to live online class sessions, and even fewer kept their video cameras on (as we were most certainly viewing our morning classes from bed or while enjoying breakfast). I rarely saw the faces of people who attended classes with me everyday. I started wondering how my studio-mate Kai was doing on his Beethoven concerto and how Steven was progressing with his Shostakovich Prelude and Fugue. And what happened to those Mahler jokes in theory class?
Still, there were many good things that resulted from online learning. For piano especially, I had more time to practice and started to listen more carefully because of the recordings I had to make for my piano professor. But completing school at home reminded me of what was really valuable about my first semester of college on campus: being around people. At school, I am surrounded by dedicated, talented musicians from all over the globe. We push each other and encourage each other; even in our free time, we talk about music and listen to music together. That was missing from my half semester at home. And while having music was still wonderful and healing as we were quarantined at home, the music itself is only one component of music making. The rest depends on the amazing interactions between the music and all the people who play it and all the people who listen to it. Being able to make music constantly in a sincere and enthusiastic musical community was what made my first semester at Eastman special. And if being able to experience that on campus again means waking up early for 8:30 theory lecture... well ... I guess that is a reasonable tradeoff.
About Mary Jean Nelson
The Fund was named for one of the MEA's former outstanding teachers, Mary Jean Nelson. Born in 1926 in Logan, Utah, Mary Jean took to the piano at an early age. By 14 she was already performing at church functions and teaching piano to other children. After graduating from Utah State University in 1948, where she received the Outstanding Graduating Student Award, she was admitted to the Juilliard School of Music in New York. Mary Jean opened a piano studio in Morristown, NJ, after she and her husband and two children moved there in 1960. She was an active soloist and accompanist in the area, performing with various chamber groups, soloists and choral ensembles. She was also a judge in MEA competitions, and a recipient of the Annual MEA Teaching Award. The Fund was named in her honor shortly after her sudden death in July, 2000.