Scholarships
The MEA has a long history of community philanthropy related to music education. The MEA contributes to local colleges, supporting their music programs in a variety of ways. In addition special scholarships are awarded to selected students of MEA members from the Mary Jean Nelson Scholarship Fund. The Scholarship Committee and MEA Board administer the program. Each year the Mary Jean Nelson Scholarship Fund provides financial assistance for deserving music students to attend summer music camps or festivals and to help music majors who are attending colleges, universities or conservatories. MEA also provides the Allegro Scholarship which covers fees for participation in MEA events.
A recent recipient of an MEA-MJN college scholarship wrote, "I was ecstatic upon hearing that I received this award and am extremely grateful... to purchase textbooks to help further my knowledge in my passions of music and programming... pursuing a career in program development for a music software company." Another student who was recently awarded a summer camp scholarship wrote, "I was lucky enough to be selected as a recipient of the 2014 MEA Camp Scholarship. I used my scholarship to attend the 2014 High School Piano Camp at Westminster Choir College... Though it was only a one week camp, I was able to polish my solo piece with the help of some amazing teachers, and put together a piano quartet in time for the final performance in Bristol Chapel. It was a memorable experience and I hope to return next year!"
The MEA is a nonprofit 501(c)(3), and all donations to the MEA-MJN Scholarship Fund are tax-deductible. The scholarship fund relies solely on donations, matching contributions from employers, and music sales at the monthly MEA general meetings. Making a tax-deductible contribution to the MEA-MNJ (Mary Jean Nelson) Scholarship Fund is a meaningful way to honor a person with congratulations (birthday, anniversary, graduation, or other), get well wishes, or in memoriam. An announcement of your tribute including your special message will be sent to the honoree. We hope you will be generous in your donations so that the MEA can maintain and expand this supportive program.
Information for the Allegro, College, or Camp Scholarships can be found on the corresponding application forms. You can view all details and download the application forms by going to Forms/Downloads on the main menu. Online application forms are available from the teacher's Member Homepage.
Scholarship Committee Co-Chairs:
Sondra Tammam and Charlene Step
Salvatore Mallimo
Donate to MEA
The Music Educators Association of New Jersey is comprised of nearly 300 piano teachers across the state. MEA supports music opportunities through activities such as auditions, recitals, competitions, master classes, composition festivals and scholarship awards. Please consider making a tax-deductible contribution to these worthwhile efforts by clicking the 'Donate' button below. You may also download a donation form here.
Nine MEA-MJN scholarships were awarded in 2017, seven for summer music camps/festivals and two for college. Here are some reflections of the recipients' experiences:
INSPIRING MOMENTS AT THE PHILADELPHIA INTERNATIONAL MUSIC FESTIVAL, 2017
Three camp scholarship recipients of MEA teacher Gloria Chu describe how inspired they were at the two-week Philadelphia International Music Festival in Bryn Mawr, PA.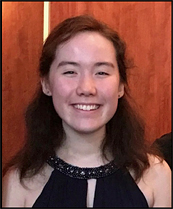 Thanks to the MEA Camp Scholarship, I was able to participate in the Piano Studies Program at the Philadelphia International Music Festival for two weeks this past summer. The camp was an extraordinary and life-changing experience that allowed me to develop a deeper understanding of music and to meet other people who shared a similar passion for music. I was introduced to new perspectives about music and was exposed to different styles of playing, both by my teachers and my fellow students. I especially enjoyed the opportunity to participate in collaborative music, which I had limited exposure to prior to the camp. At camp, I was able to play piano duos and trios, and also practiced daily with a chamber group. My experience at this music festival gave me wonderful memories and allowed me to develop great friendships, while also deepening my relationship with music. I am very thankful for the opportunity to attend this camp. — Jenna Cooley
The Philadelphia International Music Festival was an immensely rewarding and incredibly inspiring experience. For any budding young musician, it can be frustrating at times to devote hours upon hours of practice to his or her instrument, yet be unable to meet and connect with students of similar age and passion for classical music. The Philadelphia International Music Festival was an opportunity to break through those barriers by bringing together young musicians from all over the globe, each with unmatched enthusiasm and love of music. Each day was full of opportunities to strengthen not only our skills at playing instruments, but also heighten musical understanding, in a completely immersive environment. Watching and hearing other young musicians practice for hours on end and give stunning performances brings out our natural competitive streaks, inspiring us to work just as hard as them, if not more. Finally, we learned not just to play the notes, execute the articulation and perfect the technique, but to appreciate the rich culture and stories behind every piece of music. Ultimately, the Philadelphia International Music Festival was a spectacular celebration of all aspects of music, reminding us all that music truly transcends human nature. — Vincent Jiang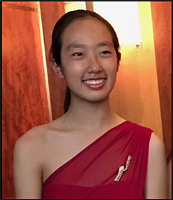 My experience at the Philadelphia International Music Festival (PIMF) allowed me to explore and delve further into music, which was all around me. I was able to learn about piano-playing from the other students and staff and I was able to deepen my understanding of music through hearing different instruments.

With concerts every day and a chamber music elective, the PIMF gave me first-hand insight to the many different sounds that music comes in. Being surrounded by music during those two weeks has not only made me fall more in love with music, but has also inspired me to further advance in music. I am extremely grateful for this memorable experience and would definitely recommend this camp to fellow musicians. Thank you, MEA. — Meghan Jin
LIFE-CHANGING EXPERIENCES AT INTERHARMONY MUSIC FESTIVAL 2017, ACQUI TERME, ITALY
In the summer of 2017, three students of MEA teacher/performer Beatrice Long attended the twoweek InterHarmony Music Festival in Italy, funded in part by the scholarships they received from the MEA-MJN Scholarship Fund. Here are some reflections of their experiences.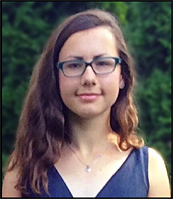 This summer I had one of the most enriching experiences of my life. I learned from an incredible variety of people, for everyone I interacted with — whether student, teacher, or performer — provided a new perspective. Perhaps the most amazing aspect of the trip was how it allowed me to strengthen existing relationships and forge new ones, to make friends with people from all across the world.

The whole festival was characterized by a sense of adventure and romanticism you cannot find anywhere else in the world. Playing piano with a string trio in the echoing halls of an Italian church, with locals filing into the pews, and the bustling Piedmont nightlife visible through the open doors — that's an irreplaceable memory. I gained so much performance and cooperation experience, accompanied by a sense of versatility I hadn't experienced before. Playing on a different piano in a different hall every day was a challenge I learned to meet. Nevertheless, one of the most profound takeaways was the sense of autonomy and freedom I felt discovering a new city with my equally eager peers. — Yulia Kuzniar
Before I even set foot on Italian soil, I knew that my two weeks in Italy was going to be incomparable to any other experience. On my first day in Acqui Terme, although I was in awe of the complete change in atmosphere, I was nervous about meeting new people, trying to fit in with such talented musicians, and the extremely hot weather. I learned that in a town like Acqui Terme, the people are quite friendly and almost welcoming toward everyone, yet they also respect the privacy and activities of those around them. Also, I got many chances to taste authentic Italian cuisine, which varied from classic pasta dishes to rabbit to tiramisu. Being a big food fan, trying these was certainly a pleasure.

The most important part of my stay was the cultural and musical experience. Musically, I definitely feel more inspired and open to different methods of practice and performance. I learned a lot from new teachers who each provided me with a new perspective of music and the performing arts. Not only did I improve with articulation and legato, I also became more aware of timing and how to capture the feeling of a piece through different uses of touch. Another great experience was being able to perform in a three-person chamber group; it really allowed me to understand my role as an accompanist while also supporting the melodies of my peers. (My group performed Songs No. I and II of Eric Whitacre's Five Hebrew Love Songs, which I highly recommend to listen to). At the InterHarmony festival, I became a better musician and performing artist through hours of practice and lessons, along with many new opportunities, such as master classes and performances by teachers and professionals.

Staying abroad at camp also helped me realize that I really enjoyed independence. I first figured this out when I embarked on a solo tour of Milan; the six-hour, 12-mile journey with just me and my own thoughts was quite intriguing. It was not just the many sights, including the glorious soccer stadium San Siro, which caught my attention, it was understanding my own abilities to navigate and explore such a large city. If I could make my way through Milan by myself, I could certainly trust myself in becoming more independent later in life. I would like to express my appreciation and gratitude to MEA for the MEA-MJN Scholarship that helped me have such a wonderful and invaluable experience at the InterHarmony International Music Festival. Thank you! — Eric Guo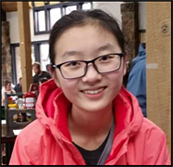 The InterHarmony Music Festival is a fascinating camp because it has the perfect environment to produce music. Everyone in the camp knows music, and they are very knowledgeable. I could interact with different people and get advice to help me improve. Furthermore, the schedule is designed flawlessly to encourage students to practice. There are lessons every day with two hours of mandatory practices. In fact, because everyone is very serious about music, it motivates you to practice more. For example, my friends and I woke up an hour early to practice in addition to our two hours of mandatory practice. The camp requires a lot of dedication and it is all worth it. My musicality improved greatly. There are concerts every night, which allowed me to hear many different pieces. There were also master classes you could attend, and opportunities for lessons with many different teachers. Moreover, I made many good friends and shared many good memories together. We ate Gelatos every day and had a lot of fun!— Rachel Chen
MEMORABLE MOMENTS AT NICORI PERFORMING CAMP, 2017
Luke Surretsky, student of MEA member Linda Petrocchi, spent four weeks during the summer of 2017 at the Nicori Teen Performance Ensemble Camp in Bloomfield, New Jersey. Here are some of his memorable moments.
This summer I attended the Nicori Teen Performance Ensemble "camp" and performed in Stephen Sondheim's Into the Woods, directed by Corinna Sowers-Adler. (Musically directed by Corey Wachala, stage managed by Jenna Rafferty, music and words by Stephen Sondheim, and book by James Lapine). As always, the Nicori experience made my summer memorable.

In the show, I was cast as Rapunzel's Prince, who is the love interest of Rapunzel, and the comedic relief in the show along with his brother, Cinderella's Prince, who both sing the hilarious and show-stopping "Agony."

Playing Cinderella's Prince was Jesse Dorfman, a Nicori alumnus who is now a sophomore studying theatre at Kean University. I was very excited and honored when I found out that I would be sharing the stage with Jesse. We spent a lot of time offstage talking and messing around like brothers would. We also spent time together outside of camp, which was very enjoyable. When it came time for the show, we received lots of compliments because we had such brotherly chemistry onstage. In addition to that, we had to learn two songs together: "Agony" and "Agony Reprise." Although these were the comedic numbers of the show, it was not like any type of singing I had done before. My voice had not begun to lower prior to this summer, so I was used to singing higher like a young kid would sing. While playing Rapunzel's Prince, Corrinna taught me how to sing with more depth and bass. She also taught me how to use my voice in an operatic fashion. My piano skills and overall ability to read music helped me learn the music more easily and to practice by myself at home.

Overall, camp has made me a better person in general, but also musically and socially. Thank you again, MEA, for the scholarship that contributed to my unique camp experience.— Luke Surretsky
DOUBLE MUSIC MAJOR AT LIBERTY UNIVERSITY, 2017
Elizabeth Amels, a student of Diane Battersby, is currently a freshman at Liberty University in Lynchburg, Virginia, with a dual major in Music Worship Leadership/Music Publishing.
My name is Elizabeth Amels and I am a 2017 recipient of the Mary Jean Nelson College Scholarship. Thank you so much for the gracious scholarship. It has been a blessing to see how much the MEA community has poured into me over the past ten years. Being raised in music has greatly changed my life. I am so thankful that I had a loving and caring organization that provided a place for me to develop my craft.

Currently, I am a freshman at Liberty University in Lynchburg, Virginia. I am studying to achieve a Bachelor of Music in Worship Leadership and a Bachelor of Music in Commercial Music: Recording Engineering Production. Aside from music, I am also studying American Sign Language; it may turn into a minor later on.

The Mary Jean Nelson Scholarship has allowed me to go further in my music studies by purchasing various music books, learning materials and concert attire. Most recently, Liberty University premiered the concert version of the Broadway production Amazing Grace: The Musical. It was a pleasure to be a part of that experience.

At Liberty University I hope to achieve my double major and minor and graduate in 2020. Also, I hope to be interning with the New York City Fellowship program, shadowing or working along some great recording engineering artists. After graduation, I hope to be working in the commercial music marketplace as well as being a music director or worship pastor at a local church on the weekends.

Thank you, MEA, for your investment in Liberty University and the future of students like me.— Elizabeth Amels
About Mary Jean Nelson
The Fund was named for one of the MEA's former outstanding teachers, Mary Jean Nelson. Born in 1926 in Logan, Utah, Mary Jean took to the piano at an early age. By 14 she was already performing at church functions and teaching piano to other children. After graduating from Utah State University in 1948, where she received the Outstanding Graduating Student Award, she was admitted to the Juilliard School of Music in New York. Mary Jean opened a piano studio in Morristown, NJ, after she and her husband and two children moved there in 1960. She was an active soloist and accompanist in the area, performing with various chamber groups, soloists and choral ensembles. She was also a judge in MEA competitions, and a recipient of the Annual MEA Teaching Award. The Fund was named in her honor shortly after her sudden death in July, 2000.