Honors Recital Highlights
November 11, 2018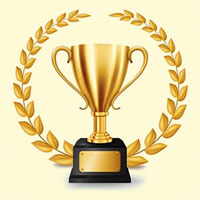 Fifty soloists and four ensembles were awarded Honors for their outstanding performances on audition day, November 4, 2018, at County College of Morris. More than 90 students auditioned there for the first time and we thank CCM for a seamless day filled with wonderful music. For their insightful evaluations, MEA thanks the judges: Diane Battersby, Barbara Landi Hause, David Iskowitz, Yuly Verbitsky, Greg Whiddon and Yuka Yanagi.
Three exceptional, musically diverse Honors Recitals were presented on November 11, 2018, by students who ranged in age from 7 to 16. Thank you to the Music Den for the use of the lovely Randolph Performing Arts Center. MEA salutes all the Honors students for their sensitive performances, their musicianship, and their poise under pressure. Congratulations to the MEA teachers, listed below, whose nurturing resulted in such a high-level of play.
3pm Recital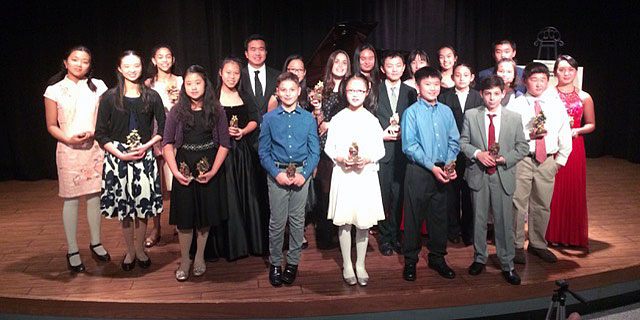 3pm Program
Hyuna Kang
Sonatina in D Major, Andante
Pleyel
Evan Fan
Prelude in A Minor
Ravel
Zoe Calimani
Humming Bird
Gillock
Joyce Hwang
The Storm, Op. 109, No. 13
Burgmüller
Joyce & Emily Hwang
Berceuse from the Dolly Suite
Fauré
Isabelle Qi
La Joyeuse
Rameau
Daniel Goldgraber
Variations on a Russian Theme
Maykapar
Kristen Ngai
Adriana from Vals Venezolano
Astor
Iris Piskula
Sonatina in G Major, Op. 151, No. 1, Rondo
Diabelli
Aviv Cohen
The Girl with the Flaxen Hair
Debussy
Christine Peng
Sonatina in D Major, Op. 36, No. 6, Allegro con Spirito
Clementi
Sophia Lee
Sonata in F Major, K. 332, Allegro
Mozart
Kevin Xu
Andeluza, Op. 5 No. 5
Granados
Defne Zeybek
Two-Part Invention No. 7 in E Minor
J.S. Bach
Florence Shen
Nocturne, Op. 55, No. 1
Chopin
Katherine Wu
In Autumn, Op. 36, No. 4
Moszkowski
Eric Guo
Etude in D Sharp Minor, Op. 8, No. 12
Scriabin
Sophia Hu
Sonetto 104 del Petrarca, S. 161, No. 5
Liszt
Eliza Tagle
Sonata in F Minor, Op. 2, No. 1, Prestissimo
Beethoven
Austin & Franklin Mau
Prelude No. 1
Gershwin
4:30pm Recital
4:30pm Program
Emi Simonds
Sonata in C Major, Hob. XVI:1, No. 10, Moderato
Haydn
Caiden Mooney
Six Dances in Bulgarian Rhythm, No. 6
Bartok
Anthony Zhuang
Sonatina in A Minor, Op. 94, No. 4, Allegro Moderato
Biehl
Eric Guo
Solfeggietto
C.P.E. Bach
Sophie Cheng
Etude in D Minor, Op. 1, No. 4, Allegretto
Liszt
Caitlyn Huang
Sonata in G Major, Hob. XVI:27, Finale — Presto
Haydn
Anvika Hegde
The Maiden's Wish
Chopin/Liszt
Tien Rattanasoontorn
Sonata in B Minor, K. 377
Scarlatti
Evan Wang
Impromptu in E Flat Major, Op. 90, No. 2
Schubert
Rebecca Hsiao
Sonatine in F Sharp Minor, Animé
Ravel
Nicolas Gritz
Prelude & Fugue in F Major, XIII, WTC Book I
J.S. Bach
Lauren Feldman
Suite Bergamasque, Prelude
Debussy
Jamie Shou
Sonata in D Major, Hob. XVI:37, Allegro con brio
Haydn
Olivia Dunleavy
Consolation No. 2
Liszt
James Bally
Drizzle — Homage to the Chopin Raindrop Prelude
Bally
6pm Recital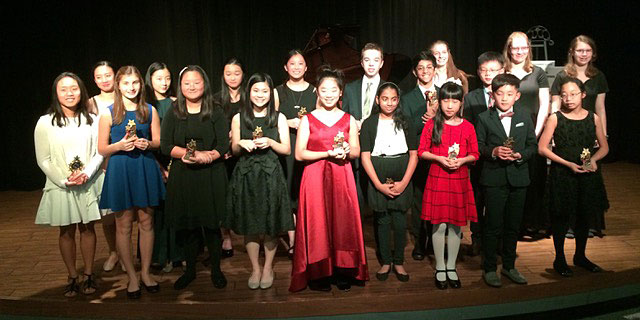 6pm Program
Audrey Xi
Le Petit Noir
Debussy
Matthew Kwon
Sonatina in F Major, Op. 257, No. 2, Finale - Allegretto Giocoso
Lack
Helena Kim
Tarantelle, Op. 77, No. 6
Moszkowski
Winnie Tso & Jennifer Cao
En Bateau from Petite Suite
Debussy
Emily Grant
Prelude, Op. 12
Prokofiev
Justin Zhang
Agitato e con fuoco in B Minor from Songs Without Words, Op. 30, No. 4
Mendelssohn
Radha Pingle
Bourrée in F Major
Telemann
Irene Hwang
Sonatina in E Flat Major, Op. 19/20, No. 6, Allegro
Dussek
Zoey Wen
Spinning Song from Songs Without Words, Op. 67, No. 4, Presto
Mendelssohn
Aadhithyaram Balaji
Moonlight Mood
Gillock
Emma Wang
Sonata in C Major, L. 104, Allegro
Scarlatti
Sophia Kim
Sonata in C Sharp Minor, Op. 27, No. 2, Presto Agitato
Beethoven
Conor Hampton
Valse Oublieé No. 1
Liszt
Tiffany Yang
The Lark
Glinka/Balakirev
Mary Quimbo
Sonatine No. 1, Modéré
Ravel
Sasha Shefter
Etude in A Flat Major, Op. 1, No. 9
Liszt
Sophie & Helen Makus
The Scarlet Cape
Federer
Photos by Lisa Gonzalez
Teachers Whose Students Received Honors
Sophia Agranovich, Dr. Lorraine Butterfield, Azar Gordon, David Iskowitz, Mansoon Kim, Dr. Julia Lam, Chuanyin Lee, Florence Liu, Beatrice Long, Marcia Maull, Eric Olsen, Sophia Ososkov, Dr. Thomas Parente, Sondra Tammam, Stella Xu, Yuka Yanagi, and Stacie Yao.
Honors Recital Committee
Many thanks to the Honors Recital Committee who worked tirelessly to ensure success on both the audition and recital days: Ruth Pasquariello, for scheduling, programming and handling the clerical end behind the scenes; Sallie Lloyd, MEAs Outstanding Volunteer, for devoting her many talents on both days; and to new members Helen Krotoff and Christina Hansen for assisting with various duties.
Charlene Step
Honors Recital Chair