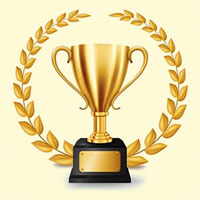 What a joy to celebrate music in person at the 2021 Honors Recitals! Approximately 20 students in each of two recitals performed outstanding selections at the Randolph Performing Arts Center on Sunday, November 14. Students ranged in age from six to seventeen and many performances, including two original compositions, were simply dazzling. The theater was arranged comfortably with ample space between seating and, although everyone was masked, the cheers and applause resounded throughout.
Technology again played an important part in the audition process as soloists and one duet team submitted two YouTube videos for the judges to evaluate. This year's esteemed judges, Kai Pangune Kim, Amir Mortezai, Yuka Yanagi and Mark Weisman, provided sensitive, supportive comments to all the students.
Congratulations to all the students who participated, their parents and teachers, to Ruth Pasquariello, Registrar, and to all those who made these recitals a success!
Honors Recital - 2 p.m. Program
The two o'clock recital featured students of MEA teachers Azar Gordon, Amanda Harberg, Dr. Julia Lam, Florence Liu, Beatrice Long, Sophia Ososkov, Dr. Thomas Parente and Charlene Step.
Petit Variations, Op. 8, No. 14
Maykapar
The Woodpecker, The Vulture & The Eagle from Birds, Nos. 3, 6 & 8
Bernstein
Notturno, Op. 54, No. 4
Grieg
Fairy Tale, Op. 34
Arensky
Mazurka in G minor, Op. 67, No. 2
Chopin
Invention No. 6 in E Major
J.S. Bach
Waltz, Op. 69, No. 2
Chopin
Prelude & Fugue in C minor, WTC 1
J.S. Bach
Piano Sonata No. 9, Op. 14, No. 1, 3: Rondo-Allegro Comodo
Beethoven
Prelude from English Suite No. 3 in G minor
J.S. Bach
Nocturne in G minor, Op. 37, No. 1
Chopin
Piano Sonata No. 6 in F Major, Op. 10, No. 2: 1. Allegro
Beethoven
Desperate Measures from Paganini Variations for Piano
Muczynski
Pirates of the Caribbean
Badelt/Radnich
Honors Recital - 4 p.m. Program
The four o'clock recital featured students of Barbara Landi Hause, Mansoon Han Kim, Florence Liu, Aziza Khasanova-Madaski, Nancy Modell and Yuka Yanagi.
Polka-Mazurka, Op. 155, No. 2
Oesten
Sonatina in G: 1. Allegro
Attwood
Sonatina, Op. 168, No. 2: 1. Allegro Moderato
Diabelli
Admiring Butterflies on the Great Wall
E. Zhang
Nocturne in C-Sharp minor, Op. Posthumous
Chopin
Allemande in A minor, HWV 478
Handel
Andalucía/Suite Espanola No. 4. Gitanerias
Lecuona
Canyons & Waterfalls
Bober
Sonatina: 1. Allegro giocoso
Khachaturian
Tarantella, Op. 77, No. 6
Moszkowski
Allegro in B minor, Op. 8
Schumann
Rock Prelude No. 3, Jingo
Norton
Prelude, Op. 23, No. 5
Rachmaninoff
Piano Sonata No. 4 in E-flat Major, K. 282: 1. Adagio
Mozart
Hungarian Rhapsody No. 6
Liszt
Honors Recital Committee
Charlene Step, Chair
Ruth Pasquariello, Registrar