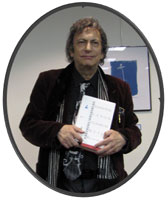 Rachmaninoff - His Life through His Piano Playing and Compositions was an extraordinary lecture presented by David Dubal. A faculty member at Juilliard since 1983, Mr. Dubal has performed, conducted master classes, lectured, and judged competitions worldwide. An authority on the piano literature, Mr. Dubal has written highly acclaimed books including The Art of the Piano, The Essential Canon of Classical Music, Evenings with Horowitz, Reflections from the Keyboard, and Conversations with Menuhin. He has been awarded numerous honors. His video, The Golden Age of the Piano, won him an Emmy award. Mr. Dubal served as music director of WNCN in New York City from 1967-1990, and as producer and commentator for innumerable special broadcasts.
Sergei Rachmaninoff (April 1, 1873 - March 28, 1943) had immigrated to USA after the Russian Communist revolution of 1917, and became one of the most influential composers, performers, and conductors of the 20th century. In Dubal's words, he is a 'James Joyce of music.'
Mr. Dubal started with playing an excerpt from the 1st movement of Rachmaninoff's Symphony #3, Op. 44. Conducted by the composer himself and illustrative of his style, it is saturated with the deep passion and Romantic nostalgia for the lost world. Narrating Rachmaninoff's life story, Mr. Dubal played and analyzed some if the Rachmaninoff's recordings, among which were Étude-Tableaux in G minor, Moment Musicaux in E-flat minor, and the Prelude in C-sharp minor, that Rachmaninoff grew to hate due to its overplaying. An inimitable interpretation of the popular Chopin's Valse in C-sharp minor was breathtaking. A masterly recording by Kreisler and Rachmaninoff, of Grieg's Sonata Op. 45 was also played by Mr. Dubal, who told a humorous story about Rachmaninoff pushing Kreisler to work on it more and more. Rachmaninoff was a perfectionist. As an example, he had 42 takes for the recording of the Scherzo from the 'Midsummer Night's Dream' by Mendelssohn. As Ravel said, "The thrill of perfection - life's only badge"... Rachmaninoff's playing of the cadenza from his favorite Piano Concerto #1 was extremely touching. Actually, Rachmaninof considered Vladimir Horowitz, whom he had asked to play this cadenza for him, to be his best interpreter.
Rachmaninoff was born into an aristocratic family in Semyonovo, a district of Novgorod. He took his first piano lessons from his mother, Lubov, and later - from Anna Ornatskaya. Three years later his father, Vasily, fell into debt and lost all his estates. The family moved to St. Petersburg, and Sergei received a scholarship to study at the Conservatory. Sergei wasn't a very serious pupil, didn't see his purpose, and failed his exams.

At 12, his mother sent him to the Moscow Conservatory, to study with great Nikolai Zverev, who, together with Sergei's cousin, the famed Alexander Ziloti--a pupil of Liszt--, influenced Rachmaninoff's musical career. Rachmaninoff studied theory under Arensky and Taneyev. He met Tchaikovsky; Scriabin was his classmate. He had completed composition courses in only one year and wrote the one-act opera 'Aleko,' Piano Concerto No. 1, Prelude in C-sharp minor and other works. Rachmaninoff was the 3rd and last student to receive the Moscow Conservatory's Great Gold Medal.
In March 1897, his Symphony No. 1 received terrible reviews. It might have been a result of Glazunov's unskillful conducting, but nevertheless, this symphony was not performed again until after Rachmaninoff's death. He became deeply depressed and stopped composing for three years during which he performed, conducted, and taught. After a treatment by Dr. Nicolai Dahl, who hypnotically suggested to him to write 'a great piano concerto', Rachmaninoff gradually recovered and began working on his magnificent Piano Concerto No. 2. For ten years, until the Russian revolution, he was very successful in his career. In 1902 he married his cousin Natalia Satin. He was a conductor of the Bolshoi Theater in 1904-6, and then went to Italy and Germany. In 1909 he toured the United States, composing his Piano Concerto No. 3 for this occasion, which he performed with Mahler conducting.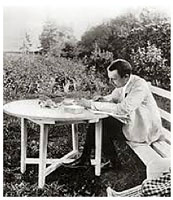 In December 1917, Ivanovka, his beloved estate, was seized by Bolsheviks. Rachmaninoff moved with his family to Denmark, and the following year, to New York. In March 1931 he signed a petition published in the New York Times, criticizing Stalin and the Soviet regime, and as a result, his music was banned in the USSR. In the U.S., Rachmaninoff didn't compose much. He was a wonderful husband and a father and earned a living by playing and conducting. He became one of the greatest conductors and piano virtuosi, having around 500 pieces in his repertoire.
Rachmaninoff's compositions include operas, symphonies, orchestral tone poems, piano concerti, chamber works, transcriptions, solo piano and choral pieces, altogether about 45 opuses. In his lifetime, avant-gardism, neoclassicism, and twelve-tone music became state of the art. But his compositions were in the great Romantic tradition. Reactions to his works were and still are mixed among critics and musicologists: either disapproval or adoration. But among the general public his music was and remains very popular.
Rachmaninoff was six foot-six inches tall, (he could reach a 13th on the keyboard), and possessed magnetism and authority that projected in his stage presence. He had a melancholy demeanor, affected by the early death of two sisters, the realization that he could never return to his homeland, and a sense of decline of Russian aristocratic tradition. Horowitz said that Rachmaninoff was the most aristocratic man he had ever met. Rachmaninoff considered that artists carry a tremendous responsibility before humanity. He was the last connection between Romanticism of the 19th century and contemporary music.
David Dubal's program "Reflections from the Keyboard" can be heard on WQXR.org and 105.9 FM. "The Piano Matters," is a weekly program heard on WWFM.org highlighting the piano in comparative performance.
Photos and layout, Nancy Modell
Sophia Agranovich, Program Chair, Writer, and Hostess