On February 21, pianist and Juilliard professor Aaron Wunsch presented an outstanding lecture-concert, "Debussy and the Visual Arts," exploring influences and aesthetic similarities in art and music of the late 19th century and early 20th century.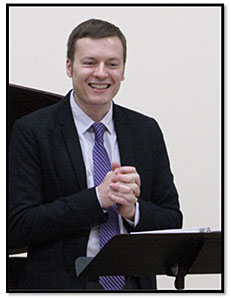 The presenter earned both master and doctoral degrees at Juilliard, and received a Fulbright grant. Dr. Wunsch performed throughout the U.S., Europe, and Asia, and gave chamber music performances with clarinetist Charles Neidich, violinist Rolf Schulte, cellist Lynn Harrell, and the New York Woodwind Quintet, among others. He had numerous premieres and radio broadcasts; collaborated with composers Thomas Adès, Charles Wuorinen, Kaija Saariaho, Fred Lerdahl, Steven Stucky, Chen Yi; and recorded works by Anton Webern and Nico Muhly. He appeared in Tanglewood, Verbier, Sarasota, and Norfolk Festivals and lectured on American music in Europe and Asia. His awards for written work in musicology include the Henry Hart Rice Prize and the Richard F. French Prize. Dr. Wunsch is artistic director of both the Skaneateles Festival, Finger Lakes, and the Music Mondays Concert Series, New York City. Read more at aaronwunsch.com
Dr. Wunsch analyzed Debussy's style, comparing his works to Impressionist paintings while projecting some images of paintings onto a screen. Almost all Debussy's compositions are visually oriented. While listening to them, images of French Impressionist paintings by Monet, Renoir, Sisley, Manet, and others come to mind. This style was named by the critic Louis Leroy in a satirical review published in the Parisian newspaper Le Charivari after the title of a Claude Monet work, Impression, soleil levant (Impression, Sunrise).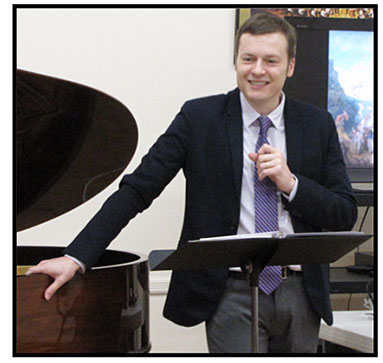 The development of Impressionism in the visual arts was soon followed by analogous styles in other media that became known as impressionist music and impressionist literature. Impressionism discovered art in a fresh new way, encapsulating the passing of time. Debussy's compositions capture moments of imagination. But what is real? Our perception. Gaugin said, "Color is vibration." Impressionism blended art and music boundaries. Music imitated art and art imitated music.
Debussy also admired other styles: Renaissance, Baroque, Rococo, Chinese art, Japanese prints. Watteau's painting, The Embarkation for Cythera (L'Embarquement pour Cythère) almost certainly inspired Debussy's Le isle joyeuse. Watteau painted in Baroque and Rococo styles, which were led by French culture. He portrayed mythology and symbolism. Debussy appreciated non-French artists like Whistler, a proponent of "art for art's sake," who gave many of his works musical names, like arrangements, nocturnes, harmonies. Debussy loved the English Romantic painter J. M. W. Turner the most for the constant motion, drama and mystery that permeate his works. Debussy also enjoyed grey and black-white color schemes, or a limited palette, like in paintings of Velasquez. Japanese prints influenced Debussy's Estampes (Prints). The Wave, a famous Hokusai woodblock print, was illustrated on Debussy's score for La Mer.
Debussy felt that rules of compositions were too stringent and started removing traditional musical elements: bass and treble lines of equal importance replaced traditional melody with accompaniment; free flowing music replaced conventional musical forms; the whole-tone scale, Lydian mode, and the pentatonic scale frequently supplanted major and minor scales. He said, "pleasure is the law," and there should be no rules in art. He was not concerned about frames, just ideas. He was interested in the overall mood of the works of art and music. Artists reflected this concept as well. For example, Manet's painting Concert at the Park has no conscious narrative, no center figure, no background or foreground.
Debussy was greatly influenced by the French lyric poet, Paul Verlaine, a leader of the symbolist movement—(fantasy quality with realistic details), whose selected works inspired Debussy's art songs. At the conclusion of this fascinating presentation, Dr. Wunsch beautifully performed "Prelude," "Clair de lune," and "Passepied" from Suite Bergamasque, and L'isle joyeuse.
Sophia Agranovich, Programs Committee Chair, Hostess, and writer
Nancy Modell, page design and photography