TEACHERS' MASTER CLASS
The March 16th Teachers' Master Class was skillfully led
by Master Teacher Douglas Humpherys —
performer and teacher of global proportions, and Piano Chair at Eastman
Winter-weary after a surprise March snowstorm, members and guests gathered early morning at the Madison NJ Library with high hopes. Live music was just the lift we needed. Perfect timing for the Annual MEA Teachers' Master Class! A beautiful printed program, produced by Beverly Shea, set the tone for the exciting meeting with Douglas Humpherys. Play on, pianists! And they did. Three talented members performed with expressiveness, musicality, passion and stamina on the Steinway in the intimate Chase Auditorium space.
Program Hostess Beverly Shea introduced Master Class Teacher Douglas Humpherys, highlighting his many career accomplishments. He joked afterward, "I didn't write all of that!" With a concert career spanning four decades across four continents, Mr. Humpherys is a performer and teacher of global proportions. He is professor and chair of the Piano Department at the Eastman School of Music, and has served in visiting residencies or professorships at the U. of Michigan, Yonsei U. in Seoul, and the Central Conservatory in Beijing. A graduate of Juilliard (MM) and the Eastman School of Music (DMA), he studied with Nelita True, Martin Canin, and Robert Smith. Our presenter's first impression of the MEA dates to 2002, when he was a guest speaker on Schubert. "When I sat down to play, everyone pulled out their scores! This was a very serious group," he recalled with a smile.
Recitalist and chamber musician So Jung Lee, currently working on a doctorate at Rutgers University, began our program with the first movement of Robert Schumann's Fantasie in C Major, Op. 17. Playing expressively, she took us on the wonderful journey, through the highs, lows, and the depths of emotion. We felt her connection to the music. Mr. Humpherys praised So Jung's performance, particularly her playing of the lyrical passages; "I hear you listening with real intensity and focusing on the lines there!"
As a young student, Mr. Humpherys told his teacher that he wanted to play the Schumann Fantasie. "No one should play this until they are 40!" his teacher exclaimed. "Luckily we have come to a better time, when students can learn it at age 17, and perhaps perform it later," said Mr. Humpherys. He added that the Fantasie has an exalted status in the piano world, and quite an interesting back-story. Originally commissioned for a monument to Beethoven being built in Bonn, this piece was given various titles. When Schumann finally called it Fantasie, he remarked (in a nod to Shakespeare), "Sonatas, Fantasies, what's in a name?" And it was the publisher, not Schumann, who changed the dedication to Liszt.
Next: some suggestions for the more virtuosic parts of the piece. Since our fingers tend to take over a little bit more there, these are good places to work on our listening. He demonstrated a technique (LH gesturing up) he uses with his students to create a cushioned sound. "We're not trying to manipulate the volume of the sound here, just making the sound blossom." In reference to one particular passage he mused, "We can't make it too pretty. Remember to think about Schumann's emotions at the time. He is in love with Clara. His future father-in-law hates him, and he's crazy. He's having nightmares every night. He has to write for Beethoven! We need to keep all of this in mind and keep the passion going." So Jung played the ending as Mr. Humpherys coached her to pull out the emotions from the score. As she played the final chords of the movement, he reflected on that expressive compositional moment. "Such peace. We've waited so long for that."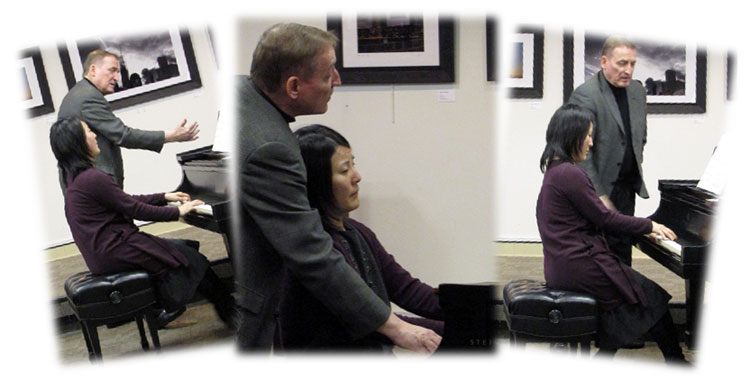 Second at the Steinway was Blanca Ugelli, an award-winning pianist born in Buenos Aires, who has performed in South America and the U.S. She played the first movement of Chopin's Sonata No. 3 with elegance, grace, and intensity. Mr. Humpherys thanked her, and said with enthusiasm "Blanca, I enjoyed it very much. You have some real poetry going on!"
He then turned to our piano savvy audience and posed a Chopin trivia question.

Q. What is unusual in the form of the first movement of all three of Chopin's piano sonatas?

A. He doesn't recapitulate the first theme. In this particular sonata (put your composer hat on for a minute), why not recapitulate the first theme? Because the theme was used so much already, we don't need to hear it again. "This sonata is so saturated!" For that reason, performers should think about how to present the theme when it is first introduced. Mr. Humpherys noted, "You are starting on a long journey here, so try a longer setup to begin."
As Blanca played on, he chose a few specific places in the piece to explore. When she reached the section where the opening five-note motive is repeated in successive bars, he began counting aloud while gesturing. "One time, two times, three times, four times, five times, six times, seven times!" he exclaimed. "Chopin really loves this motive. I think that you can use that as a means of getting even more expressive variety. I hear great personal conviction in it, and I want to hear even more." He then replayed the passage with the unexpected chord change that follows the sequences, exclaiming, "Here's the greatest moment! We thought we were going someplace else. It's such a shock. So triumphant!
Our third and final master class performer, Luba Vasilyeva, then played Ravel's La Valse. Luba studied and performed in St. Petersburg, and then moved to the U.S. where she now concertizes and teaches. With the music rack removed to release the full Steinway sound, Ravel's exciting waltz adventure came to life. Beginning with the low LH rumble, we were taken on an ever fantastic and powerful pianistic journey. Luba's playing was exciting and intense, mesmerizing the audience. "First of all, congratulations!" said Mr. Humpherys. "So many notes, and so much to say!"
He noted that Ravel composed this piece as a kind of "dark satire" of the Viennese waltz, "with all of this dissonance thrown in and all of this buildup toward the end." The full title of the piece helps us better understand this dramatic and dissonant music. It is La Valse, Poème Chorégraphique. Ravel envisioned a ballet company on stage dancing to the fully scored orchestral version. In Ravel's concept of the end of the ballet, said Mr. Humpherys, "The stage was going to tilt, and all of the dancers were going to tumble off of it!"
Then to a few suggestions on rubato: "The rubato is bending the pulse. You want to use rubato like a conductor does. This piece is also very, very sensuous, so you don't want a rigid 'one, two, three, four.' Ultimately, you will be thinking of this in 'one.' Don't lose the dance." He noted that Ravel, unlike Debussy, was quite a meticulous marker of scores. Interpreting Ravel, it is best to apply a ritardando only where indicated. Follow the score.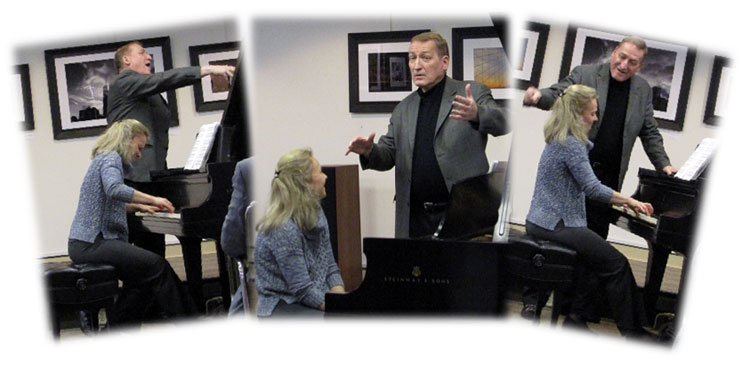 Throughout the master class, Mr. Humpherys shared some pianistic tips. On timing, when appropriate, "Think in a larger, hypermetric structure. When you do that you immediately get a longer line." On difficult passages, "If you have something really, really hard [in one hand], think about the other hand; that almost always helps." Finally, a fun quote he shared with us from Leon Fleisher: "Be as 'late' as possible without being late."
Thanks to Hospitality Chair Karen Dann Sundquist, we enjoyed delicious treats as we mixed, mingled and talked music after the performances. We left with spirits lifted and hearts full of incredible music, thanks to Douglas Humpherys. Brava, MEA Master Class pianists. We thank you for performing today and wish you continued musical success.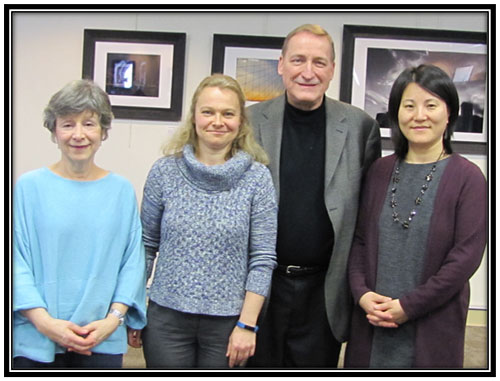 Photography and layout, Nancy Modell