Visual Aspect In Musical Creativity - Producing Visuals For Classical Music
Elliott Forrest

The MEA Program Committee, chaired by Sofia Agranovich, has been hard at work during the Covid-19 pandemic, booking excellent guest speakers for the 2020-21 season. In March, with our laptops, tablets, and phones, we joined the Zoom meeting featuring Elliott Forrest. You may recognize the name, and definitely the voice, from his perch behind the mic at WQXR, New York City's classical radio station.
President Yudit Terry opened the meeting with a recap of MEA's adaptations to the challenges of the Covid-19 pandemic. "It has been a pretty remarkable year!" she concluded. "We are looking forward to a unique presentation today." MEA Glissando Chair Richard Allaway facilitated the Zoom meeting, encouraging guests to send questions through the chat to Elliott throughout the presentation. Program Committee member Beverly Shea introduced Elliott, mentioning a few of his myriad projects and achievements. Learn more about Elliott at elliottforrest.com
Elliott, in that familiar voice, began with thanks. "Thank you for all you do. You are on the front lines, and this has been an extraordinary year, particularly for gig musicians." He continued on with a summary of his current work life. "I have three big buckets in my life - NY Public Radio, Arts Rock, and my creative stage production work around the country." A photo with Steven Sondheim in WNYC's Greenspace then appeared as an example of his New York Public Radio work.

"It was the highlight of my life to sit down with Steven Sondheim, and as you can see I made him laugh." He showed us his work-from-home WQXR studio set up, necessitated by the Covid-19 pandemic in March 2020. "We all recreated our radio studios in our own homes, and I keep telling my colleagues, I'm not coming back! I love doing this from home, and it's really changed, I think, an entire industry... To a certain degree, I don't know why anyone would go back." A lover of radio drama, he noted that Romeo Y Julieta, a bilingual version of Romeo and Juliet that he has been working on, premieres tonight, and runs forever.
Arts Rock offers diverse and underserved audiences in Rockland County greater access to arts and multicultural programs. They have presented many great artists, classical music and conversations over the last 12 years. Elliott is very proud that the work they curated, Songs of Protest, can be watched for free.
The focus today was on Elliott's longtime work around the country adding visual elements, projections, lighting and set pieces to classical concerts (and other projects). We learned much about how and why these productions came about, gaining insight into Elliott's creative process and realizing how emotionally powerful the combination of music, visuals, and lightning can be for an audience. Highlighted below are some of the projects he shared with us today.
"Thank you for all you do, you are on the front lines, and this has been an extraordinary year, particularly for gig musicians."
An Evening with Itzhak Perlman – At a dinner table on the upper West Side, Elliott joined violinist Itzhak Perlman, his wife, and his agent to explore this "Evening With" idea. Mr. Pearlman told stories, and they went through lots of old photos and videos, which Elliott would edit and use in the production. For a wonderfully creative show opener, they chose the Ed Sullivan Show video of Perlman playing at age 13. "Ladies and gentlemen," Sullivan's image and voice appear, "Put your hands together for a young musician direct from Israel, please welcome, Itzhak Perlman." Then out walks Perlman in real time. "Theres [sic] not a lot of performers that can afford to pay me to go on tour with them for every single concert, but Mr Perlman can ... He's extremely entertaining."
Charlie Chaplin's Smile: A Musical Tribute to Charlie Chaplin - Violinist Philippe Quint reached out for help with this concept show that includes screen clips of Chaplin's silent era films with his violin accompaniment. On trying to play along with the projected images, he said, "I can't synch this." Elliott solved the problem using software and hardware (Broadway standard Q Lab software for presenting visuals). Philippe's vision became a reality: screen clips of Chaplin's silent era films with musical accompaniment by Philippe Quint.
New Morning for the World by living American composer Joseph Schwantner. - This is a 28-minute orchestral piece with narrator who includes quotations of Martin Luther King Jr. No one had ever added visuals, including pictures of Dr. King, until Elliott received permission to do so, about two seasons ago. The first 15 minutes of the work is all orchestral, no text. On how he chose the images: "I just basically listened to the music and examined its affect. [I'd ask myself] What's going on here? It's very tumultuous." He created additional visuals for the presentation, photographing children from different schools and using beautiful pictures of young people.
Christmas Carol in Concert - Elliott produced and created this version of A Christmas Carol, a ghost story "filled with horror, heart and humor." It was a sort of onstage radio drama, specifically for orchestra, with music by composer and satirist John Forester. Pointing out an actress in a screen-shared photo, he said, "I got Kathleen Turner to play Scrooge – not as a woman, just to play Scrooge." Kathleen noted, 'You have no idea how many people call me sir on the phone." He also hired Fred Neumann from A Prairie Home Companion to do live sound effects.
Wagner's Götterdämmerung at The Hollywood Bowl LA Philharmonic 2005 - Elliott was asked to make this performance theatrical without using sets, costumes or props. Inspired by Wagner's own stage directions for The Ring in creating fire, the Rhine River and more, he visualized each particular moment and worked out ways to create the effects. For example, when Brünnhilde sets fire to the castle, there is a real ring of fire on stage!
Unexpectedly, this event brought him back into the world of directing and producing. His years of work experiences in classical music and theater worlds had melded. He conceived of a new business, and noted this career path has worked out "really well."
"That is an actual ring of fire on stage!"
Abraham Lincoln 200th Birthday Concert & Music Takes Flight at Lincoln Center with The Little Orchestra Society. The unique approach to the Abraham Lincoln project included placing narrator James Earl Jones center stage on a raised platform, in between the orchestra and the projection. Typically the narrator is off to the side onstage, requiring the audience to look back and forth throughout the show. For Music Takes Flight, he used Mark Blitstein's Airborne Symphony, an oratorio about flight, adding model airplanes from the USS Intrepid to the set. He noted that he tries not to overshadow the orchestra. "I never want my audience to forget there are live people playing."
Elliott's "Symphonic Spectaculars" - These live orchestra concerts are enhanced with video imagery, lighting and other theatrical effects. He has presented these shows with various orchestras across the country, and shared some highlights from his travels. The Pasadena Pops production was an outdoors venue, with two large LED screens on either side of the stage. He was in a truck behind the stage, and ended up calling the show, juggling multiple headsets and a walkie-talkie. The Atlanta Symphony indoor show utilized a scrim (a piece of cloth) instead of a screen that is always there - you can just light it. The Philadelphia Orchestra performed at the Manne Center outdoors, where a 26' LED screen was hung above the orchestra for the visuals. He created his own visual cannons for the 1812 Overture. The "Symphonic Sports-tacular" spinoff was created, a collaborative celebration of the Philadelphia Orchestra and Philadelphia sports teams. Some highlights included slo-mo footage of NBA players making baskets set to Swan Lake, clips and bloopers of the NFL's Philadelphia Eagles set to music, and Peter Schickle (PDQ Bach) calling Beethoven's 5th Symphony as if it were a sports event.
Elliott also integrates audience photos into some shows. "I have tried making interactivity a hallmark of my work." The idea came to him while on the job with the Atlanta Symphony, thinking of what to project for the song 'We Gather Together." "Why don't we show the audience? "It was crazy, but worked and was beautiful." He now requests that concertgoers send photos ahead of time or share photos on their phone and during performance. Audience members send in hundreds of images during the concert, which he assembles during intermission for the second half of the show. "It's been a big challenge but it's been a real fun thing to do."
Other works: Rob Kapilow's Dreaming of a Jewish Christmas - A live one man show, highlighting Christmas songs written by Jewish composers. Elliot created and programmed a montage of music. Comic Book Live - He combined elements by taking a comic book and projecting the panels, sound effects, live actors, and live music.
Finally, the oratorio Considering Matthew Shepard – We listened to this work honoring Matthew Shepard, the young man murdered in Laramie Wyoming for being gay. Elliott was hired to direct this beautiful Grammy-nominated multi-genera choral piece; the work was toured and a version for PBS was shot in Austin Texas. Elliott shared clips of some of the very powerful music and visuals. We were truly touched after he played composer Craig Hella Johnson's song The Innocence. "Maybe it's me, I know the piece, but I get emotional every time. Where has the innocence gone? This has been such a tough time for so many people this last year, I hope the innocence remains."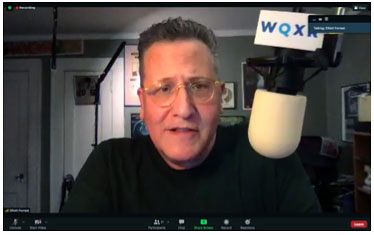 Elliott asked in closing, "Any other questions? Any other thoughts, feelings, or emotions?" Members expressed their appreciation. Sofia summed up, "This lecture was one of the most fascinating we have ever had. Besides being intellectually interesting, it moved almost everyone to tears. It proves that all of the art forms can work together, how important that is, and how that enhances our musical appreciation." The meeting ended as it began, this time with thanks to Elliott.
Lisa Gonzalez, writer and screen shots