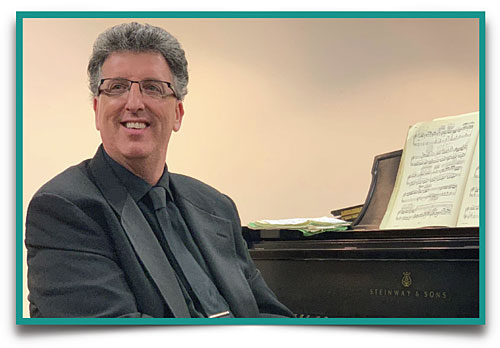 Modern Embellishments in Bach and Mozart
Jeffrey Biegel introduced his refreshing musical ideas to a rapt MEA April audience. "Introducing" is what Mr. Biegel is all about. A brilliant pianist, he is also dedicated to supporting new music:
"Since 1999, Jeffrey Biegel has commissioned ten composers to bring new music for piano and orchestra to the repertoire. On February 10, 2019, Kenneth Fuchs's "Piano Concerto: 'Spiritualist'" with the London Symphony Orchestra led by JoAnn Falletta garnered a Grammy win in the Best Classical Compendium category, featuring Mr. Biegel as its soloist." - from Mr. Biegel's website.
The artist is currently on the faculty of the Conservatory of Music at Brooklyn College, City University of New York. Ana Berschadsky, Programs Committee hostess, graciously introduced Mr. Biegel. His website tells much more. https://www.jeffreybiegel.com
Jeffrey Biegel asked, "Has the use of ornaments changed in the course of time?" He said that he was deaf until he reached the age of three, when the condition was corrected. Perhaps because of this, he has always been affected by sensory experiences, particularly sound and touch. "Music and sound are blessings not to be taken for granted." He attributed his heightened sensitivity partly to his lessons at Juilliard with Adele Marcus. "She would produce unforgettable sounds, colors, and singing tones," he recalled.
Today, our wide and varied experiences with music affect our approach to Baroque and Classical works. Pedaling, range of dynamics, and even the extension of the keyboard in the bass require interpretative decisions. "Ask what would the old composers have done if they had the modern piano?" Would an unbroken descending scale replace a descending bass line that was interrupted because the low keys were not available in the classical composer's era?" Our presenter said "We are not purists; we are not playing period instruments. Why not transpose such disjointed passages to the logically lower "modern" register, making it continuous? Why not make tasteful modifications, use the pedal, and broaden the range of dynamics? Bach and Mozart would embrace our modern piano."
Alluding to the Baroque convention of adding ornaments to the repetitions of the sections of dances, he suggested that it could be applied equally effectively in Mozart's piano sonatas to the repeated sections of movements. "I am not an improviser," he emphasized. "I give a lot of thought to adding ornaments, and I usually write them out on the score." I encourage my students to follow this practice.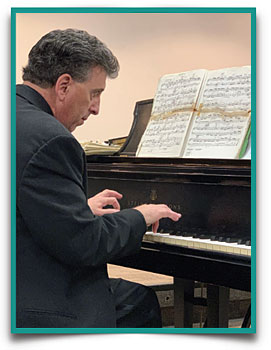 Mr. Biegel then gave a sparkling performance of the Bach French Suite No. 5 in G Major. Each bipartite dance was decorated appropriately in the second playing of the parts. There were phrases that remained unaltered, mostly where the original music already was flowing freely. Sustained notes, or slow moving passages offered more opportunities for ornamentation. In addition to trills and mordents, turns, appoggiaturas, and other conventional embellishments, leaps from one chord tone to another were bridged by a rapid diatonic scale, perhaps "notes inégales" (triplet division of beat), or by a repeated figure that ascended or descended in a more elaborate manner. Occasionally, the ornamentation in one register was imitated in another. These modifications added melodic variety and rhythmic activity that made these pieces sound fresh. The articulation and the phrasing were stylistically appropriate and so the suite still sounded firmly planted in the eighteenth century. "Do not sound like a transcription; maintain the Baroque style," Jeffrey Biegel cautioned. One listener commented that there is an element of mystery as one wonders what will happen next.
The D Major Fugue, Well Tempered Clavier Book I, was the next subject. "I advise my students to ignore the bar lines and think about painting, think about flowing lines. Rhythms will vary: as written, double dot, or 'notes inégales.' "Play the dotted rhythm somewhere between double dotted and as written." Sections of the D Major Toccata were also discussed. "Avoid repeating an embellishment in sequences unless you want it to be emphasized," he suggested.
The Allegro opening Mozart's Sonata in B Flat, KV 333 was the next subject. Again, embellishments were added in the repetitions of both sections. Here the decorations were chiefly added scales bridging chord tones or fast moving repeated figures that added excitement and variety. Some swiftly moving passages were left intact. Trills supplanted mordents and other crisp baroque features. Mr. Biegel then turned his attention to a slow movement that was highly ornamented. "Sing," he recommended, "to achieve better tone. Bring the music out of you; the fingers follow the voice." Here the question of trills arose. Accuracy is fundamental, then speed. He suggested that a student should begin with a slow but precise trill in duple time, and eventually move on to triplets. For trills, possible fingering combinations are: [1-3]. [2-4], [3-5], and [1-3-2-3]. As for pedaling, the artist used half pedal and finger pedal techniques, always careful to follow the score and maintain clarity as required.
The program ended with an interesting question and answer period. This was followed by refreshments provided by Hospitality Chair Karen Dann Sundquist.
Bertha Mandel, writer
Lisa Gonzalez, photographer
Joan Bujacich, layout designer