Dr. Adam Kent, pianist, master teacher, author and lecturer, entranced the audience with the expressive melodies, lilting rhythms, and rich sonorities of Catalan piano music.
Programs Chair Sophia Agranovich, hostess, introduced Dr. Kent, a professor of music at SUNY Oneonta, Described at adamkentmusic.com his accomplishments are truly extraordinary. Consider this excerpt:
"Spanish music has been a specialty of Dr. Kent's, whose advocacy has been acknowledged by the Spanish government on numerous occasions. In 2011, King Juan Carlos I of Spain honored the pianist by bestowing Spain's Orden al Mérito Civil, and the Consulate General of Spain in NY underwrote Dr. Kent's course on the history of Spanish music at Brooklyn College."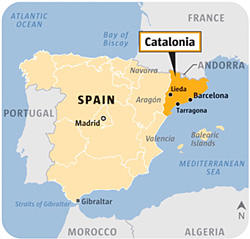 Dr. Kent remarked that Catalan music, in general, is not frequently performed or taught. He outlined the history of Spain, from fragmentation to unification. Catalonia lies in the east, on the Mediterranean, bordering France. Its capitol is Barcelona. Catalonia remains distinctly different culturally from the rest of Spain; it has its own language, and its own traditional melodies and dances. Unlike southwestern Spain, which retains the influence of the Moors, Catalonia is more closely related to France. French impressionism influenced Catalan composers. Another influence was Caribbean, particularly Cuban. Western musical elements travelled east, a coincidental result of shipping commerce.
In the late 19th century, during a renaissance of Catalan culture, workers formed choral societies; company choruses would sing arrangements of folk melodies. Collections of traditional tunes were culled and published. These anthologies became sources of Catalan folk music for 20th century composers.
We first heard an arrangement of a traditional Catalan Christmas carol, the lullaby "El cant dels ocells" from Tonodas, Vol. IV by Joaquín Nin-Culmell (1908-2004). The melody characteristically uses both a raised and a lowered seventh step. Moving inner voices create a thick but dolce texture, skillfully controlled by Dr. Kent.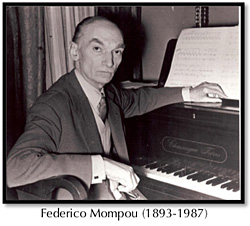 Four Canción y danza (Numbers 1, 4, 9, 6) by Federico Mompou (1893-1987) followed. Mompou's music reflects the aftermath of French Impressionism and the influence of modes. He studied children's songs and was also interested in metallic sounds (suggested by composing clanging dissonances), a fascination inherited from an ancestor who forged one of the Paris Notre Dame bells, Dr. Kent hypothesized. The first "song and dance" begins with a melody in the middle register with decorations like chimes above it. The dance section has a repeated bass that suggests low chimes. No. 4 is from a sailor song, a ballad of a woman being an unwitting passenger on a departing ship. No. 9 is a beautiful arrangement of a melody that is sung in the top voice and then in the middle. The chords and the passing tones create movement and a rich texture. A dance section follows. Both No. 4 and No. 9 have repeated rhythmic patterns in the bass. Chords are sometimes "spiked" with dissonances, giving them that metallic touch. No. 6, dedicated to Arthur Rubinstein, has both Caribbean and Northern Catalan elements. The triplets in the dance section sound Latin American. Mompou's own performances of his music are on YouTube.
Manuel Blancafort (1897-1987) learned about music while transferring scores onto piano rolls. His father, in the piano roll business, trained him. Blancafort composed El parc d'attraccions inspired by the rides in an amusement park in the hills above Barcelona. No. 1 L'orgye dels cavallets depicts a carousel, first with a recurring ponderous bass, then with a livelier section as the carousel turns. The music gets softer and slower near the ride's end. No. IV. Polka de l'equilibrista recalls the sprightly two-step of a dancing tightrope walker.
Robert Gerhard (1896-1970) was the last pupil of Granados and studied with Felipe Pedrell, teacher of Issac Albéniz. Pedrell, who died in 1922, influenced generations of Spanish composers, encouraging them to use folk melodies. Robert Gerhard also studied with Arnold Schoenberg, although Gerhard was never a strict serialist. Gerhard left Spain for England during the Civil War. From Gerhard's Three Impromptus, Dr. Kent performed No. I, Giochevole., which was full of chromaticism and had a texture that wavered from thin to thick.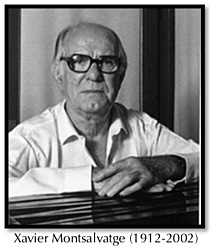 Finally, Dr. Kent performed music of Xavier Montsalvatge (1912-2002): No. II Muy dulce from Tres divirtimientos sobre temas de autores olvidados: and Sonatine pour Yvette (three movements). This music had African-Cuban flavor. The habanera, with its characteristic rhythm, was "imported" by Cuban sailors in Catalonia.
Just as Dr. Kent was most articulate in his comments, he was most artistic in his performances. Although our students are not artists, much of this music is within their grasps. The program closed with questions and comments.
Hospitality Chair Karen Dann Sundquist provided a lovely array of refreshments.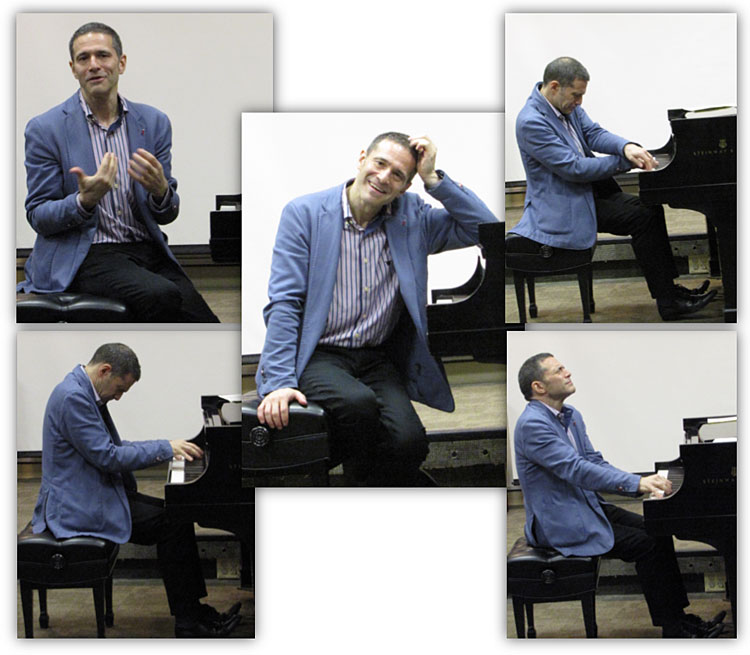 Sophia Agranovich, Programs Committee Chair, Hostess
Bertha Mandel, writer
Nancy Modell, page design and photography