Mozart in Vienna
The Fantasy and Sonata in C Minor, K. 475/457
Adam Kent — May 19, 2022
Six years before his death, in 1785 when Mozart was 29 years old, his Fantasy and Sonata No. 18 (K.475/457) were published together. The set was one of a few paired pieces published during the composer's lifetime. Mozart's father Leopold had wanted him to become an esteemed musician with a full court position. Alas, that did not happen. History tells us Mozart died in debt, despite having earned a lot of money in Vienna. He simply was not adept at managing his income and overspent. In the 1780's, Mozart was renting at the lavishly appointed Trattnerhof, a huge complex owned by the leading book dealer/publisher at the time. Mozart taught piano to the landlord's second wife, the young Mme.Therese von Trattner, and wrote and dedicated the C minor Sonata to her. He wrote the Sonata's slow movement (Adagio) first; it was easier to teach Theresa. Teacher and student apparently wrote letters back and forth and a certain amount of intrigue surrounded their relationship.
The amazing pianist Adam Kent, our distinguished presenter, believes that the Fantasy should be considered a huge improvisation. It basically breaks down into six sections and is playfully unstable. It is filled with sequences that move chromatically. While the C minor key is suggested in the beginning, it does not become fully articulated until the very end after the motifs move to D major, B minor, F, B-flat and D-flat. Catch your breath, because it's quite a ride, totally engaging with changes in tempi and dynamic richness!
Here's a look at part of the original autograph, in Mozart's hand, obtained from IMSLP:
The quality of this facsimile is far from perfect, but one can see the original notes of the first page. Mozart's score is remarkably neat (unlike Beethoven's that are fraught with scribbles!). In the 19th century, the autograph version went missing and it was not until 1990 that a librarian at the Eastern Baptist Theological Seminary (now Palmer Seminary) in Pennsylvania found it tucked away in a drawer.
Mozart experimented with various ornamentation, perhaps trying to decide what he liked best, especially when it came to the Sonata. It is filled with trills and turns and lots of RH and LH crossovers, which created a very dramatic performance at that time.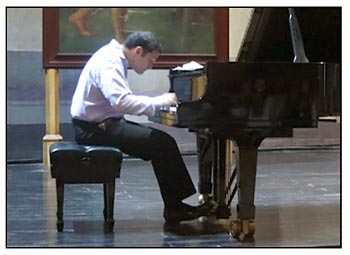 The question one ponders with the Fantasy and Sonata is should they be played in sequence or as completely separate pieces? This has engendered much controversy and disagreement over the years. In the 18th century, there were few public performances for piano, so it did not seem to matter so much. In the 19th century, the Fantasy was treated as an improvisatory prelude, serving as a warm-up to the Sonata. If it indeed is an introductory improvisation, which Adam Kent contends, it does flow easily into the Sonata. However, the audience loses the opportunity to reflect on the spontaneity and genius of the Fantasy.
We were treated to a special performance of the entire Fantasy and Sonata by Mr. Kent, who enjoyed improvising his own ornaments. It was exquisitely played, with numerous nuances and the playfulness that only Mozart can impart. Pedaling this, he reminded us, is very important and subjective. It would be very dry without it, so one must listen carefully when using the damper pedal. Mozart played on a totally different type of piano that did not have the range of dynamics or keys as our modern pianos. The lowest notes on Mozart's piano would actually growl, so we have an advantage in producing a very varied performance that would engage a modern, well-informed audience. And Adam Kent did just that. Thank you so much!
Writer and Layout Designer, Charlene Step
---
Recently appointed to the full-time Music Faculty of SUNY Oneonta, Adam Kent has performed in recital, as soloist with orchestra, and in chamber music throughout the U. S., Italy, Spain, Switzerland, and South America. A winner of the American Pianists Association Fellowship and Simone Belsky Music Awards, Dr. Kent also received top prizes in the Thomas Richner, the Juilliard Concerto, and the Kosciuszko Foundation Chopin Competitions and is a recipient of the Arthur Rubinstein Prize and the Harold Bauer Award. Dr. Kent made his New York recital debut at Weill Recital Hall in 1989 and has been featured on radio stations WQXR, WNYC, and WFUV.
Spanish music is one of Dr. Kent's specialties, and years of devotion to the music have led to his critically acclaimed recording of Ernesto Halffter's complete piano music on Bridge Records. In addition, the Spanish government's Orden al Mérito Civil was awarded at the directive of King Juan Carlos I at a special ceremony at Carnegie Hall in 2011. Adam Kent holds B.M. and M.M. degrees from Manhattan School of Music and a D.M.A. from The Juilliard School, where he studied with Jerome Lowenthal. He is a frequent presenter at MEA-NJ events. For more information, please visit: adamkentmusic.com.