Every June, an outstanding artist comes to give a Master Class with our Young Artist Competition winners and every year we are highly impressed with the insight and wisdom that these great musicians impart to our talented young musicians. This year was no different. On June 9 a large group of MEA members and guests filled the Chase Auditorium in Madison to hear the winning young artists perform for master teacher, Ann Schein. Though her unique approach may have come across as humble and gentle, her thought provoking messages were bold and in a musical sense, possibly life altering.
Kelsey Lee
Student of Beatrice Long

The first performer of the day was Kelsey Lee, who played the Eb minor Prelude and Fugue from the Well Tempered Clavier, Book I, by J. S. Bach. Ann noted Kelsey's "beautiful" sound and touch, which especially was employed throughout the prelude. She also was impressed with Kelsey's memory of the fugue, which is "no small matter," especially since this fugue has five stretti along with difficult harmonies and key changes. Ann asked Kelsey why this prelude and fugue stood out from the rest, why was it so "poignant and tragic?" Kelsey replied that the fugue was "deeper" than most. From this statement, Ms. Schein then shared her recent discovery on the background of this great work. Apparently in 1720 Bach had gone on a trip away from his family and when he returned he learned that his first wife had passed away. He wrote this prelude and fugue in response to this tragedy. Ms. Schein noted that she had been working on this piece herself recently and it is one of her favorites from the collection. She was more than happy when she discovered it on our program! Kelsey's tempo was the main area of attention that Ann addressed. She suggested that Kelsey try a slightly faster pace in both prelude and fugue to keep the music moving forward. Both pieces in this pair have long lines and it was Ann's opinion that the "sustainability" factor of creating a more vocal line may require playing them a bit faster. Ann related many of the phrases to string lines and to the human voice. She also suggested that the lines in the fugue have more shape and a greater dynamic plan. When asked about what keys various sections were in, Kelsey was not always certain. "Know your harmonies and know what keys you are in," Ms. Schein would urge. All in all she was impressed with Kelsey's sound and sensitivity; she did use the word "beautiful" quite often!
Eric Wang
Student of Julia Lam

Next on the program was Eric Wang. He performed the Rhapsody in B Minor, Op. 79 No. 1 by Brahms. Ms. Scheins's main concerns here were on pulse and counterpoint. Ann thought Eric had "a terrific feel for virtuosity and a powerful left hand." She invited Eric to explore the opening to find thematic relationships between the right hand and left hand lines, "The left hand is not just accompanying the right hand." she remarked. "What material is Brahms giving you to work with?" Bringing out more of the hidden contrapuntal gems could be the next step in developing this piece. "Brahms," she said, "gets his counterpoint from Bach." The rhythmic elements however are "Brahmsian."
Ann noted that "Brahms is not a romantic composer, nor is Chopin." She stated that "Brahms is more baroque and Chopin is more classical."
This may be argued, but whether or not one agrees with her one hundred percent, this bold statement drove her point home - approach this music as if you were playing Bach and dig deep to find the contrapuntal relationships in the material presented to you by Brahms. Ann then returned to the rhythmic elements of syncopation and the underlying eighth note pulse that unifies the composition. In the ostinato sections she once again referred to strings and suggested that the eighth notes be played portamento, not staccato. The syncopations in the LH passages should be within a smooth legato line, legato yet accented. Eric was able to keep up with her suggestions and we were all treated to hearing these fresh ideas evolve to an even finer performance. In closing, she noted "Great feeling, just needs to be tighter."
Sofia Mouchtari
Student of Sophia Agranovich

Sofia Mouchtari completed the program with Mephisto Waltz No.1, S 514 by Liszt, a piece that Ms. Schein felt is "one of the two most difficult pieces in the repertoire." Sofia grasped the general character of the music and displayed extraordinary strength, stamina and concentration as she executed the repeated keys, fast runs, crisp staccato passages, and jumping chords. Ms. Schein was surprised to learn that this piece was not chosen by Sofia's teacher but was a piece that Sofia, herself, had asked to study. Ms. Schein suggested that perfecting this formidable work may be beyond the ability of any young teenager. She said this piece requires more than two hours a day of practice, (the average time Sofia has been able to practice per day). All that makes Sofia's playing more remarkable.
The major areas of attention here were on fingering and efficiency of movement. For fingering Ann referred to her teacher who studied with Bussoni, "he had magical fingering." In the opening she then had Sofia re-examine her fingering and had her divide the opening figure between the two hands resulting in a much more effortless execution. Moving on from fingering, she then explored various octave passages and chordal passages where the wrist could be more agile, and where there was a tendency to lose support and collapse in the arch of the hand. "Shake it out. Drop into the key. Do not push." Ann proposed. Addressing many of these smaller areas creates more efficiency in technic and builds stamina. After all, as Ann Schein pointed out, virtuosity comes from the Latin virtu, (manliness, strength, capacity) and suggests playing with "ease." Sofia seemed to be at ease working with Ms. Schein and by the end she won over the master teacher when Ms. Schein expressed that if she were able to, she would love to work on this piece further with Sofia to help her go through all the challenging technical elements and find more opportunities where she could facilitate her technic and further develop the virtuosity this piece demands.
Ms. Schein urged Sofia to listen to old recordings of the piece. She recommended performances by George Bolet and William Kapell and also asked her to find out more about the great musician Menahem Pressler. This piece demands it all Ann said "craft, skill, pianism and knowledge of the instrument."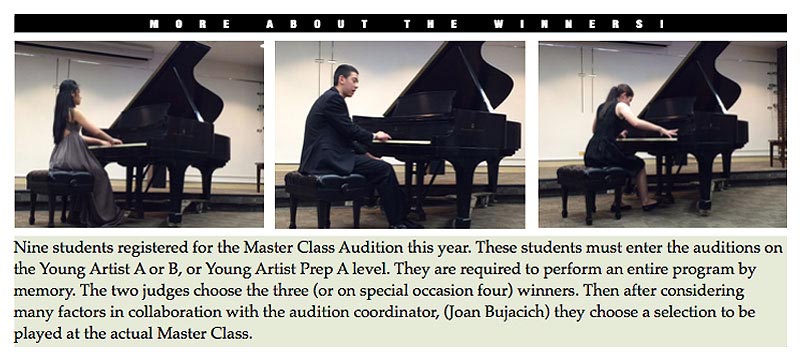 Here are the programs that the three winning students performed for their auditions. We share with you Kelsey and Sofia's response to the following question: What was the one thing that you learned from Ann Schein at the Master Class that made the biggest impression?
Kelsey Lee, age 15
Kelsey started lessons when she was around 5 and typically tries to practice 2 hours a day.

Prelude and Fugue in Eb Minor
WTC Book I by J.S. Bach

Sonata Op. 78 by Beethoven
(I) Adagio cantabile - Allegro non troppo

Nocturne in Db Major, Op. 27 No. 2
by Chopin

Sonata No. 2 in D Minor by Prokofiev
(IV) Vivace

During the masterclass, Ms. Schein asked me multiple times why I interpreted a spot in the music the way I did. I found this helpful and interesting because I think this approach to the music, thinking about the "why" rather than just the "how", is important to developing an interpretation. Also, more specifically to the Bach, Ms. Schein stressed how important it is to know my piece harmonically, and pointed out many "special" spots in the music that I overlooked before.
Eric Wang, age 15

Prelude and Fugue in D Major
WTC Book II by J.S. Bach

Sonata Op. 31 No. 3 by Beethoven
(I) Allegro, (II) Scherzo: Allegretto vivace

Rhapsody in B Minor, Op. 79 No. 1
by Brahms

Sonata No.1, Op. 22 by Ginastera
(I) Allegro marcato
Sofia Mouchtaris, age 14
Sofia started lessons when she was around 5 and typically practices 2 hours a day

Toccata and Fugue in D Minor
BWV 565 by J. S. Bach,
Transcription by A. Cortot

Sonata Op. 57 by Beethoven
(I) Allegro assai, (II) Andante con moto,

(III) Allegro ma non
troppo

Prelude in G Minor Op. 23 No. 5
by Rachnaninoff

Mephisto Waltz No. 1, S. 514
by Liszt
The program began with Clarisse Kant's lovely introductory comments about Ms. Schein's illustrious career. To this Ms. Schein remarked that "Master teachers' do not deserve all the accolades, it is the teachers sitting in the room today that continue to inspire and nurture the next generations of young pianists." Though this may be true, there sure is enough room to share recognition for the roles that we all play. We may be the driving force behind our students while in the trenches but the artists like Ann Schein continue to inspire us and our students and elevate us all to higher heights. To learn more about Ann Schein visit her website here: annschein.com.
Congratulations to the teachers of these fines students, Beatrice Long, Julia Lam and Sophia Agranovich and to the students. Your work and talent are admirable and your participation in the master class is most appreciated!
Photographs: Lisa Gonzalez