Highlights, September 17, 2020
Zoom Virtual Meeting
BEATRICE LONG
A Musical Journey to Vienna
Beatrice Long, international soloist and duo-pianist, currently a faculty member of the Conservatory of Music at Brooklyn College of the City University of New York, gave a fascinating and informative lecture/ performance on the music scenes in Vienna, 1750-1899, and the intertwining lives of nine Viennese composers whose works are featured in the 2021 MEA Annual Piano Competition syllabus: Haydn, Mozart, Diabelli, Schubert, Beethoven, Czerny, Hummel, Johann Strauss II, and Brahms. These composers greatly influenced trends and developments in music. Beatrice Long concluded with a beautiful performance of Schubert's Impromptu No. 3, from Four Impromptus, Op. 143, D. 935. The talk included illustrations, charts, lists, and more. To learn much more about Ms. Long, an MEA member, please click here.
---
Following opening remarks, President Yudit Terry introduced the Zoom facilitator, Richard Allaway, MEA board member and editor of The Glissando. He reviewed Zoom meeting protocol.
Vienna in 1750 was a hub of social activity and cultural events, a city for distractions. The charming and stylish could thrive by accepting invitations. Many of the nobility supported musicians, even orchestras, in their residences. Concerts offered opportunities to gather gossip as well as hear outstanding musicians. Composers and instrumentalists relied on royal patronage. Gluck enjoyed the support of the Habsburgs in Vienna.
His expressive opera, Orfeo ed Euridice, paved the way for the sturm und drang (storm and stress) drama and expression that followed. Beatrice played an excerpt from the "Dance of the Blessed Spirits."
Vienna was where Leopold Mozart brought six year old Wolfgang in 1762 to dazzle the court, and where Mozart would return and eventually live. Beatrice described Mozart's early, strenuous musical tours. Mozart was exposed to music of the sturm und drang school of exaggerated feelings. Beatrice cited an example of that trend: Goethe's book, The Sorrows of Young Werther, a novel of tragic young love and suicide. The American Revolution also drew attention to the idea of a lone individual pitted against society.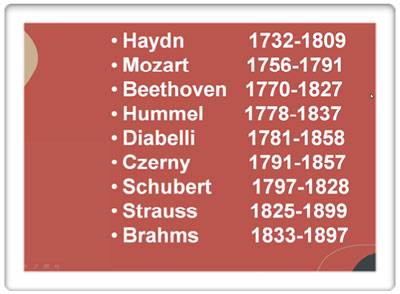 Haydn had spent years as the composer-in-residence at the Esterhazy estate. Isolated from urban activities, he expressed much originality and humor in his music. W. A. Mozart met Haydn in Vienna in 1784, and the two became friends. They played together in string quartets. Mozart dedicated six string quartets to Haydn. The of Mozart's death was devastating to Haydn, 24 years his senior.
The effects of sturm und drang might include unexpected changes in harmonies or in moods, contractions of rhythm, or a sudden ellipsis of melody. Beatrice played Haydn's Sonata in C minor, Hob. XVI to illustrate contrasts: a rather somber C minor opening followed by a bright major section. She played excerpts from Mozart's Sonata in F Major, K.332, showing "sudden ellipses of melodies."
After Beethoven moved to Vienna, he received little instruction from the busy Haydn, but studied longer with Salieri and Albrechtsberger. He became a favorite pianist at the nobles' private concerts. Czerny commented on Beethoven's improvisation as "astonishing, magical" and on the audience reaction "not a single dry eye." Czerny described factions preferring Hummel, not Beethoven, who accused the latter of being "messy" and "maltreating the fortepiano" while the fastidious Johann Hummel played with "clean, distinct elegance." "Hummel would have been a winner in today's competitions," Beatrice joked.
The author and critic E.T.A. Hoffmann claimed Beethoven, Mozart, and Haydn to be "the greatest romantic composers" of the time. Beatrice then spoke of the composer/publisher Anton Diabelli's invitation to 51 composers, each to write one variation of his rather insipid waltz. Beethoven instead wrote the great 33 Variations on a Waltz by Diabelli, Op. 33.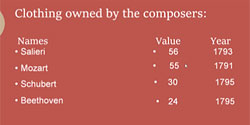 Our attention turned to Johann Hummel, a child prodigy who studied and even lived briefly with Mozart. He also studied with Salieri and Albrechtsberger. Hummel's relationship with Beethoven was marked by ups and downs but eventually they reconciled. Hummel published A Complete Theoretical and Practical Course of Instruction on the Art of Playing the Piano Forte, of about 500 pages, including over 2,000 exercises, with advice to students, parents, and teachers that could be helpful even today. No doubt this inspired Carl Czerny, a student of Hummel, to write his many volumes of piano exercises and studies. Beatrice spoke at some length about Carl Czerny, his comments about his studies with Beethoven, and later, with Hummel.
Franz Schubert, born and deceased (at age 31) in Vienna, was the next subject. The "magic of his music," which she heard as a child, led Beatrice to her career in music. She loved his Lieder, describing "a blend of reality and idealism, and painful angst, with many incredibly beautiful." Schubert's output was the product of "diligent, intense concentration in composing. Music flowed from him." Beatrice read a poem, 'An die Musik,' and sang beautifully, her voice astounding us. She played excepts from Schubert's Sonata in A minor, Op. 164, (in the Annual Competition syllabus), where the influence of sturm und drang may be heard in its modulations.
Vienna was a city of "gemütlichkeit," an age of "coziness." Beatrice referred to international political changes following the 1815 Congress of Vienna and the growth of the middle class. Schubert's song cycle, Die Winterreise, was composed in 1827, the year he wrote the impromptu that Beatrice would perform at the end of her presentation.
Next, we considered Johann Strauss II, a musician in spite of his father's wish for him to become a banker. The elder Strauss was associated with dance composer and conductor Joseph Lanner, and had written many dances, but it was his son, Johann Strauss Jr., composer of The Blue Danube, who would be crowned "The Waltz King." Johannes Brahms became a friend of Johann Strauss II.
Brahms settled in the musical center of Vienna in his thirties. A perfectionist, he composed his symphonies and concerti only after age 40, having moved to Vienna as a director, and had full access of the orchestra 'Gesellschaft der Musikfruende.' Beatrice said that the piano pieces in Op. 116 through 119 are among the most loved; in their brevity, there is "condensed expression in every note." Clara Schumann, pianist and longtime friend, noted the "poetry, passion, rapture, and intimacy" in the Klavierstücke.
Beatrice then gave a memorable performance of the Schubert Impromptu No. 3, from Four Impromptus, Op. 164, D. 537. A question and answer period followed.
President Yudit Terry expressed her appreciation to Beatrice Long and all others who made this Zoom meeting so successful.
Bertha Mandel, writer
Joan Bujacich, layout, screen shots
Recommended Reading
Johannes Brahms: Life and Letters, annotated by Styra Avins
Mozart and Vienna, by H. C. Robbins Landon
Schubert and His Vienna, by Charles Osborne
Sketches of Vienna, by Johann Pezzl
Beethoven: Impressions by His Contemporaries, edited by Oscar Sonneck