---
A VISION DEEP AND WIDE:
ARTUR SCHNABEL THE COMPOSER
---
presented by James Irsay to the Music Educators Association of New Jersey, October 15, 2020
For our third General Meeting of the 2020-2021 season via Zoom, the MEA welcomed noted pianist James Irsay to introduce us to the compositions of Artur Schnabel. Mr. Irsay, a prize winning concert pianist and raconteur who specializes in historical recordings, is known as a radio broadcaster on stations WBAI, WNYC and WQXR in New York City. James' initial comment at the outset of our meeting:
"Love of our music is certainly the highest form of love."
Artur Schnabel, the composer, began writing at the age of nine and wrote for all combinations of instruments: piano trios, string quartets, a piano concerto and even three symphonies. He married Therese Behr, a contralto who was a great influence on him and for whom Schnabel wrote three sets of songs. Schnabel is known as the "man who invented Beethoven," due to his first ever recordings of the complete piano sonatas of Beethoven. Schnabel's violinist friend, and performing member in one of Schnabel's trios, Carl Flesch claimed that "He [Schnabel] enjoyed playing music that is more difficult than could be played." Every piece has a wall that you can't quite get through.
Artur Schnabel was both a composing and a piano prodigy. He saw himself first as a composer, but, as a composer, he suffered. People wondered how anyone who could play Beethoven, Mozart, Schubert and Brahms so beautifully on the piano could yet write such hideous music. He began writing tonal music and moved on into atonal and Schoenberg-style music. We admire him for the honesty of his lifetime commitment to composing.
Artur Schnabel was born in April of 1882 in Lipnik, Austria-Hungary and died in August of 1951 near Lake Como, Switzerland. Artur's older sister Clara was ten years older and talented at acting and singing; as a result, when his family moved to Vienna, Clara was given a piano. Although Clara struggled to learn the piano, Artur at age four would play a game guessing what notes Clara was playing and he would play by ear every piece that Clara learned. Feeling that music is more than just the middle of the piano, Artur wanted Clara to expand to the full range of the piano. "All the notes are beautiful." Before age 6, Artur saw music as a depiction of a story and would invent "tales" on actual sounds. He made up a funeral march for a frog.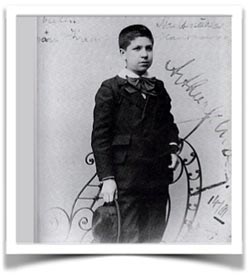 At age six, Artur began piano lessons under Professor Hans Schnitt of the Vienna Conservatory. His family discovered what a talent Artur was, and at age nine he began to study with one of Theodor Leschetizky's assistants. (Leschetizky had studied with Carl Czerny, a student of Beethoven.) When Leschetizky listened to Schnabel he said, "You will never be a pianist; you are a musician." Leschetizky wanted to broaden Artur's horizons and to expand what music meant to him. "Warmhearted" Eusebius Mandyczewski offered to give Artur theory and composition lessons at eight o'clock every morning. Following lessons, Mandyczewski took Artur with him to the Musikverein, the concert hall where Mandyczewski was an archivist and librarian. There Artur was introduced to Johannes Brahms' circle. When Artur was fourteen or fifteen, Leschetizky arranged a contest for his students, promising to award 1st, 2nd and 3rd prizes. He got competent judges who did not know who composed the pieces that were submitted. Artur submitted three pieces and won all three prizes. He offered to give two of the prizes to other contestants.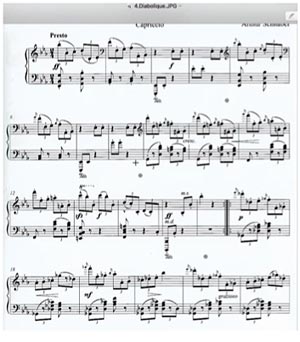 James played audio clips of parts of Schnabel's Drei Klavierstücke (Three Piano Pieces) written at the age of 15. The pieces were entitled "Diabolique," " Reverie" and "Valse." James showed us an opening page of the printed manuscript and called our attention to Schnabel's explicit markings of staccato notes versus staccati with slurs (portamento or tenuto). James says the music takes on a life of its own from the outset, displaying self-assurance and spirit. It sounds like mysterious "imps." Then there is a section where the imp lies down for a nap only to "get up again looking for more victims." Schnabel seems to lock himself into a tonality. Then James played the second piece, "Reverie." A few years after this piece was composed, while coaching his daughter-in-law, Schnabel added harmonies to the coda. SPA, the Society of Performing Arts, was the original publisher of this work. In 1945 during a lecture at the University of Chicago, Schnabel said, "If you are interested in these pieces, you can probably find them in the basement of a music store."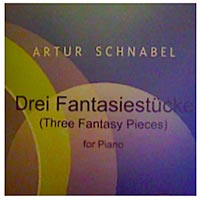 Six years later in 1904 at the age of 22, Schnabel wrote again for piano the Drei Fantasiestücke (Three Fantasy Pieces) Opus 15. The first piece, "Rhapsody," is Brahmsian, dark, brooding. The second piece is titled "Nachtbild" and the third is titled "Four Waltzes." "Nachtbild" (Night Picture) is in F-sharp minor and "suffers from turgid sentimentality" according to Schnabel's friend and fellow composer Ernst Krenek.
In 1920-21, Dance Suite was written in celebration of an upcoming marriage of a student. The five movements describe a romance. "Foxtrot"("sounds like a tango") describes the couple meeting at a dance. In "First Pause" the pair talks. "Waltz" is gigantic, encompassing 36 pages of "delirious dancing, skipping, and twirling."
When he is asked, "Why must it be so long?" James, in reply, always asks, "Have you never fallen in love? It sounds deliriously happy."
There is a "second pause," and then "Floating," in which Schnabel goes atonal. "It is a spiritual dance in the air." James plays some of "Floating" recorded by Donald Isler. The instruction in the music is for the pianist to hold his hands in the air to prevent applause after the "Waltz" and before beginning to play "Floating." James said understanding the exuberance of a waltz was a tremendous leap in Schnabel's composing. He did use a 12-tone row in this piece. Pianist Eduard Erdmann said, "You may as well call it a sonata." James played a recording of some of the 5th movement, which lasts twelve minutes. During a performance at an International Society for Contemporary Music Festival in Europe, the audience was getting restive, and a Spanish cellist called out "OK, enough, enough!"
Schnabel did not play his own music in public after completing his Sonata for Piano in 1923 (premiered at the 1925 Venice ISCM Festival by Eduard Erdmann). From his teenage years to this sonata, Schnabel said he composed for himself. James said, "He headed from down-to-earth to floating in inner space." It is as if he is "an extra- terrestrial with powers far beyond earth."
In "Night Picture" from his Three Fantasy Pieces, Schnabel chose dynamics from p to ppp and even to pppp.
Take this illustration of what Schnabel said to a piano roll company representative: The salesman said, "Our instrument has 16 gradations of dynamics." Schnabel replied, "That's too bad, I have 17."
James Irsay's closing words were, "Schnabel plays extraordinarily through planning – working through walls. Schnabel won't be remembered as a composer, but will be remembered as a pianist."
Artur Schnabel: Works for Piano
Three Fantasy Pieces (1898)
Three Piano Pieces, Op.15 (1904)
Dance Suite (1919)
Sonata for Piano (1923)
Piece in Seven Movements (1936-1937)
Seven Piano Pieces (1947)
Steinway and Sons released the first complete recording of Artur Schnabel's keyboard music performed by pianist Jenny Lin in May 2019.
The Zoom meeting ended with a thank you to James Irsay from our President and from all the attendees for an in-depth presentation of the life and works of an often-overlooked composer.
Beverly Shea, Writer
Lisa Gonzalez, Screenshots/Layout