Jed Distler Speaks on "Composers at the Keyboard" at a special Steinway Gallery Event
December, 2014 Jed Distler Speaks on "Composers at the Keyboard" at a special Steinway Gallery Event written by Lisa Gonzalez What's a musician to do on a cloudy brisk December 11th morning in New Jersey? Get thee to Steinway Gallery in Paramus! Thanks to manager John Weis and MEA Program Chair Sophia Agronovich, MEA members were treated to a wonderful presentation by New York based composer, pianist, writer, radio host, lecturer and curator Jed Distler. The one hour guided listening tour, "Composers at the Keyboard: A Fresh Look at an Old Tradition," focused on the minds of past and present musicians wearing the dual hats of composers and pianists. In her introductory remarks, Hostess Ana Berschadsky shared quotes from the Newark Star-Ledger and NY Times - "Jed is an altogether extraordinary pianist," and " . . . a witty, genial and adventurous pianist and composer." (Learn more about Jed here - jeddistler.com). Jed invited us to "pretend we are in someone's living room," and then began a relaxed, intriguing and often mesmerizing program.
His interest in comparative interpretations was sparked as a teenager when he first heard David Dubal's radio show ("I would choose the cheapest recording of a song to listen to - It didn't occur to me explore other interpretations!") Dubal would present the same piece of music played by different artists - "a revelation!" Jed's passion for music listening and comparison remains fueled to this day, to be shared intensely with us.
The morning's focus was on composers who were/are pianists. He mused that composer/pianists often played their own music in ways quite different from later interpretations by other performers. It's sort of analogous to the way the game of 'Telephone' transforms someone's original sentences into something new and perhaps quite different as the words are passed on from person to person.
Jed asked the group, "Do composers bring something unique to the instrument when they play the music of others by virtue of their being composers?" Today we think of composers and pianists as separate entities, perhaps because from the mid 19th century, virtuoso performances had moved from private homes to large public halls. Compositions became more difficult, and required pianists to devote time to learn, interpret, and specialize. He mused, "I wonder what Chopin would think of all of the specialized schools of playing Chopin today?"
Then we began to explore. Jed shared some of his wonderful archives of audio recordings - what fun and fascinating listening. We began with a 1940's recording of Rachmaninoff playing his Etude-Tableaux in E-Flat Major, Op. 33, No. 7. His legacy of recordings is probably the best known, but not the oldest! On to Camille Saint-Saens, who holds that distinction for his recording of the 1st movement of his 2nd Piano Concerto (recorded in 1919 when he was 84)! We then heard from Grieg, ("an excellent pianist who played a lot in public"). With a Dubal-style challenge to the audience, we were asked to guess which of two recordings was a modern player vs. Grieg. Turned out we heard version recorded in the 1970's first, then Grieg himself, performing the Minuet movement of his E Minor Piano Sonata Op 7. Quite different! Jed noted Grieg had a much freer sense of rhythm, and noted an added intensity to the performance perhaps missing in the 70's recording. Perhaps his music is not all "Bon bons wrapped up in snow" as Debussy once declared!
On to Lukas Foss playing the C Minor and then the C Major Three-Part Inventions of Bach. Jed noted that Foss "had so many gifts." He felt the articulation, the singing tone, and the sense of air in these recordings made them quite exquisite performances. Following Foss, Jed shared his 1939 broadcast discovery of Bela Bartok playing Chopin's C-Sharp Minor Nocturne, Op 27 #1. Charles Rosen described Bartok as "a 20th century composer, but a 19th century pianist." Jed noted that Bartok takes an unusually slow tempo, plays with a lot of freedom, and doesn't always play with hands together, creating an almost three dimensional world of sound. The recording is "almost like a Marlon Brando performance, almost agonizing, unlike any performance of this piece you've ever heard."
Rachmaninoff "returned," playing Chopin's C# minor Waltz, 0p 64 #2 in 1927. Of note were the interesting counterpoint, chords and rubato. Jed remarked, "His creative and rearranging talents were equal... The authority of his playing comes through!"
Next: one more challenge, Dubal-style. (Jed does an excellent impression by the way.) "Can your guess who is the modern pianist, and who is Gershwin?" We did! The first player of Gershwin's Prelude No. 2 in D flat Major was Ralph van der Beek, very modern and nice. What followed was a "faster, straight as a tack, unsentimental" version by Gershwin, "and you can dance to it!" We loved Gershwin playing Gershwin.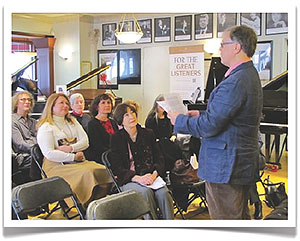 Segue to a Gershwin/Godowsky connection. We were reminded that George Gershwin's little sister Frances married violinist and chemist Leopold Godowsky Jr., the son of the celebrated Austrian pianist. We then heard Robert Helps' 1997 recording of the E flat transcription of Nouvelle Étude No. 2 from Leopold Godowsky's 53 Studies on Chopin's Études. This six or so minute journey transported us to another place and time, as only this music in the hands of someone like Helps can do.
Finally, perhaps the one recording we were all familiar with, the famous 1889 cylinder capture of Johannes Brahms performing a segment of his first Hungarian Dance in G minor. Jed described this recording as "a kind of greeting card from Brahms to Thomas Edison. He noted that his version was unaltered and unfiltered.
Ever generous with his time, Jed stayed well beyond the hour to take our questions and continue the conversation. We chatted over coffee and treats provided by our kind host John Weis, surrounded by Steinways - what a wonderful way to start a day! Thanks to Sophia, John, Ana, Jed, and all of the MEA members who attended this excellent and educational presentation. Special thanks to MEA President Joan Bujacich for initiating this collaboration with John Weis at Steinway - we're so glad she did!
Photographs - Nancy Modell