Ninety-one people celebrated the MEA's 90th Anniversary at Drew University in Madison on Sunday, April 8, 2018. The diverse and entertaining concert featured stellar performances by members Luba Vasilyeva (Sonata No. 2, Op. 36, Movement 1 by Rachmaninoff), Michelle & Christopher Kuo (Selections from Six Pieces, Op. 11 by Rachmaninoff), Sojung Lee and the Eoulim Trio (Piano Trio No. 1, Op. 32, Finale by Arensky and Primavera portena by Piazzolla), Beatrice Long (Fantasie, Op. 28 by Scriabin), and Dan Crisci on jazz piano with Anton Denner on alto sax and alto flute (Gershwin songs and an original composition by Dan). President Nancy Modell read a letter of congratulations sent to the MEA from Senator Cory Booker. A letter from Newark Mayor Ras Baraka was also received and printed in the program booklet.
The cocktail reception took place in beautiful Mead Hall Mansion, just across campus from the concert hall. A champagne toast given by Joan Bujacich, a buffet of hors d'oeuvres, and the presentation of awards filled the program.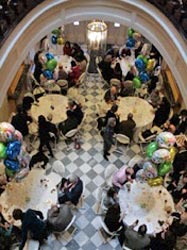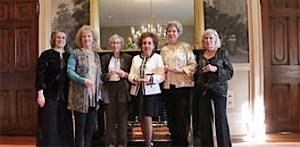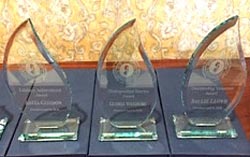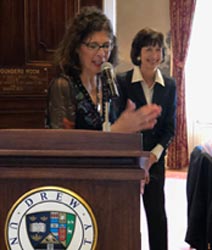 Congratulations to the wonderful Gala Committee: Coordinator - Marcia Maull, Lisa Gonzalez, Nancy Modell, Ruth Pasquariello and Charlene Step. Bravo!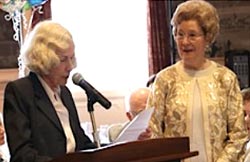 Beverly Shea presenting to Sallie Lloyd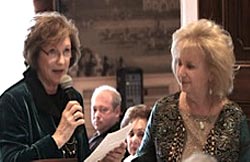 Charlene Step presenting to Ingrid Clarfield
Lisa Casia presenting to Gloria Weisberg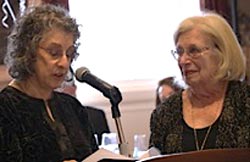 Nancy Modell presenting to Maxine Giannini
Ana Berschadsky presenting to Anita Gordon
Honorees were Sallie Lloyd (Outstanding Volunteer Award presented by Beverly Shea), Gloria Weisberg (Distinguished Service Award presented by Lisa Casia and Christina Hansen), and Anita Gordon, Ingrid Clarfield, and Maxine Giannini (all Lifetime Achievement Awards presented by Ana Berschadsky, Charlene Step, and Nancy Modell respectively).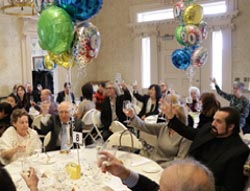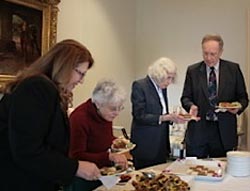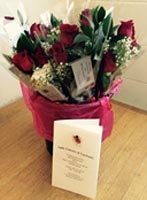 Photos courtesy of Lisa Gonzalez