Recordings / Books
RECORDINGS
A number of talented MEA members have recorded Compact Discs, suitable for gift-giving at any time of year. MEA members, if you have CD's available for sale, please send us your information, so we can continue to let music lovers know!
The following Compact Discs are available thru Amazon, unless noted otherwise. Simply enter the artist's name and you will be directed to their listings.
SOPHIA AGRANOVICH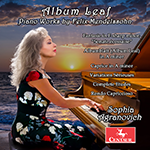 Sophia Agranovich's 11th album since 2010, "Album Leaf: Piano Works by Felix Mendelssohn," was released on November 3, 2023. Program: Fantasia in F-sharp Minor op. 28, "Sonate écossaise"; Albumblatt in a, op. 117, "Lied ohne Worte"; Caprice in a, op. 33 #1; Variations sérieuses, op. 54; 3 Etudes, op.104b; Etude in f, WoO 1; 4 Rondo Capriccioso, op.14. This album has already received glowing reviews and is available via all major distributors, including Amazon.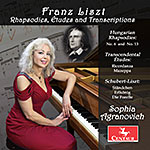 Sophia Agranovich will release a new album "Franz Liszt: Rhapsodies, Études and Transcriptions" on September 2, 2022. Program: Hungarian Rhapsodies No. 6 and No. 12, Transcendental Etudes "Ricordanza" and "Mazeppa", Schubert/Liszt Ständchen ("Serenade"), Erlkönig and Die Forelle. This album has already received six rave reviews: http://sophiagranovich.com/discography. It will be available via all major distributors, including Amazon.
In Celebration of the 250th Anniversary of Ludwig van Beethoven (2021): Sophia Agranovich released a new CD/Album on February 12th dedicated to Beethoven's 250th Anniversary. Program: Fantasia in G minor/B Major, Op. 77; Sonata No.8 in C minor, Op. 13 'Pathetique'; Sonata No. 14 in C♯ minor 'Quasi una fantasia', Op. 27, No. 2 'Moonlight'; Sonata No. 17 in D minor, Op. 31 No. 2, 'The Tempest'. This album is available in hard copies, downloads and streaming via all the major distributors and online radio stations. It has already received multiple rave reviews.To purchase visit: https://amzn.to/3j75dnI
In October 2020 Sophia Agranovich released a new CD album dedicated to Chopin's 210th Anniversary: Sonata No. 2 in B-flat minor, complete 4 Scherzi, Polonaise 'Héroïque'. It is available in hard copies, downloads and streaming via all major distributors, and had already received 3 excellent reviews by its release date. Amazon link: https://amzn.to/3dEF6BS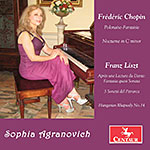 Sophia Agranovich had released her 7th CD album 'Chopin and Liszt: Piano Works' on Centaur label. It is available in CD, MP3, and Hi-Res formats at all the major distributors and has already received excellent reviews. Amazon link: http://amzn.to/2o2A4GM. Frédéric Chopin: Polonaise-Fantaisie in A flat Major, Op. 61, Nocturne in C minor, Op. 48 no. 1, Franz Liszt: Sonetti del Petrarca 47, 104, 123 (complete), Après une Lecture du Dante: Fantasia quasi Sonata, Hungarian Rhapsody #14 in F Minor.
Robert Schumann: Carnaval and Fantasie was released in November 2016 on Centaur/Naxos label - Robert Schumann: Carnaval, Op. 9 and Fantasie in C Major, Op. 17
Schubert: Wanderer Fantasie; Chopin: 4 Ballades (2015), released by Centaur Records, features Franz Schubert: Fantasy for Piano in C major, D 760/Op. 15 "Wanderer"; Frederic Chopin: Ballade for Piano no 1 in G minor, B 66/Op. 23; Ballade for Piano no 2 in F major/a minor, B 102/Op. 38, Ballade for Piano no 3 in A flat major, B 136/Op. 47 and Ballade for Piano no 4 in F minor, B 146/Op. 52. It is available at ArkivMusic, Amazon, iTunes and other major distributors. If purchased directly from Sophia at sofilana@yahoo.com - $15. Three excellent reviews are to be published in the Fanfare Jan-Feb 2016 issue and one in March at ArtMusicLounge.
Brahms & Schumann: Works for Piano (2014), released by Centaur Records, features Brahms: Variations on a Theme of Paganini, Op. 35 Book I and Book II; Schumann: Études Symphoniques, Op.13; Schumann - Liszt: Widmung (Dedication). Available thru Barnes & Noble, HBDirect, ITunes, Amazon and other sites ($18.99). If purchased directly from Sophia at sofilana@yahoo.com - $15. 4 REVIEWS can be found at sophiagranovich.com/discography.
Passion and Fantasy (2014), released by Romeo Records, features the Beethoven Appassionata Sonata in F minor, Op. 57, and Chopin's Fantaisie, Op. 49 and Sonata in B minor, Op. 58. Lynn Renee Bayley, in Fanfare Magazine, compares Sophia to some of the outstanding pianists, like Lipatti, Cortot and Cliburn, and says, ..."she keeps the listener fully engaged in her music making. It is musical brinksmanship of an extraordinarily high order." Audiophile Audition web magazine also gave her high praise:http://bit.ly/1mxQjpM. Available thru ArkivMusic, Barnes & Noble, HBDirect, ITunes, Amazon and other sites ($18.99). If purchased directly from Sophia at sofilana@yahoo.com - $15.
Franz Liszt - Bicentennial Tribute (2012). Features Etude de Concert Un Sospiro, Paganini-Liszt-Busoni La Campanella, Rhapsodie Espagnole and Sonata in B minor. Listen on Rhapsody, IHeart and Lastfm. Available on www.ArkivMusic.com, www.Amazon.com, AllMusic, ITunes ($14.99). This CD has received outstanding reviews: one by American Record Guide and three by Fanfare Magazine.
Romantic Virtuoso Masterpieces (2009). Spectacular virtuosity of favorite pieces by Beethoven (Sonata in C Major No.21, Op. 53 'Waldstein'), Chopin (Ballade No. 1 in G minor, Fantasie-Impromptu Op. 66), Liszt (Transcendental Etude No. 10, Liebestraume No. 3), Schumann and Scriabin. Listen on Rhapsody, IHeart and Lastfm. Available on www.ArkivMusic.com, www.Amazon.com, AllMusic, ITunes ($14.99). This CD has received two excellent reviews by Fanfare Magazine.
Also available thru sofilana@yahoo.com. Discount available for MEA members.
SEYMOUR BERNSTEIN
Seymour Bernstein: A Retrospective This 2-CD set compiles Bernstein's live performances, digitally re-mastered by SONY, from as early as the 1950s to the 1970s. Includes works by Barber, Beethoven, Chopin, Liszt, Mozart, Rachmaninoff, Schubert and Schumann, as well as two original compositions by Seymour,Birds, Bk. 1, his premiere performance at the U. of Missouri, and Lullaby for Carrieann recorded at the 92nd St. Y in NYC. Available for $15 at www.manducamusic.com
Seymour Bernstein Performs His Own Compositions A 2-CD treasure-trove: 98 tracks of Seymour Bernstein's compositions, from elementary to advanced grades. He also reads the stories associated with his animal books for children: Raccoons, Belinda the Chipmunk, and Kochel and Sheila, his two Siamese cats. Available for $17 at www.manducamusic.com.
JOAN BUJACICH
Joan Bujacich's 2019 CD release of electronic compositions are part of a project with artist/healer Sandra Del Cioppio entitled Seeing Sound, Hearing Color. Visit Joan's website to learn more about this project and all of her many musical offerings: https://joanbujacich.com.
Seeing Sound, Hearing Color (2019). Awaken, Balance, and Energize the Subtle Energies of the Body! Seeing Sound, Hearing Color celebrates the union of art and music with vibrations, the medicine in all of creation." Travel through the seven Chakras with music and art. Artist/Healer, Sandra Del Cioppio and Composer, Joan Bujacich bring you on a magical journey with this unique collaboration. To purchase and learn more visit Joan's website Here.
A Fine Line (2002). Piano-driven, well-crafted original songs with expressive lyrics. Adult contemporary. CD: $9.99 (MP3: $8.99)
Dress of Dawn (2000). Original, haunting, contemporary arrangements featuring piano and jazz vocals. CD: $8.99 (MP3: $7.99)
DAN CRISCI
Dan Crisci released a new CD, "Asked and Answered", in January, 2019. It features Dan's original jazz compositions with Dan on piano, Paul Ivory on bass, Steve Holloway on drums, John Carlini on guitar, Anton Denner on alto flute, flute, alto sax, and soprano sax, and Rob Thomas on violin. The streaming version is available at CD Baby and the CD version is available from Dan at dcrisci88@gmail.com
Buy two CD's and you will receive a discount!

Christmas Impressions (2009). Holiday jazz renditions of many standards with tender moods, harmonic surprises and the hush of Christmas. CD: $15.00 (MP3: $9.99)

I Surrender All (2003) with Bill Robinson. Compilation of jazz-flavored sacred songs -contemporary, yet reflective. CD: $14.99

Offering (1997). Dan Crisci Quartet. Crisp, clean blending of piano/guitar of original ballads, blues, jazz waltzes and sambas. CD: $12.99
DR. ANGY J. ESTRADA
Music educator, pianist and jazz composer, Dr. Angy Estrada released her debut CD album entitled: Latin Pulse. A tribute to her musical roots using Latin American rhythms, and jazz harmony. You will find an array of flavors and improvisation! Available at: cdbaby.com, Amazon.com and all digital stores. More info: www.AngyEstrada.com
Angy Estrada, Piano, Keyboard, and Chimes; Greg DeAngelis, Trombone; Clifford Morin, Alto Saxophone; Matt Salazar, Trumpet; David Bamber, Bass (tracks 1, 4, and 9); Yunior Terry, Bass (tracks 2, 3, 6, and 8); Joshua Shaffer, Drums (tracks 1, 4, and 9); Varun Das, Drums and Percussion (tracks 2, 3, 5, 6, 7 and 8).
JUDY KESSLER
Judy Kessler is excited to announce that her CD, Secret Words , is now available on Amazon Music. It's 9 original songs with music and lyrics that she composed. Judy hired a musical director/producer to put her studio band together, write parts for the other musicians, and handle the recording details. For more information about Judy, click HERE.
KATHY KNITTEL
Kathy Knittel, Composition Committee Chair, has been busy getting her upcoming CD, A Songbird's Christmas, ready for the 2017 holiday season! She has been collaborating with Joan Bujacich, who is the arranger/producer, graphic designer and is responsible for all accompanying performances on this project, except for the guitar work which is performed by Joe Bilotti. The CD will be available to purchase from: cdbaby.com/cd/kathyknittel15 and JoanBujacich.com. It will also be available to download from iTunes/Spotify and all the major online digital distribution companies.
Acoustic Muses, released in December 2015, is comprised of five lyrical songs: Woodstock, Landslide, For Good, Michael From Mountains and Diamonds and Rust. Kathy sings and plays guitar on the Joan Baez tune Diamonds and Rust and is joined on vocals and piano by Joan Bujacich. Joan accompanies her on piano for the Joni Mitchell classic, Woodstock and on For Good from the hit musical Wicked. Kathy is accompanied by the fine guitar work of Joe Bilotti on Landslide and Michael from Mountains. Download individual songs from iTunes and all the major online digital distribution sites. Our President, Joan Bujacich, designed the artwork for all the releases.
BEATRICE LONG
Scarlatti Complete Keyboard Sonatas, Vol. 4. $15.00

Scriabin Complete Mazurkas. $15.00

It's Lovely Here (2006). The Long-Duo (Beatrice and sister Christina) play two-piano renditions of Rachmaninoff's Suites No. 1 and 2, "It's Lovely Here," "Vocalise" and others. $15.95 (MP3: $15.95)

Mozart to Mexico. The Long-Duo play works by Mozart, Copland, Schumann and Ravel. Available only thru Beatrice_long@yahoo.com. $15.00
JACQUELINE SCHILLER-AUDI

The Alacorde Piano Trio recently recorded their first CD together featuring Circulo by Turina, It Ain't Necessarily So, Summertime, and Bess, You Is My Woman Now by Gershwin, The Four Seasons of Buenos Aires by Piazzolla and Après un rêve by Faure. Purchase at cdbaby.com or please contact jtspiano@yahoo.com.
SONDRA TAMMAM
Two piano CD's are available for $12 each to MEA members if purchased directly from SondraPiano@aol.com or 908-233-6667.

Mussorgsky * Schumann * Ben Haim (2001). Pictures at an Exhibition, Fantasiestücke, Op. 12, and Five Pieces for Piano, Op. 34. CD: $15 thru Taubman Institute.

Beethoven: Sonatas No. 21 "Waldstein" and No. 30, Op. 109 * Chopin: Nocturnes, Opus 27, No. 1 & 2 and Liszt: Sonetto #104 del Petrarca and Paganini - Grand Etude No. 6 in a minor. CD: $15 thru Taubman Institute.
MARGARET WACYK
The following CD's are available at $20 through Margaret's website: http://www.margaretwacyk.com. MEA members receive a 20% discount; if you have any difficulty, use the email address at:margaretwacyk@gmail.com.

Journey of the Soul. J.S. Bach/Liszt - Organ Prelude and Fugue in A minor; Schumann - Arabesque No. 18; Beethoven - Sonata in E♭ Chopin - Polonaise in Em and Ballade in Fm.

Piano Works. Clementi - Sonata in F# minor; Schumann - Fantasiestucke; Scriabin - Sonata No. 4; Chopin - Scherzo Op.31 No. 2.

Portrait. Haydn - Sonata in C (No. 60); Brahms - Intermezzo (Op. 118 No. 2); Debussy - Reflets dans l'eau (Images); Lutoslawski Bucolics (1952); Liszt - Apres une Lecture de Dante.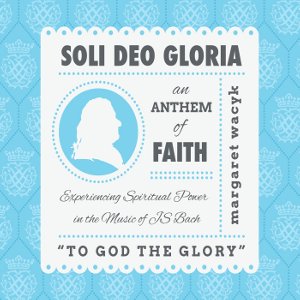 Soli Deo Gloria. 2013. Featuring the music of J.S. Bach and transcriptions of his music: Bach-Busoni - Ich ruf zu dir, Herr (Organ Chorale Prelude); Bach-Rachmaninoff - Preludio (from the E Major Sonata for Violin); Bach Invention No. 6 in E Major, BWV 777; Prelude in C Minor (from WTC Book I, BWV 847); Fugue in C Minor (from WTC Book I, BWV 847); Bach-Busoni - Toccata and Fugue in D minor ; Bach-Siloti - Adagio (piano transcription from the Sonata for Violin and Keyboard in F Minor); Bach English Suite in G minor, BWV 808 (Prelude Allemande Courante Sarabande Gavotte Gigue); Bach-Siloti - Prelude in B Minor, BWV 855a (from the Clavier Büchlein für Wilhelm Friedemann Bach). Available thru Amazon.com: $12.00.
BOOKS
SEYMOUR BERNSTEIN
SEYMOUR BERNSTEIN has authored five books that are of interest to teachers as well as students.
Chopin: Interpreting His Notational Symbols Seymour writes, "There still remain worlds to conquer in discovering the truth behind, or at least a reasonable assumption about, certain notational indications in music, among them Chopin's pedal signs and the wedge-shaped expression marks often called hairpins. This book offers unique information on and insights into Chopin's pedal indications and the crescendo-diminuendo hairpins. According to research, what Seymour Bernstein suggests about the asterisks, or "stars" in between pedal indications is a first of its kind. "A careful, honest probe of the confusion of Chopin's pedal marks," says Clavier magazine. Highly recommended for all piano teachers and pedagogy students. Available for $15 thru www.manducamusic.com
MONSTERS AND ANGELS - Surviving a Career in Music In this book, Seymour Bernstein takes readers behind the scenes, where they learn the truth about performing careers. Because he sees career survival as surviving life itself, he offers insights and advice on personal as well as musical issues. In Part 2 he discusses the importance of music education in everyone's life. Through vivid and often humorous accounts of his own experiences with teachers, we learn how to discriminate between good and bad ones. As he traces the path of his career, he brings to account monster teachers, managers, and critics for their abuse of young aspiring musicians. He strongly believes that everyone has a right to develop whatever degree of talent he or she possesses for self-fulfillment and self-development. Available thru Manduca Music Publications at: www.manducamusic.com ($30)
Musi-Physicality: Piano Technique The purpose of Musi-Physicality is to acquaint students with choreographic movements at the keyboard - movements which are the physical counterparts of musical responses. By making a physical connection to musical feeling, the student will be able to play the piano better and with more confidence. Available thru Amazon.com or www.manducamusic.com (from $15)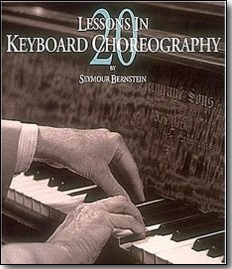 20 Lessons in Keyboard Choreography This unique book presents choreography to pianists as a means of making a physical connection to musical feeling. The first part of the book contains information about the piano mechanism. The second part contains 20 lessons that cover hand and body posture, the arm, forearm and wrist mechanism, and the thumb. The author has invented symbols designating finger, wrist and arm movements that will result in physical comfort and a sense of predictability and ease when performing. Available at Amazon.com or www.manducamusic.com (from $40)
With Your Own Two Hands: Self-Discovery Through Music This best-selling book by the nationally acclaimed pianist is a realistic program for conquering nervousness, sharpening concentration, and enhancing coordination. Bernstein observes that musicianship requires the same talents used in any activity, and shows how to develop a dedication to practice that can harmonize the musical and personal self. Available at Amazon.com (from $11.95) and www.manducamusic.com (from $30)
INGRID JACOBSON CLARFIELD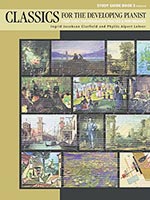 Ingrid Clarfield is thrilled to announce her newest book with Phyllis Lehrer, Classics for the Developing Pianist Study Guide Book 5. The books in this series present study guides for masterworks, beginning at the early intermediate level, that the editors believe developing pianists should study and perform. Each book contains 20 study guides to pieces selected from the four main style periods. Book 5 contains selections for advanced pianists. For more information and to purchase visit Sheetmusicplus.com.
Ingrid Clarfield has also authored many other successful teaching series for Alfred Publishing Company:
Burgmuller, Czerny and Hanon: Piano Studies Selected for Technique and Musicality, Books 1-3
Classics for the Developing Pianist - Core Repertoire for Study and Performance, Books 1-5, co-authored with Phyllis Lehrer. This is the newest series, starting with early intermediate level, and offers selections from 100 classics students should be familiar with.
From Mystery to Mastery, co-authored with Suzanne West Guy. A unique step-by-step approach to practicing and performing piano favorites from four stylistic periods.
Keys to Artistic Performance, Books 1-3, co-authored with Dennis Alexander. Teaches students the skills to polish their pieces for artistic performance.
Keys to Stylistic Mastery, Books1-3, co-authored with Dennis Alexander. Teaches the basic principles of the five stylistic periods and provides easy transition from method books to the classics.
CINDER LEDELL
CINDER LEDELL has added The Truth Fairy (2011) to the list of children's books she has authored and illustrated. In this story we meet SHUFFle who, waiting to play the piano at her first recital, wishes people did not think she practices 14 hours a week, as she had bragged. Cleverly woven in are BEETie, GRIEGie, SCHUwoman and SCHUman among musical anecdotes and history. Books are $15 each/4 for $50, with 10% going to MEA. Buy thru: cinder.ledell@verizon.net
DR. SALVATORE MALLIMO
Dr. Salvatore Mallimo is pleased to announce the release of his new series, Elements of Piano Technique and Applied Theory. This collection covers 44 different technical elements over 12 books (1a-1c, 2a-2c, 3a-3c, and 4a-4c) and spans Late Elementary to Advanced levels. Each unit contains theoretical explanations with examples of each element (so students understand what they are practicing) and anywhere from 5 to 10 preparatory exercises (so students know how to practice). Each book also contains a practice checklist to track progress and set tempo-related goals. Technique can be highly personal, so this series intentionally leaves a lot of room for the teacher to guide the physical approach, allowing for its successful use as a supplement to any curriculum, or with any method book series. Individual copies and studio-licensed copies can be purchased as PDF downloads on Dr. Mallimo's website, while paperback copies are available through Amazon.com.
BIRGIT MATZERATH
BIRGIT MATZERATH's memoir More than the World in Black and White - How music came alive and my life became music is now available on Amazon. The book traces the author's development from a child who resented her talent into a woman whose life is grounded in music. It explores how the fulfillment of talent is influenced by family dynamics and life events. First reader responses are enthusiastic. To read more about the book, go to amazon.com and check out the January 2019 posting on the author's blog: Music, Life and other Challenges.
THOMAS PARENTE
THOMAS PARENTE has authored a series of piano pedagogy books, Awaken Your Musical Passion Through the Piano. Book One and the Christmas book are aimed at beginners. In addition to arrangements, both contain standard repertoire and two original compositions by NJ composer Amanda Harberg. Theory lessons are included. These along with Book Two are available in print thru Amazon.com and also for Kindle, Nook and ipad.
DANIEL ROFER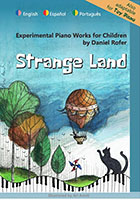 Experimental Works for Children, Strange Land, by Brazilian composer, Daniel Rofer, features a great variety of new piano compositions for the young. The fifteen songs are refreshingly imaginative, complete with a large range of techniques and emotions, highlighting many of the most important theoretical aspects of piano pedagogy. This collection includes fun, catchy, and relatable pieces that students will enjoy tremendously. Strange Land is available at Amazon. The playlist is here.
TRICIA TUNSTALL
TRICIA TUNSTALL tells the story of El Sistema in Venezuela and in the U.S. in her new book Changing Lives: Gustavo Dudamel, El Sistema, and the Transformative Power of Music (January 2012, W.W. Norton & Co.). This is the first major book on El Sistema told in an inspiring, readable way with a music educator's insight. It is available in bookstores and on Amazon.com. $17.99 hardcover; $12.99 Kindle. Tricia's first book was Note by Note: A Celebration of the Piano Lesson.

Of Changing Lives Sir Richard Holloway (Founder of Sistema Scotland)says, "This is a book the whole world needs to read. It is the story of a man of destiny and genius who saw in music the power to transform the lives of children everywhere. . . Read the book. Join the movement. . . Change the world."
MARGARET WACYK
MARGARET WACYK's book, Soli Deo Gloria, the companion to the CD of the same name, is meant to unlock the deeper meaning behind the notes of Bach's music. Did you know that this great composer signed his musical compositions with three mysterious letters? SDG. Soli Deo Gloria: To God the Glory. In Bach's world these initials had great significance. They were a password. The exquisite patterns of his compositions became a key for accessing the world of the spirit. Bach's music was not merely for earthly use, it was a tool for communicating with the Divine. 2013. Amazon.com: $15.00.
Ultimate Piano Playing, explains the "wave method", a revolutionary and targeted way to approach the piano to achieve the golden tones of the early 1900s. Please visit Margaret's website at: www.margaretwacyk.com for more information and an instructive video of this approach. Margaret is offering a 20% discount to MEA members if you email her directly at margaretwacyk@gmail.com. (The book is also available at Amazon.com and barnesandnoble.com).