Member News
January 2020
Dan Crisci is excited to present his new website: dancrisci.com. Dan designed the site to be a place to learn about his original music, to hear samples of his songs, and even hear some songs in their entirety (check out the Quite Zone for five songs that will take you away from the hustle and bustle of everyday life). Dan welcomes your feedback about the site.
Two of Thomas Parente's piano trios were performed at the National Opera Center in Manhattan. Both Morphs on "Dona Dona" and "Korobushka" are two transcriptions for piano trio from a larger work for piano duo which upon completion will be entitled "The Seasons". This work is comprised of Morphs (or compositional transformations) of international folk songs related to the weather that occurs in that specific country for that specific month. Hence there will be twelve pieces  (there re eleven at present) - one for every month of the year. As an example, the colder months of December, January, and February's draw upon the folk music of Russia, Iceland and Finland respectively. "Dona Dona", as a much loved Jewish folk song by Sholom Secunda, relates to Israel, which represents June. "Korobushka", is a popular Russian folksong and has been designated to represent December.        
2019
November 2019
While most Americans were sitting down to Thanksgiving dinner, Westminster Choir College Associate Professor of Piano Thomas Parente was rehearsing for a performance of his compositions in Parana, Argentina. The Carmina Gaudii chorus, conducted both by Evangelina Burchardt and Dr. Parente, presented a concert of Parente's music titled This Heavenly Night, which was taken from the chorale by the same name for three part women's choir. The program included six choral works and three of his art songs, performed by soprano Cecilia Leyes, a Parana Conservatory faculty member.  Pianist Luciano Stizzoli joined Parente to perform three of his piano duets. Read the entire story HERE.

Heart 'N Hands Mission is presenting The Songbird Trio, comprised of Kathy Knittel on lead vocals, Joan Bujacich on piano, and Joe Bilotti on guitar on November 24th at 3 pm, St Timothy Lutheran Church, 395 Valley Road, Wayne NJ. The Trio will be performing songs from Kathy's 2017 CD, A Songbird's Christmas featuring Joan's fresh arrangements of holiday favorites, along with other selections.  All proceeds benefit Heart 'N Hands Mission, a 501(c)(3) tax exempt organization whose mission is to collect and provide clothing and other necessities to the homeless and working poor of northeastern NJ servicing over 2,000 families per month. Tickets are $15.00 and are available at the door. To reserve tickets, please call St. Timothy Lutheran Church at 973-694-8316, select Mailbox #6 and leave a message, a volunteer will call to confirm.  Visit The Songbird Trio Facebook page here and purchase here.
The Alacorde Piano Trio announces its next concert on November 17th at 2 pm at the Fort Lee Public Library.  Piano trios by Mozart, Rachmaninoff, Turina and more.

Jacqueline Schiller-Audi, piano; 
Jee Sun Lee, violin; 
Suji Kim, cello 

For more information: alacordepianotrio.com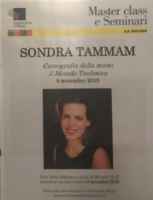 Sondra Tammam presented a Master Class Seminar at the Conservatorio G. Verdi of Milan.
David Witten, Coordinator of Piano Studies at the Cali School of Music, Montclair State University and Sondra Tammam, Piano Faculty at the Cali School of Music, were guest professors at the International Piano Week of the Music Academy Cetinge University of Montenegro in November.
October 2019
MEA board member and Past President, Joan Bujacich, released a new CD of electronic compositions entitled, Seeing Sound, Hearing Color. She collaborated with artist/healer, Sandra Del Cioppio on this project. They will be exhibiting their project at the Nyack Holistic Fair on October 26. To learn more about this project which can "tune-up your aura", visit Joan's website Here. You can also visit their Seeing Sound, Hearing Color Facebook page for more details.
Michelle Chen Kuo & her son Christopher Kuo will be performing their annual friends & family benefit concert for the Walsh Memorial Bell Choir on Saturday, October 26, 2019 at 6 PM. They will be performing works by Ravel, Rachmaninoff, Lutoslawski, and Infante. The recital will be held in the sanctuary at the Presbyterian Church of Morris Plains located at 400 Speedwell Avenue, and tickets will be sold at the door for $20, though youth can attend free of charge. This recital caps off Michelle & Christopher's 2019 tour, where they helped raise $220,000 for nine nonprofit organizations across the country through their strategic fundraising work and recitals.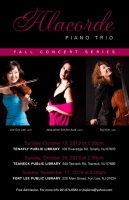 The Alacorde Piano Trio announces its next concert on October 20th at 2 pm at the Teaneck Public Library.  Piano trios by Mozart, Rachmaninoff, Turina and more.
Jacqueline Schiller-Audi, piano; Jee Sun Lee, violin; Suji Kim, cello 
For more information: alacordepianotrio.com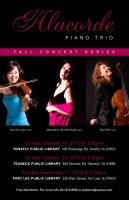 The Alacorde Piano Trio announces its next concert on October 13th at 2 pm at the Tenafly Public Library.  Piano trios by Mozart, Rachmaninoff, Turina and more. 
Jacqueline Schiller-Audi, piano; 
Jee Sun Lee, violin; 
Suji Kim, cello
September 2019
Sophia Agranovich will perform a solo recital at the 'floating concert hall' Bargemusic on September 7, 2019, at 6 PM.  In the program: Sonata Op. 27 No. 2 'Moonlight' by Beethoven, Scherzo No. 4 in E Major by Chopin, Transcendental Etude 'Ricordanza' by Liszt, works by Mendelssohn and Debussy. 
Address; Brooklyn Bridge Boulevard, 1 Water St. , Brooklyn, NY  11201 
More information and tickets: https://bit.ly/2Z2EcpV.
July 2019
Nancy Modell will conduct student master classes at the New Jersey Suzuki Workshop at The College of New Jersey on July 20-21.

Nancy Modell will teach ECC!© (Every Child Can!©) on July 7 from 1 - 7 PM, and conduct student master classes July 7-8 at the New Jersey Suzuki Workshop at the Lawrenceville School.
MEA Vice President Marcia Maull was awarded the "2019 Distinguished Teacher Award" in July by the Mensa Foundation.  This award recognizes a teacher, professor, or instructor at any educational level who has had an especially positive influence on the education or life of a Mensa member.
Mensan Ingrid Bianca Byerly remembers the moment — her 15th birthday — when Marcia arrived at the Music, Art and Ballet School in South Africa and cast her inspirational spell. "She championed unique assets and tended individual challenges.  What stayed with me most, however, was not just the detail of small phrases or large works. It was what she shared about the art of mastery; the discipline and focus that results in the euphoria of realizing aptitudes."
"My 15th birthday may be a distant memory," Ingrid says, "but between 15 and 60 lie 45 years of inspiration that have affected my every day and every student that I teach now, too."
June 2019
David Witten and Sondra Tammam, Co-Directors, announce The 8th Taubman Piano Festival 2019 at the Cali School of Music, Montclair State University, Fri/Sat/Sun - June 28-30.  MEA members, Dan Crisci, Dragica Ćurčić, and Nancy Modell are Festival faculty. Single day attendance is welcome!  Come listen to our free evening concerts!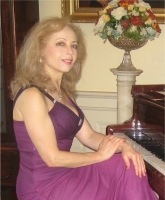 Sophia Agranovich will perform a solo concert featuring works by Beethoven, Chopin, Liszt, Mendelssohn and Debussy at the Lambert Castle Concert Series, 3 Valley Road, Paterson, NJ on June 23 at 5 PM.  It is sponsored by the Passaic County Historical Society. 
Birgit Matzerath will be playing a benefit recital for the Ethical Culture Society of Essex County on Saturday, June 22 at 7 PM, 516 Prospect Street. Maplewood, NJ 07040.
On the program: four Preludes and Fugues from J.S. Bach's Well-Tempered Clavier and Franz Schubert's Sonata in G-major op 78 - D 894 "Fantasy"- Sonata.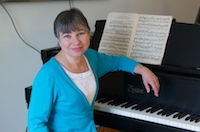 Helen Ryba will perform a solo recital on Saturday, June 8 at 5 PM at The Bronx River Art Center, 1087 E. Tremont Ave., Bronx, NY 10460
The program includes Bach's Chaconne D minor from violin partita, transcribed for piano by Ferruccio Busoni, Viktor Kosenko's Consolation Op. 9 and Allemande Op. 19 (from the 11 Etudes in The form of Old Dances).  It also features E-minor Sonata by Florence Beatrice Price and  Prelude and Fugue in F-major by Ukrainian composer Myroslav Skoryk.
May 2019
Sophia Agranovich will perform a solo concert at the Watchung Arts Center, 18 Stirling Rd, Watchung, NJ on May 11 at 7:30 PM.  In the program are works by Beethoven, Chopin, Liszt, Mendelssohn, and Debussy. More information: watchungarts.org.
Toni Russo is pleased to announce the publication of Thankful Me , a children's illustrated book taking children through a journey of things to be thankful for and happy about in their lives through images, the alphabet and rhymes.
A portion of the proceeds from sales of the book will be donated to the MEA-NJ.  
The book is available at Barnes and Noble: Thankful Me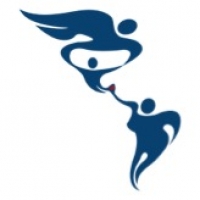 Nancy Modell will present a workshop for teachers at the conclusion of her presentation, Creative Composing for pianists: Empower Creativity, Nurture Musicality, at the 1st Suzuki Convention of the Americas, in Cancun, Mexico, May 1–5.
April 2019
Youn-hee Kim was invited to perform on April 14 for the Richter Association for the Arts in Danbury, Connecticut.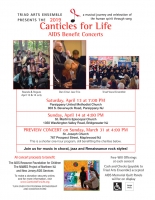 MEA members Dan Crisci and Lisa Gonzalez are part of the 2019 Canticles for Life Concerts in March and April. The Triad Arts Ensemble presents three AIDS Benefit Concerts - Sunday, March 31st, 4 PM @ St Joseph Church in Maplewood NJ, Saturday, April 13th, 7 PM @ Parsippany United Methodist Church in Parsippany NJ, and Sunday, April 14th, 4 PM @ St Martin's Episcopal Church in Bridgewater NJ.  All proceeds to benefit The AIDS Resource Foundation for Children, The NAMES Project of Northern NJ and New Jersey AIDS Services. In addition to accompanying the chorus, Dan will perform a set with his jazz trio. Join us for a musical journey and celebration of the human spirit through song!
Concert details on the Canticles for Life website and on Facebook.
Nancy Modell is invited to present Creative Composing: Embracing Creativity, Nurturing Musicality at the Piano Teachers Congress of NY on Thursday, April 4 at 10:30 AM at the Yamaha Artist Services, 689 5th Ave. #3, New York, NY.