Member News
Music educator, pianist and jazz composer, Dr. Angy Estrada released her debut CD album entitled: Latin Pulse.  A tribute to her musical roots using Latin American rhythms, and jazz harmony. You will find an array of flavors and improvisation! Available at: cdbaby.com, Amazon.com and all digital stores. More info: www.AngyEstrada.com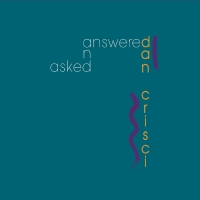 Dan Crisci released a new CD, "Asked and Answered", in January 
2019.  It features Dan's original jazz compositions with Dan on piano, Paul Ivory on bass, Steve Holloway on drums, John Carlini on guitar, Anton Denner on alto flute, flute, alto sax, and
 soprano sax, and Rob Thomas on violin.
January 2019
Birgit Matzerath's memoir More than the World in Black and White- How music came alive and my life became music is now available on Amazon. The book traces the author's development from a child who resented her talent into a woman whose life is grounded in music. It explores how the fulfillment of talent is influenced by family dynamics and life events. First reader responses are enthusiastic. To read more about the book, go to https://www.amazon.com/MORE-THAN-WORLD-BLACK-WHITE/dp/1731108605 and check out the January 2019 posting on the author's blog: Music, Life and other Challenges.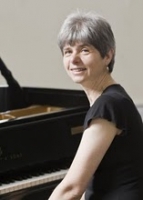 On Sunday, January 20, Birgit Matzerath presented a lecture-recital on "Preludes and Fugues from Bach's Well-Tempered Clavier as a source of meditation" at Beacon Unitarian Church in Summit, NJ. The event was part of the church's annual "service auction" fundraiser. 
2018
December 2018
Cherwyn Ambuter accompanied seasonal community chorus concerts: 
* The Newburgh Chorale
                * Dec. 22 at King of Kings Lutheran Church, New Windsor, NY
                * Dec. 30 at St. Andrew's Episcopal Church, Beacon, NY
Cherwyn Ambuter accompanied seasonal community chorus concerts:
         * Classic Choral Society:
                  Dec. 16 at the First Presbyterian Church of Goshen, NY
                  Dec. 23 at the Blooming Grove United Church of Christ, Blooming Grove, NY
October 2018
On October 28, Sophia Agranovich will play at the concert presented by the International Music and Arts Society at the Carnegie Weill Recital Hall.
Michelle Kuo and her son, Christopher Kuo, are launching their upcoming  Two Piano Journey season with a brand new program filled with exciting dances and indulgent romances from Spain, France, Argentina, and Russia by Gustavino, Infante, Ravel, Rachmaninoff, and Saint-Saëns. Watch this documentary to learn more about their project.
They are dedicating their coveted Zankel Hall at Carnegie Hall debut on October 27 at 7 PM, to Rescuing Leftover Cuisine, a critical food rescue nonprofit that brings leftover food from restaurants to families in need in 18 cities in the country. Their model is simple - volunteers carry prepared food that otherwise would be thrown away by restaurants to food pantries, soup kitchens, and shelters within walking distance. The end result - more than 2MM pounds of food have made it to families in need instead of landfills, restaurants are able to save money by reducing food waste taxes, and the environment benefits by a reduction in CO2 emissions. 
They have already received nearly $50,000 in sponsorships and commitments for Rescuing Leftover Cuisine this fall.  Please help them reach their target of $100,000! 
We regret to notify you that the Plainfield Music Store has officially closed its doors, permanently. The store, both online and retail, is no more.
We thank you all so much for your patronage and support over the years.  Thanks for all the memories!  We will still have the plfdmusic@aol.com e-mail, and our Facebook page, so drop us a line now and then.  Sincerely yours, Vicky Griswold & the Plainfield Music Store Staff - Pat, Michael, Wendy, and, in spirit, David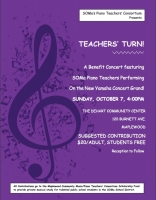 Maplewood's DeHart Community Center, 120 Burnett Ave., has recently acquired a concert grand due to the generosity of local music lovers.  To celebrate this instrument, local teachers will present a recital entitled "Teachers' Turn!" on Sunday, October 7, at 4:00 PM followed by a reception.  Suggested donation for adults is $20, students are free.  This event is a fund-raiser for a scholarship fund to benefit local music students who lack resources for private music lessons.  Performing are MEA members Kathy Allen-Roth, Elizabeth Burnett, Vicki Carter, Dan Crisci, Maxine Giannini, Birgit Matzerath, Nancy Modell, Yudit Terry, Tricia Tunstall, and other musicians. This is a celebration not to be missed!  
Pianist Murray Present (1921-2012) was a loyal and distinguished long-time member of MEA. A life-long resident of Montclair, his teaching career included 44 years as a Piano Professor at Montclair State University.
The John J. Cali School of Music at Montclair State University is pleased to announce to the MEA community of music teachers a new piano scholarship that will honor the legacy of Professor Murray Present. The Murray Present Memorial Piano Scholarship will be awarded to an incoming pianist applying for undergraduate or graduate study at the Cali School of Music. The award will be in the amount of $5,000 per year. An undergraduate award may be extended for a total of four years, and a graduate award may be extended for two years. No special application is necessary; the recipient will be chosen from among those applying to the Cali School of Music. For further information, please contact Dr. David Witten at wittend@montclair.edu.
September 2018
Co-leader, Joan Bujacich (keyboards and vocals)  will be performing with The Heart Of Gold Band for Morristown's Festival on The Green. They perform from 1-5 on the main stage which is on the corner of DeHart and South Streets. This is their 8th year of gracing the main stage with their renditions of great classic rock music. You will also see MEA Board Member Kathy Knittel in the line-up! This is a free concert and a fun event for all! Visit Joan's website for more details: www.joanbujacich.com
Cherwyn Ambuter performed a piano solo children's concert at Calvary Baptist Church, Warwick, NY.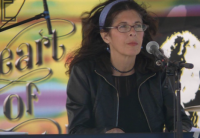 Joan Bujacich will be giving a concert in Danbury, Connecticut at the Richter House located at 100 Aunt Hack Rd. It is an outdoor concert and it begins at 3:00 P.M. Joan will be accompanied by guitarist/vocalist Joe Bilotti. The duo version of their  "The Heart Of Gold Band" brings fresh arrangements to familiar classic rock songs. Admission is free.
August 2018
Please join Sojung Lee in her Trio Fontēs Recital at the Middletown Library on Monday,  August 27 at  7 PM.
On August 26, Sophia Agranovich will perform a solo concert at the antique period piano in Belvidere, NJ.
Sondra Tammam released a new CD: "Carnivals, Songs, and Transcriptions" on the Primo Artists label. The album includes works by Schubert - Liszt, Chopin, Stravinsky, Schumann, Brahms, Marcello - Bach and Bach -Busoni.
On June 19, Sophia Agranovich performed the same program at the Lambert Castle Museum sponsored by the Passaic County Historical Society.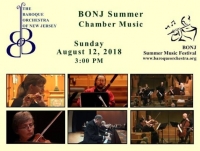 Cherwyn Ambuter performed a fully improvised piece for violin solo accompanied by harpsichord and cello for the Baroque Orchestra of New Jersey Summer Music Festival Chamber Music Celebration with Sariah Johnson, cello and Agnes Kwasniewska, violin.
It was a fantastic musical growth experience!  She also played harpsichord continuo together with Sariah for another piece for two flutes and bassoon.
On August 8, Sophia Agranovich was one of the featured performers at WQXR and WQXR.org 'Reflections at the Keyboard' with David Dubal.
Cherwyn Ambuter performed with the Baroque Orchestra of New Jersey Summer Festival Opera, as pianist within the orchestra, for Die Fledermaus, semi-staged.
July 2018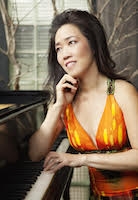 Beatrice Long will be teaching and performing at the InterHarmony Festival in Sulzbach-Rosenberg, Bavaria Germany from July 31 - August 12.
Beatrice Long will play Beethoven's Emperor Concerto at the opening concert of the Mozart Festival in San Antonio, Texas on Saturday, July 28.
Please join Sojung Lee in her Trio Fontēs Recital at the Cham Doen Presbyterian Church on Saturday, July 14 at 7:30 PM.
Please join Sojung Lee in her Trio Fontēs Recital at the Clifton Memorial Library, Monday, July 9 at 2PM.