Member News
2016
May 2016
Sophia Agranovich performed solo recitals on May 23 at the Watchung Arts Center and on June 26 at the Lambert Castle of the Passaic County Historical Society.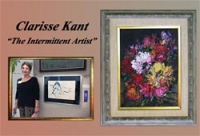 Clarisse Kant had her opening of her art exhibit, Intermittent Artist, on May 15 at the Artist Framer in Cranford. The exhibit ran from May 9- 28. The 'exhibit guide' explains the exhibit title:
"In 1937, at the age of seven, I started to draw, inspired by the fashion ads in the daily Newark newspaper. The same year I began piano lessons and continued music studies until today. My visual art in acrylics, charcoal, inks, pastels, pencil and watercolors, was only produced every twenty years or so: in the 1940's, 60's, 80's and since 2014, when time allowed from my other responsibilities as student, hospital volunteer, wife, public school special education teacher, mother, piano teacher, and, since 1956, as officer of the Music Educators Association of New Jersey."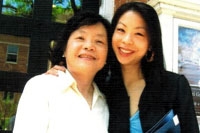 Julia Lam was honored that her daughter, Jeannette Fang, invited her to perform at the Memories of Chopin: A Mother's Day Piano Recital, part of a series of concerts developed by the Garth Newel Music Center. Julia and Jeannette performed "Ma Mère l'Oye (Mother Goose)" by composer Maurice Ravel, a four-hands piano work at the Herter Hall in Hot Springs, Virginia on May 7 at 7 p.m. Jeannette also presented works by Chopin.
Jacqueline Schiller-Audi performed with the All Seasons Chamber Players in a series of concerts featuring the Faure Piano Quartet in C minor and 4 Hungarian Dances by Brahms for four hands. The concerts were Sunday, May 1 (2pm) The Fort Lee Library; and Sunday, May 22 (2pm) The Ossining Library.
April 2016
Kathy Knittel, Composition Committee Chair, released a CD, Acoustic Muses, this past December. The CD is comprised of five lyrical songs: Woodstock, Landslide, For Good, Michael From Mountains and Diamonds and Rust. Kathy's beautiful voice is accompanied by the fine guitar work of Joe Bilotti on Landslide and Michael from Mountains. Kathy sings and plays guitar on the Joan Baez tune Diamonds and Rust and is joined on vocals and piano by Joan Bujacich. Joan accompanies her on piano for the Joni Mitchell classic, Woodstock and on For Good from the hit musical Wicked. You can download these songs from iTunes and all the major online digital distribution sites. (Our President, Joan Bujacich designed the artwork for all the releases.)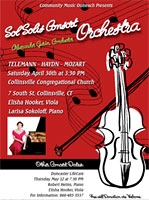 Larissa Sokoloff performed the Mozart Piano Concerto No. 21, K. 467 with the Sol Solis Consort orchestra in CT on April 30.
Jacqueline Schiller-Audi of The Alacorde Piano Trio announced a CD release party/concert on April 23 at the Unitarian Society of Ridgewood. Their new CD can now be purchased from iTunes, Amazon and cdbaby.
Nancy Modell was invited to teach at the Greater Philadelphia Suzuki Association's Enrichment Day 2016, April 16, a one-day experience "to light a spark and motivate students to pursue their practice with vigor and enthusiasm." Nancy taught Let Yourself Go!© sessions throughout the day to over 50 students, where students use their intuition to tap into their creativity and artistry. Over 160 students attended the event held at West Chester University, PA.
Sondra Tammam was a visiting professor at the University of Graz, Austria, April 11-14. She conducted Master Classes and presented the Taubman Approach to the students of the Music Department.
On April 10 Sophia Agranovich was a featured performer on WWFM 'Piano Matters' with David Dubal.
Birgit Matzerath, Devony Smith, Soprano, Michael Maliakel, Baritone will present Schumann's song cycle Myrthen op 25 and Schubert's piano Sonata in A-major D 959 on Sunday, April 10 at 5pm at All Souls Church, Lexington Ave and 80th street in New York City. Admission is free, but we're asking for a donation to benefit the Musica Viva choir.
Beatrice Long gave a lecture recital entitled "Baroque Under the Iberian Sun - Domenico Scarlatti and His Keyboard Sonatas" on April 8, for Shore Music Educators Association, UUCMC at 1475 W Front St, Lincroft, NJ 07738.
Beatrice Long performed in a charity concert presented by Yachad, the National Jewish Council for Disabilities on April 3 at 7pm. The program included music by Scarlatti, Granados, Ravel and Bartok. Please contact TSVI@aol.com for tickets.
Jacqueline Schiller-Audi performed with the All Seasons Chamber Players in a series of concerts featuring the Faure Piano Quartet in C minor and 4 Hungarian Dances by Brahms for four hands. The concerts were April 3at The Teaneck Public Library; April 10 at Fairleigh Dickinson University Edward Williams Hall; Sunday April 17 at The Mahwah Library.
MEA President Joan Bujacich helped recruit the judges for the series "Pitch Slapped", Lifetime TV network's eight-part series featuring a competition of the top NJ high school a cappella groups. If you happened to watch the show, you may be surprised to see some familiar MEA faces: Joan Bujacich and board members Lisa Gonzalez and Kathy Knittel judged for several episodes. Also joining them were MEA members Yuka Yanagi and Amir Mortezai and Joan's husband, Joe Bilotti. The show followed a cappella teams from two New Jersey high schools that were mentored by some of the best coaches in the industry: Deke Sharon, the on-site music director for the Pitch Perfect films; and acclaimed coach, Diana Preisler. A good time was had by all! You can still watch all the episodes online: mylifetime.com/shows/pitch-slapped. (Judging Episode 1: L-R Joan Bujacich, Joe Bilotti, Diana Hessinger)
March 2016
Beatrice Long was invited to perform Ravel's Gaspard de la Nuit at a class on Ravel at Juilliard, NYC, taught by pianist Mirian Conti on March 21.
Thomas Parente's book signing/reading of his book "The Positive Pianist" was at the Harvard Coop Bookstore on Saturday, March 19.
Birgit Matzerath, piano, and Bill Edwards, baritone, gave a series of three 50-minute presentations on Brahms' Four Serious Songs at the Unitarian Church of All Souls at Lexington and 80th street in New York City on Sunday, March 6, 14 and 21. In addition to performances of the songs the presentations will give background information and explore the way Brahms set the words he chose to music. The series is a part of the adult education program at All Souls. All events are free and open to the public.
February 2016
Nancy Modell presented a session entitled Creative Composing: A Joyous Pathway to Musicianship at the NJMEA 2016 State Conference on February 20 at the East Brunswick Hilton Conference Center.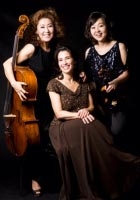 The Alacorde Trio, Jacqueline Schiller-Audi, piano, Jee Sun Lee, violin, Suji Kim, cello, performed at the Teaneck Public Library on February 7 at 3pm. The program included Turina's Circulo, Gershwin's It Ain't Necessarily So, Summertime and I Got Rhythm (arranged by The Alcorde Trio), Piazzolla's Oblivion and Death of the Angel and the Dumky Trio by Dvorak.
January 2016
The Alacorde Trio, Jacqueline Schiller-Audi, piano, Jee Sun Lee, violin, Suji Kim, cello, rescheduled their performance to January 31 at 2pm at the Haverstraw King's Daughters Public Library in Garnerville, NY. The program included Turina's Circulo, Gershwin's It Ain't Necessarily So, Summertime and I Got Rhythm (arranged by The Alcorde Trio), Piazzolla's Oblivion and Death of the Angel and the Dumky Trio by Dvorak.
Sophia Agranovich was one of the featured performers at WQXR program 'Reflections from the Keyboard' hosted by David Dubal on January 21 & 24.
Sondra Tammam is teaching Piano Pedagogy - Exploring the Taubman Approach, MUPR437-01 (2 credits), the only in-depth credit course on the Taubman Approach, at the Cali School of Music at Montclair State University on TUESDAYS, 4:00-5:40pm, from Jan. 19 - May 11. Sondra Tammam, a director of Taubman Seminars (Lincoln Center) and Taubman Festivals (MSU), worked with Dorothy Taubman for over twenty-five years. This is a very unique opportunity to learn the piano approach of Dorothy Taubman.
2015
December 2015
Jacqueline Schiller-Audi collaborated with her trio colleagues in a recital on Saturday, December 12, 7:30pm at NV Studios 400 Sylvan Ave in Englewood Cliffs. The program included Brahms Piano Trio in C Major and Rachmaninoff Sonata for Cello and Piano in G minor.
Beatrice Long was featured recitalist in the Piano Lunch Series on Tuesday, December 8 from 12:10-12:50 pm at Christ & St. Stephen's Church 122 W 69 St. New York, N. Y. 10023 (69th Street & bt Broadway + Columbus Ave, NYC).
November 2015
At the November NJMTA Conference at Rider University, Charlene Step chatted with composer Wynn Anne Rossi after her presentation on her new series, Musica Latina. The rhythmic series, featuring solos and duets, covers a cross-section of South America dances and folk music.
On Friday, November 20 at 8 p.m., the outstanding NYC based National Chorale, under the baton of Everett McCorvey, will perform a concert featuring the beloved choral work Carmina Burana, and will additionally include two original choral pieces by Thomas Parente, at Lincoln Center's David Geffen Hall (formerly Avery Fisher Hall): "October", is set to poetry of Robert Frost, and , "Look up at the Sky" features the words of local poet, Bruce Kaduk. To order tickets online go to: www.nationalchorale.org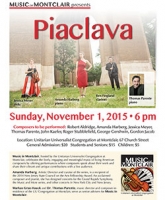 Thomas Parente performs with the the innovative ensemble, Piaclava, on Sunday, November 1 at 6 p.m. as part of the Music in Montclair series hosted by Music Director, Markus Grae-Hauck and the UU Music Committee. A wonderful variety of new works by contemporary composers will be featured. Here's your opportunity to hear yet another line-up of fresh and vibrant compositions emerging from members of this generation of exciting composers. Location: Unitarian Universalist Congregation at Montclair, 67 Church St. General Admission: $20 Students; Seniors: $15; Children: $5
October 2015
Sophia Agranovich released a new CD on a Centaur label featuring Franz Schubert: Fantasy for Piano in C major, D 760/Op. 15 "Wanderer"; Frederic Chopin: Ballade for Piano no 1 in G minor, B 66/Op. 23; Ballade for Piano no 2 in F major/a minor, B 102/Op. 38, Ballade for Piano no 3 in A flat major, B 136/Op. 47 and Ballade for Piano no 4 in F minor, B 146/Op. 52. It is available at ArkivMusic, Amazon, iTunes and other major distributors. Three excellent reviews are to be published in the Fanfare Jan-Feb 2016 issue.
Nancy Modell will present a session entitled Creative Composing: A Joyous Pathway to Musicianship at the "Empower Creativity" themed 2015 NAfME National In-Service Conference scheduled for October 25-28 at Gaylord Opryland Hotel in Nashville, TN.
On Saturday, October 17 at 8:00pm, in her 19th season at Weill Recital Hall at Carnegie Hall, Michelle Chen Kuo is joined by her son, Christopher Kuo, who returns to Weill Recital Hall for the third time since his 2006 solo debut. Together, they celebrate the splendor of Russian two piano music featuring Anton Arensky's vividly colorful Suites for Two Pianos No. 1 & 2 "Silhouettes", Sergei Rachmaninoff's playful Russian Rhapsody, and his widely treasured and intensely passionate Duo Suites No. 1 "Fantaisie-Tableaux" & 2.
Anita Gordon will perform a solo recital on the MacDowell Club recital series on Sunday, October 11 at 3 p.m. at Fransiscan Oaks, Denville. The program will include music by Mozart, Schubert, Brahms, and Chopin.
Joan Bujacich will present a session titled Motivational Ideas for You and Your Studio for The Professional Music Teacher's Guild of NJ on Monday, October 5 at 10:30 a.m. at the Johnson Public Library, 274 Main. St., Hackensack, NJ. The challenge of finding a balance between musical growth and music as a place of health (for both teacher and student) will be a recurring theme during her presentation. This program is free and all are invited to attend!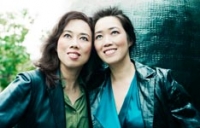 Long Duo, Beatrice Long and her sister Christina Long will be giving a recital at Watchung Arts Center on Saturday, October 3, 8 p.m. The program, entitled Night Tales, will feature music by composers Felix Mendelssohn, Maurice Ravel, Frédéric Chopin, Béla Bartok, Antonín Dvorak, Charles Griffes and Karol Szymanovsky, for solo and piano four hands. Tickets are $16 in advance, $20 ($18 for WAC members, $10 for students) at the door. You may purchase tickets securely through Eventbrite. For more information, please call 908-753-0190.
Seymour: An Introduction, directed by Ethan Hawke, will be showing at the Summit Film Society in Summit, NJ on October 2 at 8PM. Meet Seymour Bernstein: a virtuoso pianist, veteran New Yorker, and true original who gave up a successful concert career to teach music. In this wonderfully warm, witty, and intimate tribute from his friend, Ethan Hawke, Seymour shares unforgettable stories from his remarkable life and eye-opening words of wisdom, as well as insightful reflections on art, creativity, and the search for fulfillment. Seymour: An Introduction will leave audiences uplifted and inspired. Q + A with Seymour Bernstein and Birgit Matzerath to follow.
September 2015
In Memoriam: Joseph Smith
Pianist, vocal coach, music teacher, writer, lecturer, and adjunct professor Joseph Smith died early on March 23rd. He taught Introduction to Music for the Cali School since fall 2004. His many gifts brought him wide recognition and affection and he will be greatly missed. A memorial concert at the Cali School will take place on Sunday, September 20th.
Sondra Tammam will perform Piano Trios in a faculty recital in Leshowitz Recital Hall, Saturday, Sept 19 at 8PM, at the Cali School of Music, Montclair State U., with guest artists violinist Ariel Shamai and cellist Alex Bacelar. The program includes: Beethoven: Trio in B-flat, Opus 97 ("Archduke") and Schubert: Trio in B-flat, Opus 99.
August 2015
Nancy Modell will conduct Suzuki Piano Teacher Training and teach students Suzuki Piano Book 2, August 2 - 7, at the 2015 Greater Washington Suzuki Piano Institute in Mclean, Virginia.
July 2015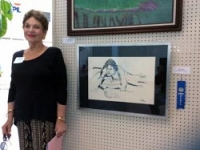 Clarisse Kant has been recognized for her creative art talents. She was recently awarded first prize in the drawing category in the Union County Seniors Art Competition for "Nude on a Pillow." This competition is sponsored by the Union County Board of Chosen Freeholders. The work of all first-place winners will be exhibited at the Freeholders' Gallery on the sixth floor of the Union County Administration Building from July 14 - Aug. 19, then move to East Windsor to participate in a state-wide Seniors Art Competition.
Sophia Agranovich will perform 2 solo recitals. The program will feature, among other compositions, Robert Schumann's Carnaval and Fantasie.
On Sunday, July 12 at 5PM at The Lambert Castle Concert Series in Paramus, NJ. Click here for directions. Tickets are $15. The proceeds benefit the Passaic County Historical Society.
Bargemusic - 'New York City's floating concert hall' - on Saturday, July 18 at 4PM. Admission is free. For more information see bargemusic.org.
Nancy Modell will teach ECC! (Every Child Can!©) at the NJ Suzuki Workshop in Lawrenceville on Friday, July 10. A one-day introductory course on the Suzuki philosophy and its application to education, ECC! provides an inspiring, in-depth look at the Suzuki approach to teaching and learning.