Member News
2017
September 2017
Michelle Kuo and her son, Christopher Kuo, launched their fall concert season with a two piano recital at the Steinway Gallery in Paramus on Saturday, September 30. They performed an all Rachmaninoff duo program. View PDF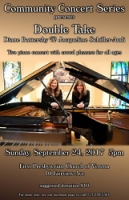 Jacqueline Schiller-Audi and Diane Battersby performed their annual concert, Double Take!, on September 24 at the First Presbyterian Church of Verona. Works by Bizet, Leroy Anderson, Cole Porter, Liszt, Khachaturian and more.
Sophia Agranovich performed a solo concert at BargeMusic - 'the floating concert hall' in Brooklyn, NY, on September 15.
Beatrice Long joined the faculty of the Music Conservatory of Brooklyn College, CUNY.
August 2017
Jacqueline Schiller-Audi and Diane Battersby performed their annual concert, Double Take! Two Baby Grands in the Gazebo, in Tenafly's Davis-Johnson Park on August 31. Selections included: Carmen by Bizet, some Leroy Anderson, Cole Porter, a little bit of West Side Story, Liszt, Khachaturian and more. Please see details on this flyer.
Between August 5-9, Beatrice Long joined her sister Christina Long as the Long Duo, performing duo piano recitals in the Chamber Music Series at Sala Héctor Tosar in Montevideo; and Conciertos del Este at Punta del Este, Uruguay.
July 2017
Sophia Agranovich performed a 2-hour solo recital at the festival Les Cabardiese de Pennautier in Pennautier, France on July 25.
Nancy Modell taught ECC! (Every Child Can!©) on July 7 and conducted student master classes July 8-9 at the New Jersey Suzuki Workshop at the Lawrenceville School.
Beatrice Long performed and taught at Piedmont, Italy's InterHarmony International Music Festival from July 5-17. Works were by Chopin, Brahms and Ligeti; the master class was titled 'Articulation and Ornamentation in Baroque Keyboard Music'.
Sophia Agranovich's interview and four rave reviews were published in May-June issue of Fanfare Magazine.
June 2017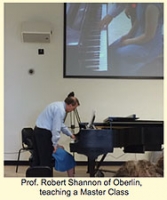 David Witten, Artistic Director, announced the Sixth Dorothy Taubman Festival, June 23-25 featuring: Master Classes with Professor Robert Shannon of Oberlin Conservatory; Technique Clinics and Lectures with Sondra Tammam, Festival Director; Children's Repertoire with Dragica Curcic; Jazz Standards reworked with the Taubman Concepts with Dan Crisci, and Guest Jackie Herbein, National presenter of Body Mapping/Yoga at MTNA National Conferences. For further information, please contact Dr. David Witten at wittend@mail.montclair.edu.
Nancy Modell conducted teacher training workshops and taught student master classes at the Colorado Suzuki Institute in Beaver Creek, CO from June 12-24.
On June 4 and June 11 Birgit Matzerath gave two presentations in the adult education series at All Souls Unitarian Church in New York City titled: Calm and Conflict - J.S. Bach's Preludes and Fugues in B-flat major and B-flat minor from the Well-Tempered Clavier II (BWV 890 and BWV 891). The musical means Bach used to convey different emotions in both pieces were examined, including a chance to reflect on the energies of calm and conflict in our lives, as listeners familiarized themselves with the music. Ms. Matzerath performed both works at each session.
May 2017
On May 27 Sophia Agranovich performed a solo concert at BargeMusic - 'the floating concert hall' in Brooklyn, NY. The program included Sonata in D minor 'Tempest' by Beethoven, Sonata in Bb minor by Chopin, and works by Liszt and Rachmaninoff.
On May 21, under the title, Play-Practice-Perform, Birgit Matzerath gave a presentation on Seymour Bernstein's approach to teaching piano for the Adult Music Student Forum in Washington DC. Along the lines of her own story as a student of Seymour Bernstein, her talk focused on "The Four Stages of Learning" that Bernstein describes in his book With your Own Two Hands, and his approach to the technique as outlined in his Twenty Lessons on Keyboard Choreography.
MEA Members Audrey Schultz and Lisa Gonzalez were in the Morris Choral Society's "Peace, Triumphant Peace!" performance on May 20 at the Dorothy Young Center, Drew University, Madison, NJ. Music included was Mendelssohn's serene "Verleih uns Freiden" (Grant us Peace), Beethoven's majestic Choral Fantasy, and the New Jersey premiere of Karl Jenkins' monumental "The Peacemakers", a major work premiered at Carnegie Hall in 2012. Texts from such great advocates of peace as Mahatma Gandhi, Anne Frank, Rumi, Martin Luther King, Nelson Mandela, Mother Teresa, and the Dalai Lama, combined with Jenkin's unique combination of the classical and world music, make this a work of great importance. Visit www.morrischoralsociety.org.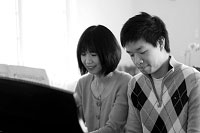 Michelle Kuo and her son, Christopher Kuo, have completed their winter benefit tour, performing 5 recitals in New York, New Jersey, Boston, and San Francisco. In total, they were able to help raise close to $30,000 for nonprofits across the country. On May 11, they presented their two piano recital at Christopher's alma mater, NYU Stern School of Business.
Seymour Bernstein's cantata, Song of Nature (with a new orchestration by Artistic Director Alejandro Hernandez-Valdez), was presented in Musica Viva NY's final concert on May 7. Preceding the concert, Ethan Hawke's critically acclaimed 2015 documentary Seymour: An Introduction, was screened. The screening was followed by a Q & A session with Seymour and members of the production team.
Sophia Agranovich performed a solo recital at the Lambert Castle of the Passaic County Historical Society on May 7 and at the Watching Arts Center on May 20. Works by Beethoven, Rachmaninoff, Liszt and Chopin.
On Saturday, May 6, Pianists Yuka Yanagi and Amir Mortezai performed Romance and Tarantella (from Suite No.2, Op. 17) and Concerto No.2, Op.18, (1st movement) by Rachmaninoff on two pianos, and Pianist Yuly Verbitsky performed Piano Sonata Op. 57 ('Appasionata') by Beethoven, Sonnet 104 and Concert Etude 'Un Sospiro' by Liszt at Steinway Piano Gallery in Paramus, NJ.
April 2017
MEA members Dan Crisci and Lisa Gonzalez were part of the 2017 Canticles for Life AIDS Benefit Concerts in April. Ginny Johnston conducted the 26-voice Triad Vocal Ensemble, which featured a mix of styles including anthems, Broadway, and an inspiring new work, "I Choose Love" by New Jersey composer Mark Miller. The Dan Crisci Jazz Trio also performed. Free will offerings were accepted at each concert. The Canticles for Life AIDS Benefit Concert ministry, founded in 1997, has raised over $131,000 for the New Jersey AIDS charities. The concerts have featured over two-dozen pieces by New Jersey composers. For more information, visit the website www.canticlesforlife.org.
In honor of Seymour Bernstein's milestone 90th birthday, Council Member Helen Rosenthal presented him with a Proclamation from New York City. The ceremony took place on April 27 at the Bernie Wohl Community Center. Friends were invited and audience members contributed remarks of their own, following Council Rosenthal remarks about Seymour's contributions to the City.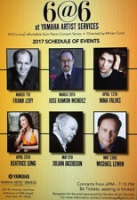 Beatrice Long performed at 6@6, a wonderful concert series, at the Yamaha Salon of NYC on April 25. Her program included Albeniz, Iberia Book 1, Ligeti, Capriccio, and Chopin, Étude Op. 25.
On April 22, Nancy Modell was invited to teach at the Greater Philadelphia Suzuki Association's Enrichment Day, a one-day musical experience "to light a spark and motivate students to pursue their practice with vigor and enthusiasm." Nancy taught Let Yourself Go!© sessions throughout the day to over 50 students, where students, ages 5-15, used their intuition to tap into their creativity and artistry. Over 180 students attended this event in Allentown, PA.
Pianist Murray Present (1921-2012) was a loyal and distinguished long-time member of MEA. A life-long resident of Montclair, his teaching career included 44 years as a Piano Professor at Montclair State University. The John J. Cali School of Music at Montclair State University was pleased to announce to the MEA community of music teachers a new piano scholarship honoring the legacy of Professor Murray Present. The Murray Present Memorial Piano Scholarship will be awarded to an incoming pianist applying for undergraduate or graduate study at the Cali School of Music. The award will be in the amount of $5,000 per year. An undergraduate award may be extended for a total of four years, and a graduate award may be extended for two years. No special application is necessary; the recipient will be chosen from among those applying to the Cali School of Music.For further information, please contact Dr. David Witten at wittend@montclair.edu.
March 2017
An interview with Sophia Agranovich about her new CD, Schumann; Carnaval and Fantasie, was published in the March-April issue of the Fanfare magazine. The sixth review of Sophia Agranovich's CD, Schumann; Carnaval and Fantasie, received an excellent review from the Audio Video Club of Atlanta. Sophia received a Gold Medal from the prestigious Global Music Awards for this CD."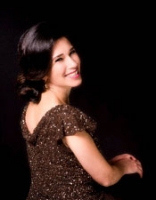 Jackie Shiller presented a solo recital on March 5 at the Fort Lee Public Library. The program included Bach Partita No.1, Beethoven Op.2. No.3, Chopin Nocturne in D flat and Debussy Pour le Piano.
The New York Piano Society gala fund-raising recital was March 4 in Weil Recital Hall, Carnegie Hall, including a celebration of Seymour Bernstein's 90th birthday. Seymour performed the Schubert Fantasy for Four Hands with his pupil Alok Dutt.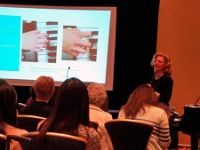 On March 2, Sondra Tammam presented a workshop for the Piano Teachers' Congress of NY on the 'Choreography of the Subtle In and Out Movements at the Keyboard' with the Taubman Approach held at the Yamaha Artists Headquarters. She was a guest presenter at the MTNA National Conference in Baltimore on March 19. Her student Maya Lily Knoller was a first prizewinner in the 1st Global Online Great Composers Competition in the Group 3 age-category, The Music of America.
February 2017
Barbara Landi Hause performed Bach's Italian Concerto for the Schumann Club on February 23 in the Union Congregational Church, Montclair.
Jackie Shiller and her father, Allan Schiller performed together on Sunday, Feb 5 at the Teaneck Public Library. Works for violin and piano include Beethoven, Bartok, and Vivaldi. Guests from the Alacorde Trio to join in the 2nd half with Mozart's Piano Quartet in E flat Major.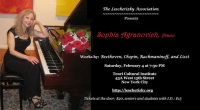 Sophia Agranovich performed a solo recital at the Tenry Cultural Institute at the Leschetizky Association Concert Series on February 4. Works by Beethoven, Rachmaninoff, Liszt and Chopin.
January 2017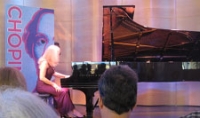 Sophia Agranovich's video playing Ballade no.3 in A-flat Major by Chopin at the WQXR Chopin Marathon was chosen as the Juilliard Alumni video of the month in January 2017. http://www.juilliard.edu/alumni/video-month
Michelle Kuo and her son, Christopher, performed 15 duet recitals across the country supporting nonprofit organizations doing great work. They recently appeared at Whippany Park High School, NJ Jan. 14 and the San Francisco War Memorial & Performing Arts Center, CA Jan. 21. For more details visit: twopianojourney.com
Sondra Tammam is teaching Piano Pedagogy - Exploring the Taubman Approach, MUPR437-01 (2 credits), the only in-depth credit course on the Taubman Approach, at the Cali School of Music at Montclair State University on TUESDAYS, 4:00-5:40pm, from Jan. 17 - May 9. Auditors can contact: Dr. Marla Meissner, email: musicprep@mail.montclair.edu, Tel: 973-655-4443
2016
December 2016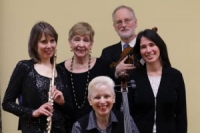 Jacqueline Schiller-Audi performed in a series of concerts entitled "Beethoven, Bruch and All that Jazz" with the All Seasons Chamber Players, consisting of members Bob Lawrence, violin, Zoe Hassman, cello, Lisa Hansen, flute and Jean Strickholm, piano. On December 11, she performed the Prokofiev Flute and Piano Sonata and Paul Schoenfield's Cafe Music at the Ridgewood Public Library. allseasonschamberplayers.org
November 2016
Sondra Tammam was nominated as NJMTA "Teacher of the Year".
For twenty years, Carmela Cecere has been chairing the Young Artist Invitational Festival on behalf of the Suburban Music Study Club. The purpose of the event is to seek out extraordinarily talented young musicians between the ages of 12 and 18 in order to offer them special recognition for their talents and accomplishments. On November 13, eight performers, including vocalists, oboists, violinists and pianists, were spotlighted and each received a small stipend of recognition. Pianists included students of members Beatrice Long, Tomoko Harada and Marina Young.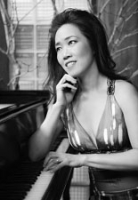 Beatrice Long performed a recital in support the annual scholarship program for the Greater Princeton Steinway Society on Sunday, November 6 at at Jacobs Music, 2540 Brunswick Pike, Lawrenceville, NJ. The program includes: Bach Italian Concerto, Albeniz - 'Evocation', 'El Puerto' and 'Corpus Christi Day in Seville' from Iberia I, 12 Études from Chopin Études Op. 25. steinwaysocietyprinceton.org. View PDF
Sophia Agranovich gave a lecture/recital for PVMTA on November 2. Her new CD album was released on November 18 on Centaur/Naxos label - Robert Schumann: Carnaval, Op. 9 and Fantasie in C Major, Op. 17.
October 2016
In the 2016 MTNA NJ Composition Competition, Sophia Agranovich's student received Honorable Mention in the Senior division, and Nancy Modell's student received Honorable Mention in the Junior division.
Carmela Cecere's student, 15-year-old James Samson, presented his debut recital at the Morris Museum's Bickford Theatre on October 22. His performance supported the Juvenile Rheumatoid Arthritis Foundation. Free will donations and matching grant of $3,300 was realized.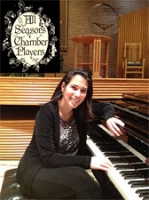 Jacqueline Schiller-Audi performed the Prokofiev Flute and Piano Sonata and Paul Schoenfield's Cafe Music in "Beethoven, Bruch and All that Jazz" concert series with the All Seasons Chamber Players, consisting of members Bob Lawrence, violin, Zoe Hassman, cello, Lisa Hansen, flute and Jean Strickholm, piano. The concerts and venues were: Sunday, October 16 - Central Unitarian Church, Paramus; Thursday, October 20 - Crane's Mill, West Caldwell; Sunday, October 23 - Edward Williams Hall, Petrocelli College at FDU, Hackensack; Sunday, October 30 - New Milford Public Library.
For her 20th season at Carnegie Hall, Michelle Chen Kuo was joined by her son, Christopher Kuo, for a celebration of treasured works in the two-piano literature from the Romantic and Contemporary eras. In their third season together in Weill Recital Hall at Carnegie Hall, they traversed a repertoire filled with lively dances, including Ravel's captivating La Valse and Saint-Saëns' Danse Macabre, and duo masterworks, including Lutos?awski's wickedly difficult arrangement of Variations on a Theme by Paganini and Rachmaninoff's intensely passionate Suite for Two Pianos No. 2, Op. 17. This recital was the kickoff for their two piano concert tour across the country, where they are scheduled to perform in New York, New Jersey, Massachusetts, Texas, and California.
The Montclair Music Club's opening performance of its season was Tuesday, October 11, at the Union Congregational Church, Montclair included performances by MEA members: Rebecca Eng, Barbara Landi Hause, and Betty Rosenblum.
Sophia Agranovich performed a Romantic recital of piano music at the Polish Cultural Foundation on Saturday, October 1.
September 2016
Joan Bujacich and Kathy Knittel performed on the Main Stage with The Heart Of Gold Band for the Festival On The Green in Morristown on September 25. Heart of Gold Band plays the best of Classic Rock music and is comprised of Joe Bilotti on guitar & vocals, Joan Bujacich on keyboard and vocals, Kathy Knittel on percussion, rhythm guitar and vocals, Joe Howell on bass, and John Hummel on drums.
Sophia Agranovich performed a recital at the New Jersey Institute of Technology on September 23.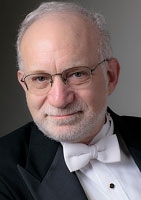 David Witten, pianist, presented "Piano Recital Honoring the 2,567th Anniversary of the Birth of Confucius" on September 18 in the Leshowitz Recital Hall, Cali School of Music, Montclair State University. Confucius wrote, "The inner nature of man is the province of music." The recital honored the birthday of Confucius with music by the following composers:
Yinghai Li
Alexander Tcherepnin
Bohuslav Martinu
Alexina Louie
Wolfgang Amadée Mozart
Frédéric Chopin
Lisa Gonzalez, along with Marafanyi percussion group members Lara Gonzalez and Yael Shacham, ran workshops and performed on the summit of Mount Greylock at Bascom Lodge, Adams, MA in the beautiful Berkshires for their 4th annual Marafanyi Drum, Dance and Song FEST! on Sunday, September 4. Details on our FB page and rootsheartpulse.com.