Member News
Nancy Modell is invited to teach for the Music Institute of Chicago (Evanston campus) as a clinician at the Suzuki Piano Mid-Winter Workshop from November 11-12.
Nancy Modell will present Creative Composing: Embracing Creativity, Nurturing Musicality on November 10 under the NJMEA group at the NJEA Convention in Atlantic City.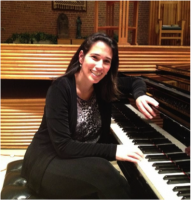 Jacqueline Schiller-Audi will perform with the All Seasons Chamber Players on Sunday, November 5 at 3:30 PM at Central Unitarian Church, Paramus.
Michelle Kuo and her son, Christopher Kuo, continue their fall concert season performing at the San Francisco War Memorial Performing Arts Center.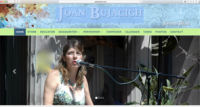 Joan Bujacich just launched her new website! She found creating and uploading the content a bit overwhelming at first, but she persevered. There is much to share including a store where she has CD's and some sheet music of her compositions for sale. Adding sheet music to the store will be an ongoing project. There are videos to explore and web pages dedicated to various aspects of her long musical career.
Visit: JoanBujacich.com
October 2017
Jacqueline Schiller-Audi performed with the Alacorde Trio on October 15 and with the All Seasons Chamber Players on October 29 at the New Milford Public Library, New Milford.
Michelle Kuo and her son, Christopher Kuo, continue their fall concert season in Boston, on October 7, presented by Berklee College of Music.
September 2017
Michelle Kuo and her son, Christopher Kuo, launched their fall concert season with a two piano recital at the Steinway Gallery in Paramus on Saturday, September 30. They performed an all Rachmaninoff duo program. View PDF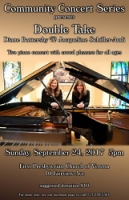 Jacqueline Schiller-Audi and Diane Battersby performed their annual concert, Double Take!, on September 24 at the First Presbyterian Church of Verona. Works by Bizet, Leroy Anderson, Cole Porter, Liszt, Khachaturian and more.
Sophia Agranovich performed a solo concert at BargeMusic - 'the floating concert hall' in Brooklyn, NY, on September 15.
Beatrice Long joined the faculty of the Music Conservatory of Brooklyn College, CUNY.
August 2017
Jacqueline Schiller-Audi and Diane Battersby performed their annual concert, Double Take! Two Baby Grands in the Gazebo, in Tenafly's Davis-Johnson Park on August 31. Selections included: Carmen by Bizet, some Leroy Anderson, Cole Porter, a little bit of West Side Story, Liszt, Khachaturian and more. Please see details on this flyer.
Between August 5-9, Beatrice Long joined her sister Christina Long as the Long Duo, performing duo piano recitals in the Chamber Music Series at Sala Héctor Tosar in Montevideo; and Conciertos del Este at Punta del Este, Uruguay.
July 2017
Sophia Agranovich performed a 2-hour solo recital at the festival Les Cabardiese de Pennautier in Pennautier, France on July 25.
Nancy Modell taught ECC! (Every Child Can!©) on July 7 and conducted student master classes July 8-9 at the New Jersey Suzuki Workshop at the Lawrenceville School.
Beatrice Long performed and taught at Piedmont, Italy's InterHarmony International Music Festival from July 5-17. Works were by Chopin, Brahms and Ligeti; the master class was titled 'Articulation and Ornamentation in Baroque Keyboard Music'.
Sophia Agranovich's interview and four rave reviews were published in May-June issue of Fanfare Magazine.
June 2017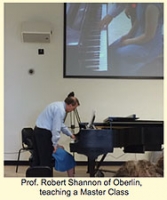 David Witten, Artistic Director, announced the Sixth Dorothy Taubman Festival, June 23-25 featuring: Master Classes with Professor Robert Shannon of Oberlin Conservatory; Technique Clinics and Lectures with Sondra Tammam, Festival Director; Children's Repertoire with Dragica Curcic; Jazz Standards reworked with the Taubman Concepts with Dan Crisci, and Guest Jackie Herbein, National presenter of Body Mapping/Yoga at MTNA National Conferences. For further information, please contact Dr. David Witten at wittend@mail.montclair.edu.
Nancy Modell conducted teacher training workshops and taught student master classes at the Colorado Suzuki Institute in Beaver Creek, CO from June 12-24.
On June 4 and June 11 Birgit Matzerath gave two presentations in the adult education series at All Souls Unitarian Church in New York City titled: Calm and Conflict - J.S. Bach's Preludes and Fugues in B-flat major and B-flat minor from the Well-Tempered Clavier II (BWV 890 and BWV 891). The musical means Bach used to convey different emotions in both pieces were examined, including a chance to reflect on the energies of calm and conflict in our lives, as listeners familiarized themselves with the music. Ms. Matzerath performed both works at each session.
May 2017
On May 27 Sophia Agranovich performed a solo concert at BargeMusic - 'the floating concert hall' in Brooklyn, NY. The program included Sonata in D minor 'Tempest' by Beethoven, Sonata in Bb minor by Chopin, and works by Liszt and Rachmaninoff.
On May 21, under the title, Play-Practice-Perform, Birgit Matzerath gave a presentation on Seymour Bernstein's approach to teaching piano for the Adult Music Student Forum in Washington DC. Along the lines of her own story as a student of Seymour Bernstein, her talk focused on "The Four Stages of Learning" that Bernstein describes in his book With your Own Two Hands, and his approach to the technique as outlined in his Twenty Lessons on Keyboard Choreography.
MEA Members Audrey Schultz and Lisa Gonzalez were in the Morris Choral Society's "Peace, Triumphant Peace!" performance on May 20 at the Dorothy Young Center, Drew University, Madison, NJ. Music included was Mendelssohn's serene "Verleih uns Freiden" (Grant us Peace), Beethoven's majestic Choral Fantasy, and the New Jersey premiere of Karl Jenkins' monumental "The Peacemakers", a major work premiered at Carnegie Hall in 2012. Texts from such great advocates of peace as Mahatma Gandhi, Anne Frank, Rumi, Martin Luther King, Nelson Mandela, Mother Teresa, and the Dalai Lama, combined with Jenkin's unique combination of the classical and world music, make this a work of great importance. Visit www.morrischoralsociety.org.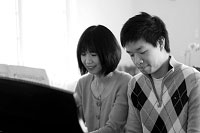 Michelle Kuo and her son, Christopher Kuo, have completed their winter benefit tour, performing 5 recitals in New York, New Jersey, Boston, and San Francisco. In total, they were able to help raise close to $30,000 for nonprofits across the country. On May 11, they presented their two piano recital at Christopher's alma mater, NYU Stern School of Business.
Seymour Bernstein's cantata, Song of Nature (with a new orchestration by Artistic Director Alejandro Hernandez-Valdez), was presented in Musica Viva NY's final concert on May 7. Preceding the concert, Ethan Hawke's critically acclaimed 2015 documentary Seymour: An Introduction, was screened. The screening was followed by a Q & A session with Seymour and members of the production team.