Member News
Joan Bujacich will present a session titled Motivational Ideas for You and Your Studio for The Professional Music Teacher's Guild of NJ on Monday, October 5 at 10:30 a.m. at the Johnson Public Library, 274 Main. St., Hackensack, NJ. The challenge of finding a balance between musical growth and music as a place of health (for both teacher and student) will be a recurring theme during her presentation. This program is free and all are invited to attend!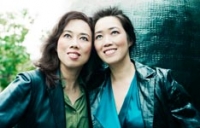 Long Duo, Beatrice Long and her sister Christina Long will be giving a recital at Watchung Arts Center on Saturday, October 3, 8 p.m. The program, entitled Night Tales, will feature music by composers Felix Mendelssohn, Maurice Ravel, Frédéric Chopin, Béla Bartok, Antonín Dvorak, Charles Griffes and Karol Szymanovsky, for solo and piano four hands. Tickets are $16 in advance, $20 ($18 for WAC members, $10 for students) at the door. You may purchase tickets securely through Eventbrite. For more information, please call 908-753-0190.
Seymour: An Introduction, directed by Ethan Hawke, will be showing at the Summit Film Society in Summit, NJ on October 2 at 8PM. Meet Seymour Bernstein: a virtuoso pianist, veteran New Yorker, and true original who gave up a successful concert career to teach music. In this wonderfully warm, witty, and intimate tribute from his friend, Ethan Hawke, Seymour shares unforgettable stories from his remarkable life and eye-opening words of wisdom, as well as insightful reflections on art, creativity, and the search for fulfillment. Seymour: An Introduction will leave audiences uplifted and inspired. Q + A with Seymour Bernstein and Birgit Matzerath to follow.
September 2015
In Memoriam: Joseph Smith
Pianist, vocal coach, music teacher, writer, lecturer, and adjunct professor Joseph Smith died early on March 23rd. He taught Introduction to Music for the Cali School since fall 2004. His many gifts brought him wide recognition and affection and he will be greatly missed. A memorial concert at the Cali School will take place on Sunday, September 20th.
Sondra Tammam will perform Piano Trios in a faculty recital in Leshowitz Recital Hall, Saturday, Sept 19 at 8PM, at the Cali School of Music, Montclair State U., with guest artists violinist Ariel Shamai and cellist Alex Bacelar. The program includes: Beethoven: Trio in B-flat, Opus 97 ("Archduke") and Schubert: Trio in B-flat, Opus 99.
August 2015
Nancy Modell will conduct Suzuki Piano Teacher Training and teach students Suzuki Piano Book 2, August 2 - 7, at the 2015 Greater Washington Suzuki Piano Institute in Mclean, Virginia.
July 2015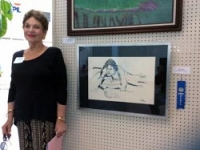 Clarisse Kant has been recognized for her creative art talents. She was recently awarded first prize in the drawing category in the Union County Seniors Art Competition for "Nude on a Pillow." This competition is sponsored by the Union County Board of Chosen Freeholders. The work of all first-place winners will be exhibited at the Freeholders' Gallery on the sixth floor of the Union County Administration Building from July 14 - Aug. 19, then move to East Windsor to participate in a state-wide Seniors Art Competition.
Sophia Agranovich will perform 2 solo recitals. The program will feature, among other compositions, Robert Schumann's Carnaval and Fantasie.
On Sunday, July 12 at 5PM at The Lambert Castle Concert Series in Paramus, NJ. Click here for directions. Tickets are $15. The proceeds benefit the Passaic County Historical Society.
Bargemusic - 'New York City's floating concert hall' - on Saturday, July 18 at 4PM. Admission is free. For more information see bargemusic.org.
Nancy Modell will teach ECC! (Every Child Can!©) at the NJ Suzuki Workshop in Lawrenceville on Friday, July 10. A one-day introductory course on the Suzuki philosophy and its application to education, ECC! provides an inspiring, in-depth look at the Suzuki approach to teaching and learning.