Member News
For her 20th season at Carnegie Hall, Michelle Chen Kuo was joined by her son, Christopher Kuo, for a celebration of treasured works in the two-piano literature from the Romantic and Contemporary eras. In their third season together in Weill Recital Hall at Carnegie Hall, they traversed a repertoire filled with lively dances, including Ravel's captivating La Valse and Saint-Saëns' Danse Macabre, and duo masterworks, including Lutos?awski's wickedly difficult arrangement of Variations on a Theme by Paganini and Rachmaninoff's intensely passionate Suite for Two Pianos No. 2, Op. 17. This recital was the kickoff for their two piano concert tour across the country, where they are scheduled to perform in New York, New Jersey, Massachusetts, Texas, and California.
The Montclair Music Club's opening performance of its season was Tuesday, October 11, at the Union Congregational Church, Montclair included performances by MEA members: Rebecca Eng, Barbara Landi Hause, and Betty Rosenblum.
Sophia Agranovich performed a Romantic recital of piano music at the Polish Cultural Foundation on Saturday, October 1.
September 2016
Joan Bujacich and Kathy Knittel performed on the Main Stage with The Heart Of Gold Band for the Festival On The Green in Morristown on September 25. Heart of Gold Band plays the best of Classic Rock music and is comprised of Joe Bilotti on guitar & vocals, Joan Bujacich on keyboard and vocals, Kathy Knittel on percussion, rhythm guitar and vocals, Joe Howell on bass, and John Hummel on drums.
Sophia Agranovich performed a recital at the New Jersey Institute of Technology on September 23.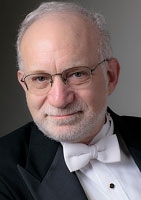 David Witten, pianist, presented "Piano Recital Honoring the 2,567th Anniversary of the Birth of Confucius" on September 18 in the Leshowitz Recital Hall, Cali School of Music, Montclair State University. Confucius wrote, "The inner nature of man is the province of music." The recital honored the birthday of Confucius with music by the following composers:
Yinghai Li
Alexander Tcherepnin
Bohuslav Martinu
Alexina Louie
Wolfgang Amadée Mozart
Frédéric Chopin
Lisa Gonzalez, along with Marafanyi percussion group members Lara Gonzalez and Yael Shacham, ran workshops and performed on the summit of Mount Greylock at Bascom Lodge, Adams, MA in the beautiful Berkshires for their 4th annual Marafanyi Drum, Dance and Song FEST! on Sunday, September 4. Details on our FB page and rootsheartpulse.com.
August 2016
On August 20 at 4PM Sophia Agranovich performed a solo concert at BargeMusic - 'the floating concert hall' in Brooklyn, NY. Program:
Frédéric Chopin:
Nocturne in C minor, Op. 48 no. 1
Polonaise - Fantaisie in A flat Major, Op. 61
Franz Liszt:
Sonetto 47 del Petrarca
Sonetto 123 del Petrarca
Sonetto 104 del Petrarca
Après une Lecture du Dante: Fantasia quasi Sonata
Hungarian Rhapsody #14 in F Minor
and other works.
Vicky Griswold is looking for a buyer for the Plainfield Music Store. After 22 years, she wishes to retire. Asking $50,000, negotiable. If interested, please contact her at plfdmusic@aol.com or (908) 405-7577(cell) or (908) 754-3718.
July 2016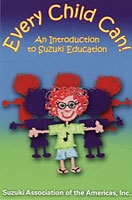 Nancy Modell taught ECC! (Every Child Can!©) at the Lawrenceville School on Friday, July 15. A one-day introductory course on the Suzuki philosophy and its application to education, ECC! provides an inspiring, in-depth look at the Suzuki approach to teaching and learning.
Sophia Agranovich performed a solo concert on July 11 at the Miami Steinway Gallery. Program:
Frédéric Chopin:
Nocturne in C minor, Op. 48 no. 1
Polonaise - Fantaisie in A flat Major, Op. 61
Franz Liszt:
Sonetto 47 del Petrarca
Sonetto 123 del Petrarca
Sonetto 104 del Petrarca
Après une Lecture du Dante: Fantasia quasi Sonata
Hungarian Rhapsody #14 in F Minor
and other works.
June 2016
John Blasdale made his NYC Recital Debut on June 21 at West Park Presbyterian Church, W 86 St. (as a part of Make Music New York). His program included the intense Intermezzo in E Flat Minor op. 118 by Brahms, Beethoven's Piano Sonata in C Minor, op. 111, and his own Elegy in E Minor.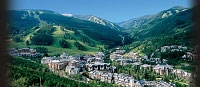 Nancy Modell led Suzuki Piano Teacher Training and taught students at the Colorado Suzuki Institute in Beaver Creek, CO from June 13-25.
Michelle Kuo performed a two piano recital with her son, Christopher Kuo, at the Steinway Gallery in Paramus on June 11. The program included works by Milhaud, Rachmaninoff, Ravel, and Guastavino.
The Fifth Dorothy Taubman Festival, led by Dr. David Witten, Artistic Director, was held June 11-12 and featured: Master Classes and an Evening Concert with Dr. Robert Shannon, Professor of Piano, Oberlin Conservatory of Music; inspiring sessions with Sondra Tammam, Dan Crisci, and Dragica Banic. Topics included:
How to produce Coordinate Movement
How the Taubman Approach promotes virtuosity
Sophia Agranovich performed at the special live event - WQXR All-Day Chopin Marathon, hosted by Elliott Forrest and Terrance McKnight on Saturday, June 4, where she played Nocturne in C minor, Op. 48, No. 1 and Ballade No. 3 in A-flat Major, Op. 47. You can watch it on-line here.
May 2016
Sophia Agranovich performed solo recitals on May 23 at the Watchung Arts Center and on June 26 at the Lambert Castle of the Passaic County Historical Society.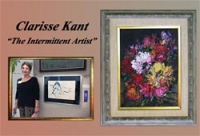 Clarisse Kant had her opening of her art exhibit, Intermittent Artist, on May 15 at the Artist Framer in Cranford. The exhibit ran from May 9- 28. The 'exhibit guide' explains the exhibit title:
"In 1937, at the age of seven, I started to draw, inspired by the fashion ads in the daily Newark newspaper. The same year I began piano lessons and continued music studies until today. My visual art in acrylics, charcoal, inks, pastels, pencil and watercolors, was only produced every twenty years or so: in the 1940's, 60's, 80's and since 2014, when time allowed from my other responsibilities as student, hospital volunteer, wife, public school special education teacher, mother, piano teacher, and, since 1956, as officer of the Music Educators Association of New Jersey."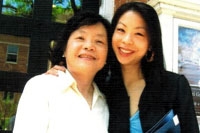 Julia Lam was honored that her daughter, Jeannette Fang, invited her to perform at the Memories of Chopin: A Mother's Day Piano Recital, part of a series of concerts developed by the Garth Newel Music Center. Julia and Jeannette performed "Ma Mère l'Oye (Mother Goose)" by composer Maurice Ravel, a four-hands piano work at the Herter Hall in Hot Springs, Virginia on May 7 at 7 p.m. Jeannette also presented works by Chopin.
Jacqueline Schiller-Audi performed with the All Seasons Chamber Players in a series of concerts featuring the Faure Piano Quartet in C minor and 4 Hungarian Dances by Brahms for four hands. The concerts were Sunday, May 1 (2pm) The Fort Lee Library; and Sunday, May 22 (2pm) The Ossining Library.
April 2016
Kathy Knittel, Composition Committee Chair, released a CD, Acoustic Muses, this past December. The CD is comprised of five lyrical songs: Woodstock, Landslide, For Good, Michael From Mountains and Diamonds and Rust. Kathy's beautiful voice is accompanied by the fine guitar work of Joe Bilotti on Landslide and Michael from Mountains. Kathy sings and plays guitar on the Joan Baez tune Diamonds and Rust and is joined on vocals and piano by Joan Bujacich. Joan accompanies her on piano for the Joni Mitchell classic, Woodstock and on For Good from the hit musical Wicked. You can download these songs from iTunes and all the major online digital distribution sites. (Our President, Joan Bujacich designed the artwork for all the releases.)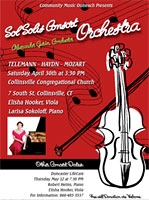 Larissa Sokoloff performed the Mozart Piano Concerto No. 21, K. 467 with the Sol Solis Consort orchestra in CT on April 30.
Jacqueline Schiller-Audi of The Alacorde Piano Trio announced a CD release party/concert on April 23 at the Unitarian Society of Ridgewood. Their new CD can now be purchased from iTunes, Amazon and cdbaby.