Member News
2015
July 2015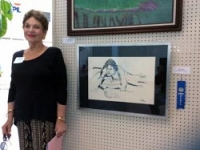 Clarisse Kant has been recognized for her creative art talents. She was recently awarded first prize in the drawing category in the Union County Seniors Art Competition for "Nude on a Pillow." This competition is sponsored by the Union County Board of Chosen Freeholders. The work of all first-place winners will be exhibited at the Freeholders' Gallery on the sixth floor of the Union County Administration Building from July 14 - Aug. 19, then move to East Windsor to participate in a state-wide Seniors Art Competition.
Sophia Agranovich will perform 2 solo recitals. The program will feature, among other compositions, Robert Schumann's Carnaval and Fantasie.
On Sunday, July 12 at 5PM at The Lambert Castle Concert Series in Paramus, NJ. Click here for directions. Tickets are $15. The proceeds benefit the Passaic County Historical Society.
Bargemusic - 'New York City's floating concert hall' - on Saturday, July 18 at 4PM. Admission is free. For more information see bargemusic.org.
Nancy Modell will teach ECC! (Every Child Can!©) at the NJ Suzuki Workshop in Lawrenceville on Friday, July 10. A one-day introductory course on the Suzuki philosophy and its application to education, ECC! provides an inspiring, in-depth look at the Suzuki approach to teaching and learning.